Demi Lovato's 2018 Tour Will Offer Free Therapy For Fans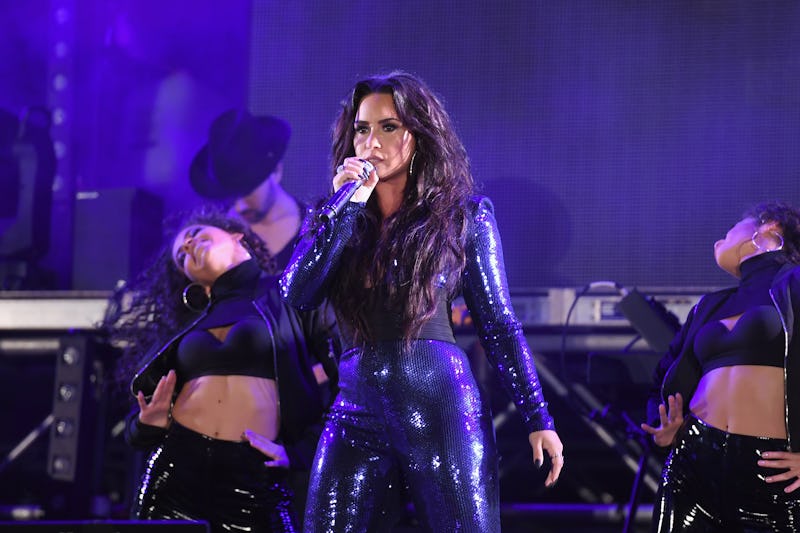 Rodrigo Varela/Getty Images Entertainment/Getty Images
During her upcoming Tell Me You Love Me tour, Demi Lovato will once again be offering free therapy to any attendees to supplement her live musical performances. During a Wednesday, Jan. 24, appearance on Good Morning America, the 25-year-old pop singer shed some light on the therapeutic addendum to her concert series, and explained why providing services of that kind to fans is so important to her.
"It's basically like a therapy session before the concerts," Lovato said during her Good Morning America interview, adding that the upcoming tour will have a handful of speakers "from all over" to deliver pre-show addresses, and also partnered with different charities from across the country. She continued, "So, it'll be an incredible, very moving and inspiring experience."
Piggybacking off of the similarly-structured mental health services she'd offered during her and Nick Jonas' joint Future Now tour back in 2016, each leg of Lovato's forthcoming concert series will commence with a lineup of inspirational speeches, as well as group therapy and wellness workshops helmed by CAST Centers to promote awareness of, and encourage an open dialogue about, mental health. CAST Centers is a Los Angeles-based mental health, wellness, and addiction treatment center where Lovato was a patient in 2011.
The CAST Foundation —the non-profit branch of CAST Centers — also announced the second "CAST on Tour" (the first being its inaugural go-round on Lovato and Jonas' tour in 2016) via a press release in which the foundation explained, in greater detail, how the whole concert-therapy combo is actually going to work. The process seems pretty straightforward: Before each show, concert attendees will have the opportunity to sign up for "free, intimate sessions" led by CAST Centers founder and CEO Mike Bayer, whose expertise lies predominantly in addiction recovery, interventions, and "personal development coaching," in addition to mental health. According to the CAST Foundation's announcement, Bayer played an essential role in Lovato's treatment and continues to do so during her recovery.
During her interview with Good Morning America, Lovato sang CAST's praises, citing the treatment center's services (and their life-changing impact) as one of her primary motivations to renew the therapy-infused tour concept.
"I've actually met people that go to CAST because they went to CAST on Tour and realized they needed to get sober or they needed to better themselves in some other way," she said. "And it's changed lives and I want to be able to do that again."
Lovato, who is now an alum and co-owner of CAST Centers, has been quite vocal over the last several years about life-long struggles with her own mental health, including her personal battles with bipolar disorder, an eating disorder, and substance abuse. The singer took her first steps toward recovery with CAST Centers in 2011, and, in March 2017, celebrated five years of sobriety. Lovato's journey through her own mental health obstacles, is, in large part, the reason she's so committed to just talking about it, rather than fueling the long-held societal taboo that suggests mental illness should only be spoken about in hushed tones.
"I think it's really important to take away the stigma of mental illness," Lovato said on Good Morning America. "I actually have bipolar disorder and I'm very open about that because I think that mental health affects so many people and we need to take the stigma away from it."
In taking steps toward eventually eradicating that stigma, CAST Centers will join Lovato's Tell Me You Love Me tour in 20 cities, beginning with the inaugural show in San Diego February 26 and wrapping up in Tampa March 31. Overall, Lovato really just wants to provide access to mental health support for fans who might be experiencing mental health challenges similar to her own. "I make it my life goal to inspire other people," Lovato told Good Morning America. "I think that it's important for me to use my voice for more than just singing."
It's safe to say she's already doing just that.