Demi Lovato Sang 'Sober' Live For The First Time & Her Performance Will Make You Sob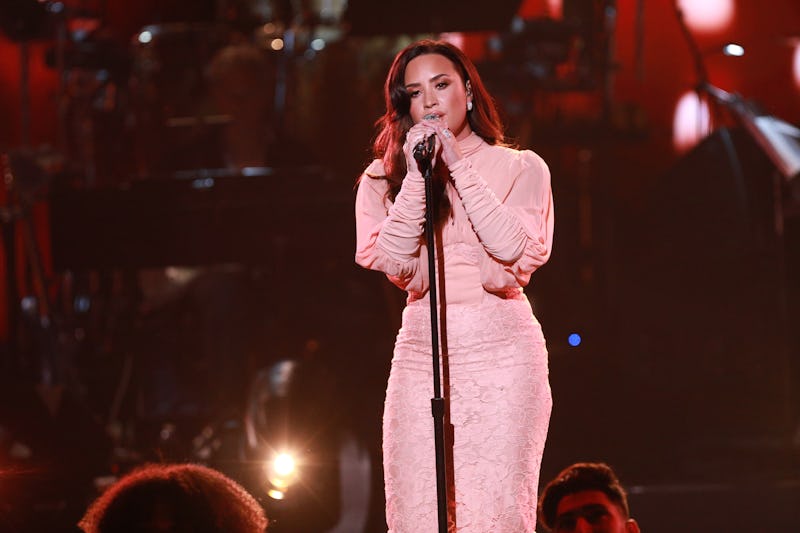 Handout/Getty Images Entertainment/Getty Images
After releasing her new single earlier this month, Demi Lovato performed "Sober" for the first time on June 24, according to BuzzFeed, and the whole thing was so emotional. Seriously — go get some tissues now, because you're definitely going to need them later. It's emotional in an uplifting way, though. Happy tears!
With her hair pulled back into a tight, high ponytail, Lovato sat down at a piano to play her heartbreaking song live at the Rock in Rio festival in Lisbon, Portugal, on Sunday night. As she sang the honest, intimate lyrics to "Sober," fans in the crowd created a somber ambiance by holding up their lighters and swaying back and forth.
In the video Lovato posted on Instagram and Twitter, it seemed like she was trying to remain stoic at the beginning of the performance. She doesn't really look up from the piano, though, and you can tell that it's kind of tough for her to be singing the super-personal song in front of thousands of people for the very first time.
There's a line in "Sober" where Lovato says, "I'm sorry for the fans I lost who watched me fall again," and as she sang that part on Sunday night, her voice noticeably started to waver. By the next line — "I wanna be a role model, but I'm only human" — she breaks down a bit more, as if trying to stifle tears. The crowd at the festival erupted in supportive cheers during that moment, and it will totally tug at your heart-strings.
After the show was over, Lovato took to Twitter to express her feelings about the performance. "Tonight I took the stage, a new person with a new life," the 25-year-old wrote. "Thank you to everyone who has supported me throughout this journey. It will never be forgotten."
"Sober" chronicles the singer's decade-long struggle with drug and alcohol addiction, something she's been open and honest about in the past. And though it's unclear whether or not the song is detailing a relapse in her own life, the subject of addiction and breaking sobriety is clearly close to the singer's heart. When Lovato's YouTube documentary, Simply Complicated, came out in October 2017, she revealed to Billboard that — even after attending a rehab program in 2012 — maintaining her sobriety has been tough.
It was tough for her to share that side of her life with fans via her documentary, too, and in a quote that — at the very end —  now echoes the lyrics from her new song, Lovato said,
"I think what was difficult about the [documentary] process was being honest about where I am in my life today. Telling the world that I'm not the poster child for recovery. Sometimes it is a struggle, and sometimes I still deal with issues that I have suffered from in the past. It's a challenge to maintain recovery, and I talk about that in the film. So, for me, it's like kind of admitting that I'm not... Obviously I'm not perfect, but admitting that on camera. I want to be the best role model that I can be for my fans, so by admitting that I'm not perfect, it's kind of weird for me."
Lovato has yet to speak publicly about whether "Sober" was written about relapsing in the past, or if it signifies an admittance of a more recent relapse. Not that it matters, of course. The song speaks for itself, and the specifics wouldn't make her lyrics any less — or more — meaningful.
What matters is that Lovato has been able to unburden herself of the guilt she's felt throughout her struggle with addiction. It seems like it's been a wholly positive, therapeutic release for the singer, and hopefully she's able to find strength through her song to continue to try to stay sober. Just as "Skyscraper" became an intimate anthem for Lovato and her fans, based on this performance, it seems like "Sober" will too.