Demi Lovato Reveals She's "Not Sober Anymore" In A New, Gut-Wrenching Song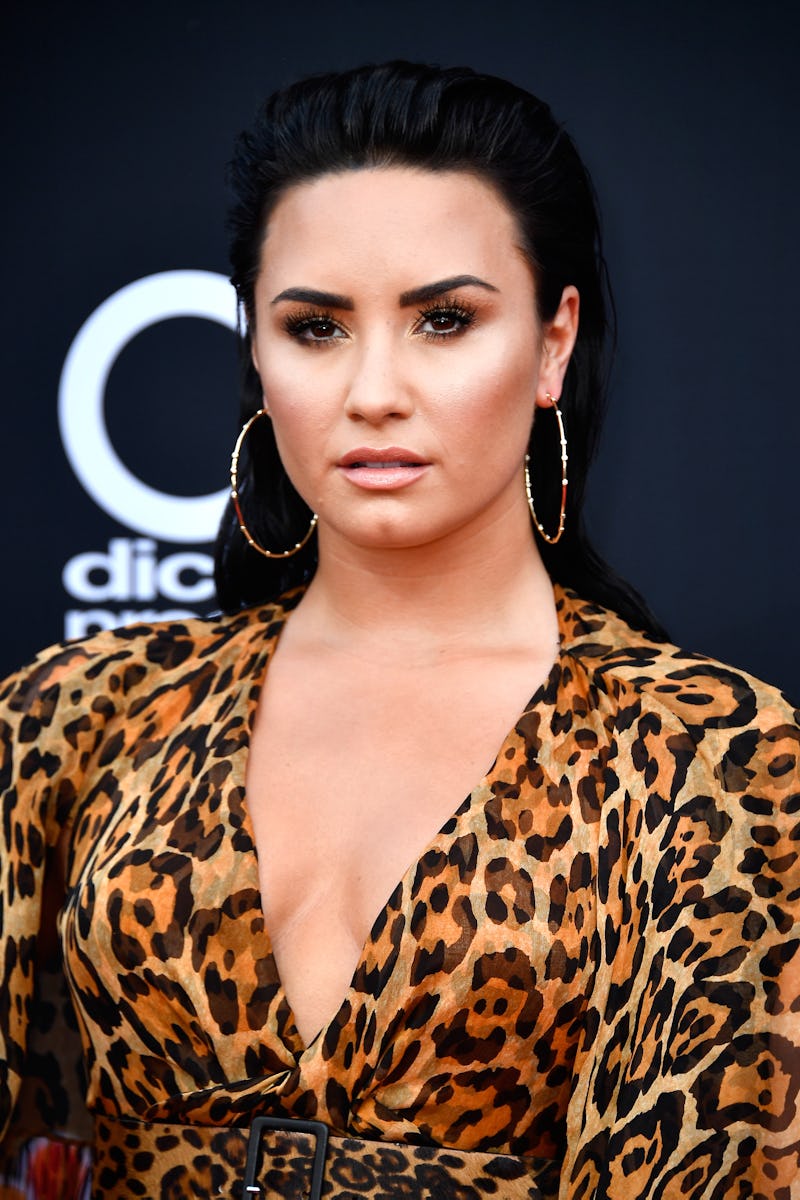 Frazer Harrison/Getty Images Entertainment/Getty Images
"I'm so sorry I'm not sober anymore." The powerful line in Demi Lovato's new song "Sober" appears to reveal that after six years of sobriety, the singer may have relapsed. Bustle has reached out to Lovato's representatives for comment, but have not recieved a response at the time of publication. Lovato has always been honest about her struggles with alcohol and drugs, most recently talking about it in her documentary Simply Complicated, and, while Lovato has not commented on the current state of her sobriety, "Sober" certainly sounds like an apology to her family, friends, and fans for possibly falling off the wagon, whether it be about a recent regression or one from the past.
If Lovato did relapse — she hasn't officially confirmed, but did tweet "my truth" with a link to the "Sober" lyric video — she doesn't owe an apology to anyone. Sobriety is a personal journey, one that's never easy and never really over, and Lovato's new song shows it's a journey that has its ups and downs — that no one, not even a famous pop star is immune to.
But "Sober" makes it clear sobriety is a journey just like any other. And as the old adage says, when you fall of the horse, you have to get right back on and try again. Lovato, who has spoken about relapse before, admitting that failing is part of the process of getting sober is a powerful thing for anyone and everyone who has felt the pressures of staying clean of drugs and alcohol, letting them know you can always try again (and again, and again).
Whether she's broken her sobriety or not, Lovato's new song, which she recently said was her "most heartbreaking" on Twitter, feels like an important step in anyone's journey to get and stay clean. Addiction is not something you cure, there's no easy fix. It's something you live with every single day and try to work through one day at a time.
Lovato previously spoke about that daily struggle in her YouTube documentary Simply Complicated. In it she revealed that during her 2012 documentary Stay Strong, filmed shortly after her first — and very public — stay in rehab, Lovato was still using drugs. Her manager Phil McIntyre also revealed in Simply Complicated that she would sometimes do interviews in which she talked about her sobriety while high. "I wasn't working my program. I wasn't ready to get sober," Lovato revealed in the documentary. "I was sneaking [drugs] on planes, sneaking it in bathrooms, sneaking it throughout the night. Nobody knew."
She knew, though, and it was hard to keep lying, it's why she wanted to come clear on Simply Complicated, and it's possible it's why she might be coming clean on "Sober," if in fact she has broken her sobriety. But Lovato's journey to sobriety has never been one she's taken alone — even if it can sometimes feel that way.
Her fans, lovingly called Lovatics, have always had her back. It's likely why she wanted to let those she love how she's feeling with this new song. According to the lyrics, Lovato feels she owes it to herself to be honest and forthcoming. "To the ones who never left me/We've been down this road before," Lovato sings before apologizing to her parents and the fans "who watched me fall again/I wanna be a role model" she sings, "but I'm only human."
There are no excuses or explanations in the song, instead the lyrics appear to be just something Lovato wanted to get off her chest before starting again. Listening to the track, it sounds almost like a confession. "I'm sorry that I'm here again/I promise I'll get help/It wasn't my intention," Lovato sings in the final verse. "I'm sorry to myself." A sad, but important way to end the track, which may or may not be about herself. (It is important to remember that Lovato has not confirmed that this song is in any way about her. Though many of her fans and friends, like Iggy Azalea, have clearly taken "Sober" to be autobiographical, it could be simply a piece of particularly personal art.)
At the end of the song, Lovato leaves fans with the understanding that this song is not really an apology or a reveal, it's the releasing of a burden. She doesn't have to lie anymore or hide, she has to keep going and she needs her friends, family, and fans with her to move forward.
And her fans seemed to heed her call, even using the hashtag #NotSoberButStillLoved to show their support. @_Brenduhhh_ thanked her for being "perfectly imperfect," while @CanWeEscape told her that the song was an example of "courage." Another fan @marisawarner tweeted, "Whether you are 6 years, 6 months, 6 days, or 6 hours sober I will always thank you for teaching me/so many others about being vulnerable & honest...We believe in you!"
Lovato shouldn't feel as if she owes her fans anything when it comes to her sobriety. But, what is clear, is that if she, at least, feels a need to put her truth into a song, her fans will always be there to listen.