Demi Lovato's New Lyrics Show The Singer At Her Most Vulnerable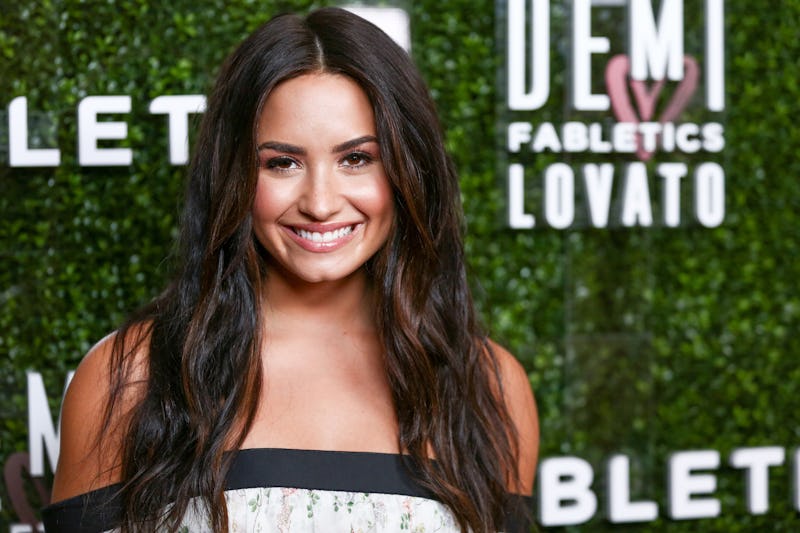 Rich Fury/Getty Images Entertainment/Getty Images
After showing how confident she'd become on her 2015 album of that very name, Demi Lovato's new album, Tell Me You Love Me has her spilling out the contents of her heart. On Wednesday, Lovato shared the lyrics to "Tell Me You Love Me" with Genius so, as the site explained, fans "can go full karaoke when it officially drops." No word yet on when that is, but it's clear this song (which she teased on Twitter) is dedicated to someone special who Lovato appreciates for loving her just the way she is — even when it's not easy.
The singer has never claimed to have it all figured out. In fact, she's always talked openly about living with bipolar disorder and her past struggles with substance abuse in the hopes of breaking down the stigma surrounding both. With this new song, Lovato gets at how important it is to have someone in your life who loves you no matter what and isn't afraid to tell you. She encourages it on the track's chorus: "Oh, tell me you love me/ I need someone on days like this, I do."
"Tell Me You Love Me" is Lovato's love letter to the one who she can always be herself around, knowing they'll be there on the good days and the bad ones.
Finding someone like that isn't easy, which is why Lovato, who reportedly split from boyfriend MMA fighter Guilherme "Bomba" Vasconcelos in May, can't help but gush over this new love of hers who she's got it bad for. But, she's also not afraid to admit that love isn't easy and she doesn't have it all figured out yet.
"Bad at love, no, I'm not good at this
But I can't say I'm innocent
Not hardly, but I'm sorry"
This is clearly a love song, but it's one that shows love isn't a fairytale. Instead it takes hard work to get that happily ever after. And sometimes, no matter how much you want it, you may not be able to get that happy ending.
You have to be willing to be vulnerable, and on this song, Lovato is definitely that. She sings about the fear of losing this person, who she knows is good for her, singing, "You ain't nobody 'til you got somebody."
Lovato admits she's worried that she could ruin something good here and is afraid she can't stop herself. She's afraid it's inevitable that she'll ruin this, singing:
"And I hope I never see the day
That you move on and be happy without me
What's my hand without your heart to hold?
I don't know what I'm living for
If I'm living without you"
Lovato's "Tell Me You Love Me" isn't afraid to talk about the lows of a relationship that most pop songs gloss over. She sings about the insecurities we feel when we're so in love and can't imagine going another day without this special someone. In doing so, Lovato helps normalize these feelings and let her fans know that they're not alone. She's still figuring it out, too.
What she does know is that her new album, out Sept. 29, will have her heading in a new, more R&B direction. "I actually want to go a totally different way with my album," she told Billboard. "I want to go more soulful, so we'll see what that ends up turning out like. I'm still in the process of writing and finding the inspiration behind it, so we'll see." But based on these lyrics, it may also have her exploring how hard it is to tell someone you love them.