Dennis Rodman Thinks He Helped Broker Otto Warmbier's Release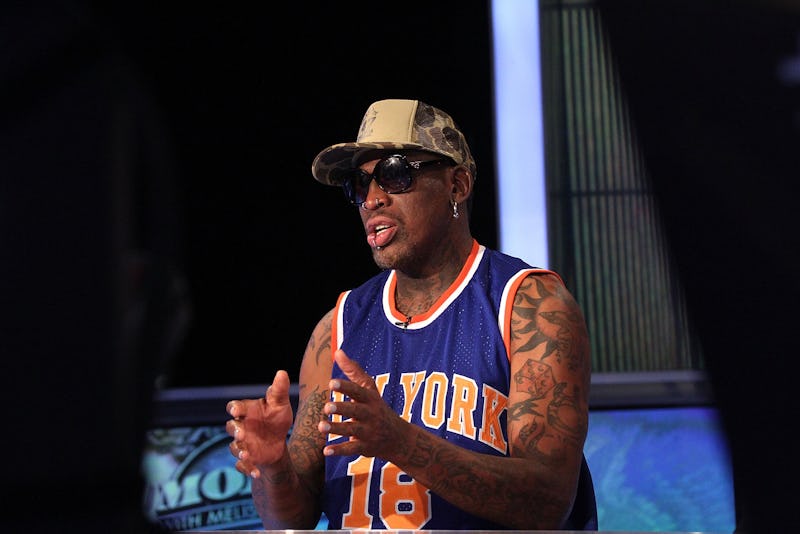 Laura Cavanaugh/Getty Images Entertainment/Getty Images
In an interview with Good Morning America on Friday, former NBA star Dennis Rodman suggested he helped secure Otto Warmbier's release from detention in North Korea. Warmbier, an American college student, died Monday just days after he'd been medically evacuated from a North Korean prison following 17 months of detention. Rodman, who reportedly has a personal friendship with North Korea's Kim Jong Un, traveled to the communist country June 13.
"I was just so happy to see the kid released," Rodman said about the day he heard Warmbier was being released in an interview on Good Morning America. "Later that day, that's when we found out he was ill, no one knew that. We jumped up and down... Some good things came of this trip."
Rodman's agent Chris Volo, who also sat in on the interview, told co-host Michael Strahan that he'd asked for Warmbier's release multiple times while working out the details of Rodman's latest trip with delegates.
"I know being there had something to do with it," Volo said. "When I was organizing the trip... I asked on behalf of Dennis for his release three times." Volo referred to Warmbier's release as a "type of good faith" needed "if we're ever going to do some type of future sports relations."
However, both the State Department and Warmbier's father have said the former basketball star had nothing to do with Warmbier's release. "Dennis Rodman had nothing to do with Otto," he said in a June 15 press conference, as reported by The Los Angeles Times. "It's a diversion. ... This is all planned."
When North Korea returned Warmbier to the United States on June 13, he was found to have severe neurological injuries. According to CNN, Warmbier's doctors said the 22-year-old student was in a condition they called "unresponsive wakefulness" or "persistent vegetative state." He died June 19.
North Korea has since denied any wrongdoing or mistreatment and claimed they were in fact "the biggest victim" in this situation. "The fact that Warmbier died suddenly in less than a week just after his return to the U.S. in his normal state of health indicators is a mystery to us as well," a Foreign Ministry spokesman said in a statement released Friday.
Although Rodman appeared to believe he played some role in securing Warmbier's release, he maintained his visits to North Korea were not an attempt to carry out a political agenda or negotiate for detainees' release.
"My trips going up to North Korea is more like trying... to get to communicate sports-wise. It ain't about trying to release people," Rodman said. "It's almost just trying to reach out for sports and see if I can bring sports to North Korea."