Eve Is In Serious Danger Right Now On 'Million Little Things'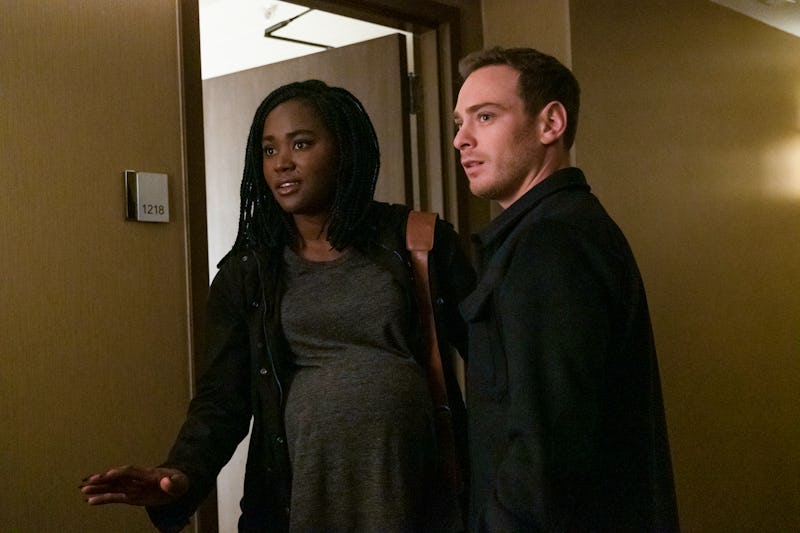 Kailey Schwerman/ABC
Spoilers ahead for A Million Little Things. Fans are really worried about what will happen to Eve on A Million Little Things, and they have good reason to fret. At the end of the Feb. 27 episode, Eve's abusive ex-boyfriend Derek showed up and convinced her that they should go talk alone. While Eve is definitely in some danger here, press photos from next week's episode reveal that she's okay for the time being. But things are about to get really complicated for all involved.
Derek tracked Eve down in Boston at Regina's restaurant (literally how though?) and saw that she was pregnant, which is exactly what Eve didn't want to happen. She had previously explained that she was terrified of the baby being something to link her to Derek forever. In front of Regina and Rome, Derek was overly nice to Eve. "I was so worried about you," he said. "When you left, I didn't know why. But I get it now," he added, referencing her pregnancy. "Oh, baby, this is amazing."
Eve looked really uncomfortable during the entire exchange, but she agreed to go talk with Derek because she wanted to try to get him to sign a parental rights waiver so that Rome and Regina could still adopt the baby. However, it doesn't look like things go in her favor. The next episode, airing March 5, is titled "Change of Plans," which could indicate that Eve and Derek decided to keep the baby themselves. Or, more likely, that Derek bullies Eve into changing her mind. She said in the Feb. 27 episode that he was still in love with her and would try to use the baby as a reason for them to be together as a family, and the photos make it look just like that. In one, they're holding hands, but Eve's face looks troubled.
In another, they're talking to Rome and Regina. Derek looks smug while Eve looks upset. Is this the moment Derek tells Rome and Regina that they're pulling the adoption?
When Eve originally told Rome and Regina about Derek, she explained that they'd dated for a year and a half. "He could be so sweet and so thoughtful. But he also has a temper," she said. An episode later, she admitted he'd thrown a teapot of boiling water at her during an argument. This guy may have been all charm at Regina's restaurant to get Eve out the door, and he may be smiling in these photos during this conversation with Rome and Regina, but make no mistake that he is dangerous. Eve knows that, but she may be in too deep again already.
The good news is that Rome and Regina know the truth, and they were already working with Katherine to get a restraining order against Derek. Hopefully they can work quickly not only for the future of the baby and their adoption, but first and foremost for Eve's safety as well. She may look alright for now, but things are far from okay.
If you or someone you know is experiencing domestic abuse, call 911 or the National Domestic Violence Hotline at 1(800) 799-SAFE (7233) or visit thehotline.org.