'The Fosters' Is Getting Canceled, But There's A Major Silver Lining For Fans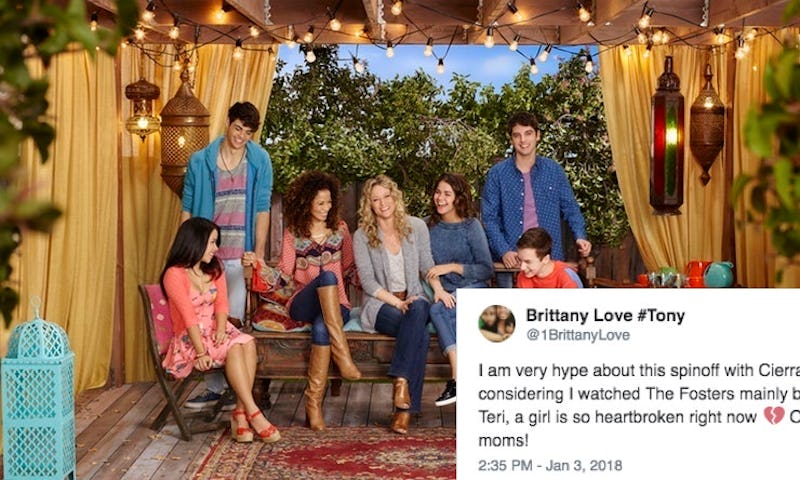 Freeform/Craig Sjodin; 1BrittanyLove/Twitter
Though news that the beloved Freeform series The Fosters has been canceled may feel like a let-down to fans, details surrounding The Fosters' upcoming spinoff may help provide a major sigh of relief. The announcement of the cancellation comes just as the series celebrated the wrapping of its 100th episode with a two-hour Season 5 finale, which will ultimately conclude with a three-part limited series this summer and introduce the spinoff, Variety reported. While the cancellation news is undoubtedly a sad moment for avid viewers, a silver lining is that most of, if not all, your favorite characters will play a part in the upcoming spinoff, according to Deadline.
Information surrounding the Fosters offshoot, which has yet to receive a title, reveal that the series' storyline will follow Callie and Mariana as young adults living in Los Angeles several years in the future. Although choosing to dwell under the same roof, the two will go on to explore different sides of the city with Mariana making her foray into the tech world, while Callie continues to pursue her dreams in the field of social work. According to Deadline, Freeform's EVP of programming and development, Karey Burke, further explained that "both of them will be faced with the challenges of working in a cultural divide all the while pursuing their dreams that have been laid into those characters throughout The Fosters."
There's naturally been some concern surrounding many of the other beloved characters from the series and their storylines — an issue which showrunners addressed during the recent announcement shared with Deadline. Burke revealed, "We plan to have all characters from the original series make guest appearances." That comment should help ease any worries.
Still, fans' reactions to the news seem to be a mixed bag of emotions, with many jumping to Twitter share their feelings on the show's cancellation and impending offshoot.
1. It's Worth Celebrating
One fan found a reason to get excited, although they were sad to hear that the original series is coming to an end.
2. It's A Bit Confusing
Meanwhile, another fan can't quite understand why the show was canceled and replaced with a spinoff.
3. More Characters, Please
This follower thinks the spinoff needs more than just Callie and Mariana.
4. A Pleasant Surprise
Though sad, another fan was extremely surprised by the decision to create an offshoot.
5. There Was Heartbreak
One Twitter user explains that they are excited about the sequel, but they are going to miss the moms on the show.
6. Not Knowing How To Feel
Many found themselves amidst an emotional roller-coaster after hearing the news.
7. Unbelievable
This person can't believe that the show is coming to an end.
8. It's Tear-Jerking
Someone was reduced to tears amidst hearing the "bittersweet" news.
9. Mixed Emotions
This commenter was left with a myriad of feelings after learning about the spinoff and cancellation.
10. There Was Still Excitement
One fan used all caps and a series of exclamation points to express their excitement over the new show.
11. Some Fans Have Hope
This viewer holds on to their hopes about the moms making guest appearances in the upcoming spinoff.
As fans likely know, The Fosters is the story of a couple named Stef and Lena, who have built a loving and close-knit family that consists of Stef's biological son from a previous marriage, Brandon; their adopted twins, Mariana and Jesus; and adopted siblings, Jude and his half-sister, Callie. The moms are a major part of what makes the series what it is.
As one of Freeform's most highly rated series, The Fosters will surely be missed by its adoring viewers. And although details surrounding the new series remain scarce, it's safe to say that fans can expect great things from the new show when it arrives.