Deconstructing The New 'GoT' Trailer Proves There's Big Trouble Ahead For Daenerys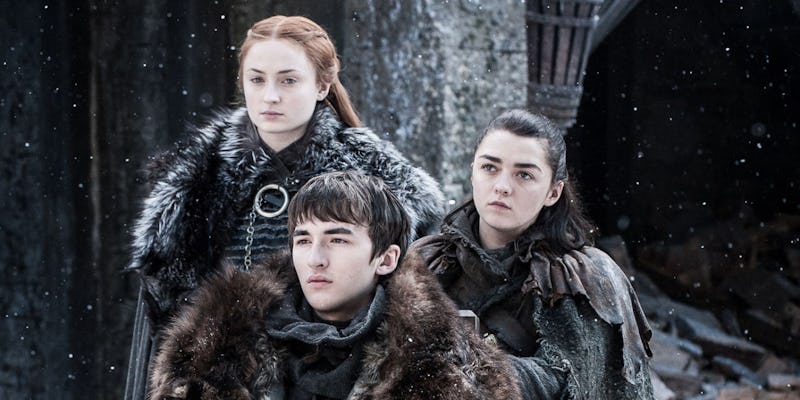 Game of Thrones / HBO
Winter is coming, both literally and also because everyone's favourite sexed-up, gory, magical, fantasy show—Game Of Thrones is returning. What is going to happen? Not sure yet, but one thing I do know is that the trailer is out and the producers have successful piqued my interest without giving too much of the Season 8 game away. That is the point of a trailer right? Safe to say, when HBO dropped the first teaser for the upcoming final series everybody lost it. However, these details from the Game Of Thones Season 8 trailer that you probably missed prove it's definitely worth a closer look.
As it is, viewers have to wait until flipping 2019 for a new season of the show which is about as frustrating as having one of your dragons killed by a zombie war lord and then watching it turn into a big scary zombie dragon. Who's with me?! Anyhow, huge props and appreciation to HBO for giving us something to snack on while we wait for the main event. Eagle-eyed fans have been picking apart the trailer so us lazier Game of Thrones fans don't have to, and thanks guys, we appreciate your good work. Obviously there are loads of secret signs in there because it wouldn't be GoT without some hidden clues.
OK, so Jon Snow and his sister Sansa are seen reuniting. Well, they aren't actually brother and sister but low-key cousins as we found out last season (OMG). "Oh how lovely," I hear you shout with glee. Hold up though because she looks like she is glaring at someone over his shoulder. Who the heck is she staring at?! I don't meant to speculate but do you reckon she is throwing filthy looks at our girl Daenerys? A few sharp fans have put forward this theory, as Metro have reported, as it would make sense considering Sansa's history which has understandably made her super untrusting.
Another thing you may not have noticed are the super uncomfortable interactions between Jon Snow and Daenerys after their boat tryst in the Season 7 finale. God, everyone knows getting with a work associate is like the worst idea ever! So imagine how awkward for them when their unity is potentially the only way to save mankind. That is a heck of a lot of stress.
People have been speculating that Daenerys is going to go power crazy, cruel, and, well, mad. Mad like her father who was legit known as the Mad King. Even recently speaking to Vanity Fair, Emilia Clarke who plays the icy haired Daenerys said that filiming her final scenes was kinda traumatic and horrible.
"Knowing that is going to be a lasting flavor in someone's mouth of what Daenerys is ...."
That could mean either her ending is very violent and horrible, or that she herself actually ends up being very violent and horrible. In the trailer we see her using her dragons to burn soldiers to death, which is not exactly the behaviour of a kind and benevolent queen now is it?
Oh god so many theories, so little time. Actually, so much time. Real talk, there's a lot of time to wait. Some people involved in the show are even speculating that it might be May 2019 before fans get to see the final season air. Ugh, let's just keep up with the weird and wonderful theories in the meantime.