Thankfully, 'black-ish' Is Here To Normalize All The Weirdest Parts About Getting Your Period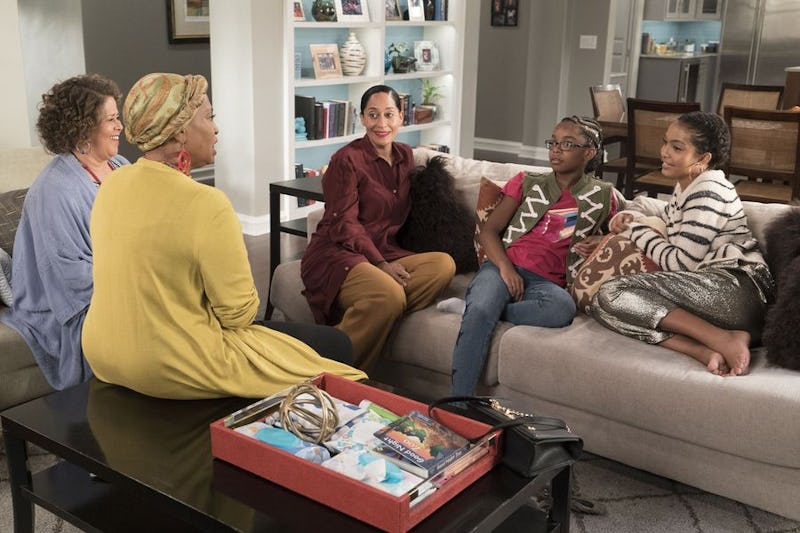 Eric McCandless/ABC
Things get a little awkward on black-ish sometimes, usually due to Dre or Junior, the resident foot-in-mouth disease carriers in the Johnson family. But in the Nov. 7 episode, the family's most poised member is dealt a major blow from puberty: Diane gets her first period on black-ish. It's a moment many women remember well (and would like to forget), being awkward, uncomfortable, and personal.
Diane's reaction to the life-change is to become even more Diane-like, firing off her usual controlled wit with a little bit more teenager-y attitude, and showing her glowering displeasure to the point that everyone else in the household becomes noticeably terrified of her. "PMS" is often used as a punchline, but here, it's only Diane's formidable nature, not her discomfort, that's played for laughs.
But hands down, the best part of black-ish building a story around this milestone, is the moment when all of the Johnson women — Bow, Zoey, Ruby, and Alicia, Bow's mom — rally around Diane to support, answer questions, and, of course, in Ruby's case, take things way too far and get hilariously inappropriate. Zoey wants to make sure that Diane gets a better explanation than she does, and Alicia, who doesn't often drop by, wants to accurately explain her... holistic point of view. It's very sweet (and, as with anything puberty-related, a little weird) to see all of these women rallying around the youngest member of the club.
And Diane isn't growing up in a vacuum, either. All of the kids are growing up, and Bow & Dre's complete inability to emotionally handle it has been a huge thematic part of this season so far, as adorable baby DeVante reminds them of how far the other four kids have come. From Zoey moving out, to Junior dating, to, now, Diane and Jack turning from cute first graders to full-blown tweens — even having a new baby around isn't enough to keep the parents from getting misty every time Junior gets a little bit taller or Jack gets a tiny bit less innocent.
Of course, Dre has a hard time accepting that his kids are becoming adults, as any parent does. But the way he chooses to express it is, as usual, is way off the mark. Instead of simply talking to Junior about his feelings, he goes through the charade of having a "heart cramp" while they play basketball, then plots with his coworkers to undermine his adolescent son. But while Dre's behavior is, typically, out of control, his feelings are even more relatable than usual. Because the concept of "lasts," as in, the "last" time one of the Johnson kids enjoys a childlike moment, is even harder to navigate than the awkward, uncomfortable "firsts."
Maybe that's why the person who deals with Diane's big news in the best, least traumatizing way is Zoey. She's still growing up. She's recently gone through her own big changes and still struggling to figure out who she is. But she's beyond the most awkward parts of the teen years, so she has lots of great advice. Zoey's complete transformation from snobby self-involved popular girl to savvy and wise older sister has occurred over several seasons. And whenever the show takes the time to showcase her relationship with Diane, it's always very sweet. Zoey knows that, at this point, Diane isn't really ready for menstrual celebration, but Zoey helps her realize that having such great resources in the form of her family members is a serious gift. And so is being a woman.
In the end, all of the kids are left with new struggles to figure out — Junior is shaving, Jack is using deodorant now — but while Diane's transition is the toughest, black-ish shows that with the right support system, the Johnson women can do anything.