Diane Kruger & Norman Reedus Are Officially Parents, According To New Reports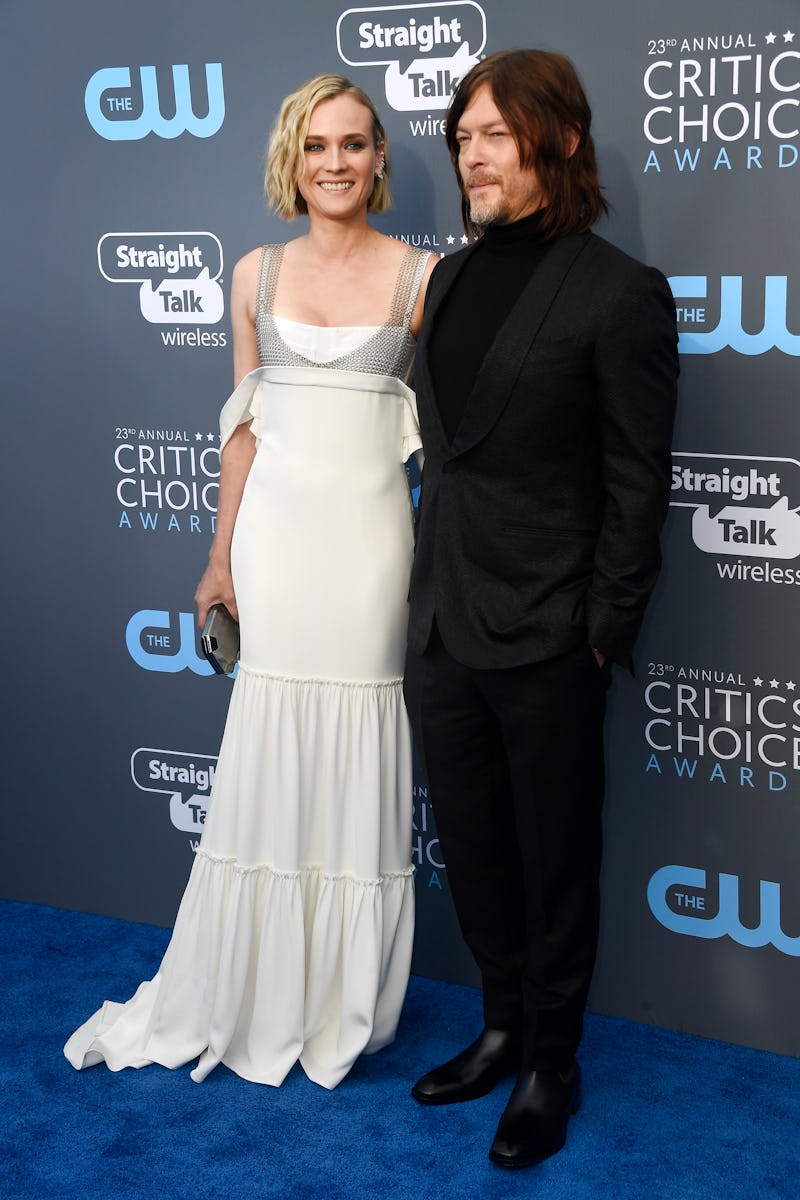 Frazer Harrison/Getty Images Entertainment/Getty Images
Diane Kruger has given birth to her first child, and it sounds like she and her partner, The Walking Dead star Norman Reedus, are super stoked. There's not much information about the baby yet, but according to Page Six, Kruger gave birth to a baby girl. The paper's sources didn't share what the child's name is, or the exact date of her birth.
The baby is Kruger's first child, while Reedus has a 19-year-old son with his ex Helena Christensen, according to People. Reedus and Christensen's son, Mingus Lucien, graduated high school earlier this year. Kruger and Reedus haven't confirmed the happy news on their own Instagram accounts, but fans have been sharing messages of congratulations on the actors' most recent posts.
Us Weekly first reported in May that Kruger was pregnant with her first child, though the couple kept details of the pregnancy to themselves. Kruger didn't make an official pregnancy announcement, but as the magazine notes, she did share a cryptic black-and-white photo of herself, with the footprints emoji as the caption. Fans took the emoji as a symbol of baby footprints, and a confirmation that she was, indeed, pregnant.
Still, the actor didn't share photos of her growing bump over the past few months, choosing to share pictures that are strategically cropped to avoid showing her midsection. But Kruger was still seen out and about with a very noticeable baby bump.
As People reported, Kruger and Reedus met while filming 2015's Sky. They've been officially dating since March 2017, according to the magazine, though The Cut noted that the couple had been seen together long before that. The Cut also pointed out the couple's red carpet debut was at the Golden Globes earlier this year.
Kruger and Reedus are private about their relationship, but it sounds like they're a great team. "They complement one another," an unnamed source told Us Weekly of the couple. "Norman is the best guy ever and would do anything for a friend. He takes care of people and is there in a second if anyone needs him."
Fans shared messages of congratulations for the couple on Twitter, too. It looks like everyone is overjoyed about the little one, even if there aren't many details yet.
Kruger isn't the only celebrity to keep the details of her pregnancy to herself. Kylie Jenner gave birth to her daughter Stormi earlier this year. And before the birth announcement, Jenner didn't even confirm the reports that she was pregnant. She later explained in a message on social media that her pregnancy was something she "chose not to do in front of the world." Based on the Instagram posts Kruger shared in the last few months, it looks like she may have adapted a similar mindset.
Reedus and Kruger might not be sharing too many details about their baby with the world right now. But if the two of them are happy — and it definitely sounds like they are — then that's really all that matters. And even without more information, it looks like plenty of fans are thrilled about the news, too.