It's Official: Kylie Jenner Just Confirmed Her Daughter's Birth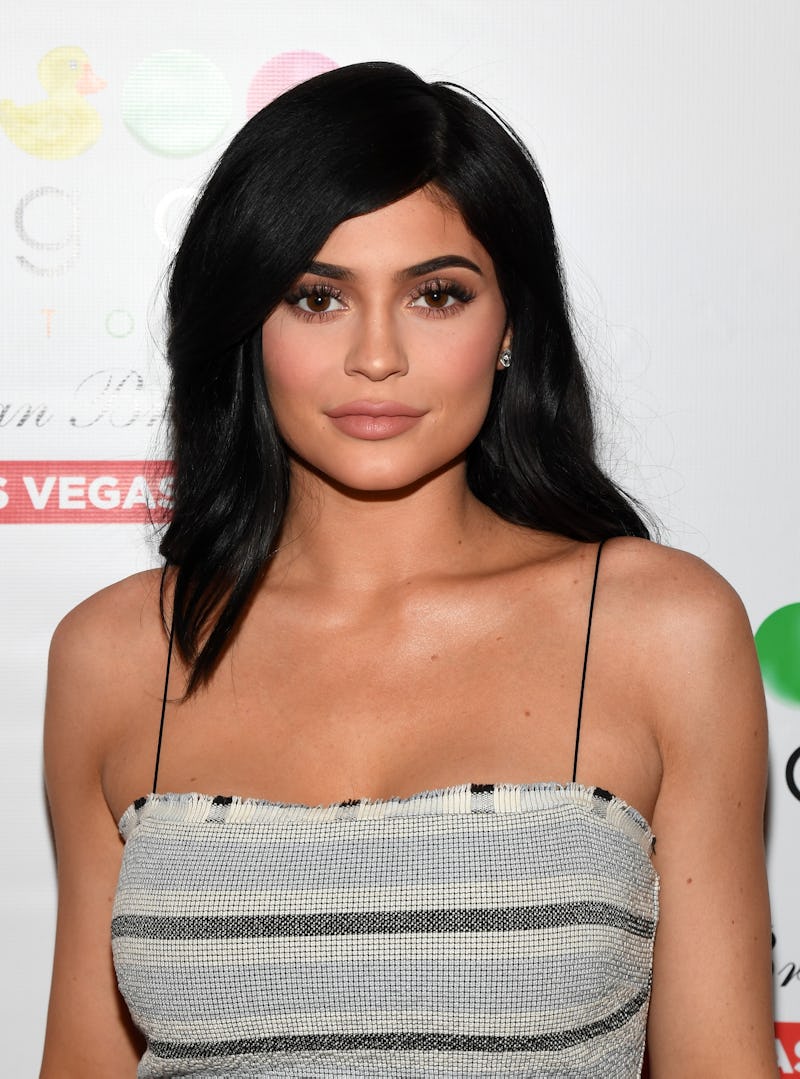 Ethan Miller/Getty Images Entertainment/Getty Images
After the pregnancy rumors broke back in September, it's finally confirmed: Kylie Jenner has given birth. The 20-year-old reality star announced the news via Twitter with a lengthy statement and a video of her journey. TMZ was the first to report that Jenner was expecting a baby with Travis Scott, her boyfriend since April. At the time the initial rumors broke, Jenner's reps could not be reached by Bustle. Meanwhile, Bustle reached out to Scott's reps, but did not receive an immediate response.
UPDATE: On Tuesday, Kylie announced her baby name is Stormi in an Instagram post with an angel emoji.
EARLIER: Astute fans may remember that Jenner has talked about having kids for a while now, though she never specified when exactly it would happen. For instance, in a 2016 episode of Keeping Up With The Kardashians, she asked her parent, Caitlyn, "What do you feel like is a good age to have kids? Like 25?" Then, last October, Jenner answered fan questions on Snapchat and said, "I'm getting a lot of questions about kids. How many kids do I want? Do I want kids? And I do want kids, but not now." Apparently, the time is now.
While Jenner is no stranger to pregnancy rumors, this is the first time there's any truth to them. Along the way, she's been subject to some pretty outlandish claims, like rumors that she was having Scott Disick's baby. And some people were even saying Jenner was carrying Kim Kardashian's baby as her surrogate, but again, that was never confirmed and falls into the more outrageous category.
Instead of letting your imagination run wild, let's focus on the solid facts. Jenner and Scott have been dating for a while now. She and the rapper got together after the makeup mogul split from longtime on-again, off-again boyfriend Tyga. Since then, Jenner and Scott attended Coachella together, as well as basketball games and various family birthday parties.
While this will be Jenner's first child, the baby joins an ever-growing family tree featuring some pretty famous faces. When it comes to siblings, Jenner is one of 10 kids. On top of that, she has several nieces and nephews, including the well-known North West and Penelope Disick. That means this child will be surrounded by a lot of love now that she's officially arrived in this world.
Considering how much time the family spends in the spotlight, you can almost bet Jenner's pregnancy will be featured on a future season of Keeping Up With The Kardashians, though it's unclear if she'll follow in her siblings' footsteps and do a special KUWTK episode about giving birth. It's not all that farfetched, considering Kim, Kourtney, and Rob Kardashian all shared their babies being born with the world via TV specials.
But then again, Jenner doesn't necessarily always do things just like her sisters; she has a tendency to stand out and carve out her own path. That was proven when she got an entire TV series of her own, Life of Kylie. The finale aired last year and it's currently unclear whether it will get renewed for another season.
While the details about her newborn baby remain mostly under wraps, she's made a name for herself by being candid with her millions of fans on Snapchat, Instagram, and Twitter. It's entirely possible that even if her show doesn't get another season, fans could keep up with her parenting adventures via social media.
Or who knows, maybe this new chapter also means a new Jenner, one who flies under the radar and doesn't share every detail with the world. There's only one way to find out — and that's by waiting to see what happens next.