So, Did Adele Really Give Beyoncé Her Grammy?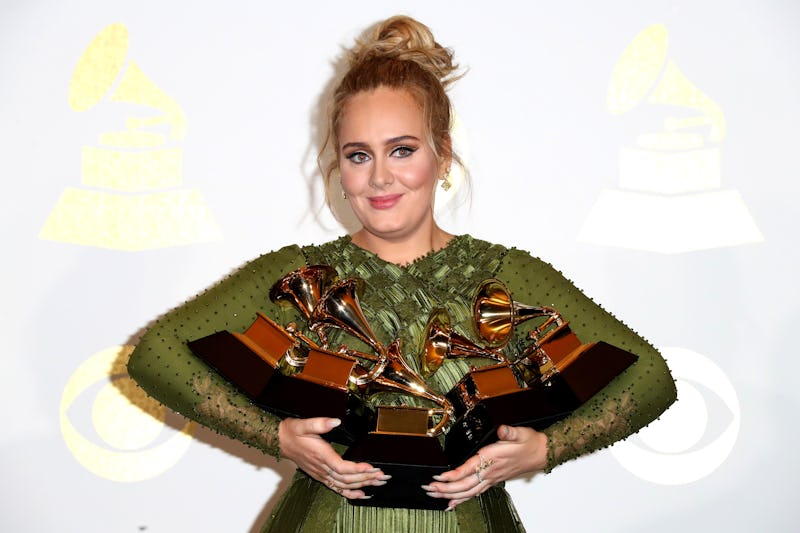 Frederick M. Brown/Getty Images Entertainment/Getty Images
It's all anyone can talk about and you're only human, so you too have fallen prey to this same damn question: did Adele really give Beyoncé her Grammy? If you're still catching up on this, at Sunday night's Grammys in Los Angeles, Beyoncé had received nine nominations, but it was Adele who swept the board at the 59th Grammy Awards despite receiving only five nominations. While Beyoncé won two awards, for Best Music Video and Best Urban Contemporary album, Adele won every award she was nominated for — including the much-coveted Album Of The Year, which she won for 25. And this was where things got really interesting.
Adele used her speech to bemoan the fact that Beyoncé hadn't won best album for Lemonade and even implied she might not accept it, addressing Beyoncé in person:
I can't possibly accept this award. I'm very humbled, and I'm very grateful, but the artist of my life is Beyoncé...All us artists here adore you, you are our light. And the way that you make me and my friends feel, the way you make my black friends feel, is empowering. And you make them stand up for themselves. And I love you. I always have and I always will.
Later in the show, Adele appeared onstage with a Grammy broken into two pieces and held one half out to Beyoncé. But did she actually give this to Beyoncé?
Twitter didn't wait to dissect the incident, but went ahead and promptly assumed so, with users making reference to the fact that Adele had seemingly pulled a Cady Heron from Mean Girls. You know, the scene when she breaks her Spring Fling crown into little pieces and distributes it to the crowd. It's a heartwarming parallel, which could imply why this theory went viral pretty fast.
But photos taken at the end of the night suggest otherwise. How did she take home five complete Grammys if she had broken one in half? And why does this photo of Beyoncé show her just holding two Grammys?
A backstage video casts some light on the enigma, showing Adele seemingly going backstage to swap out both halves of the broken Grammy for a whole one. This also could imply that Adele never broke the award in half on purpose to begin with, but that this was an accident. Perhaps the moment when she extended the broken half of the award was just a joke.
But this doesn't mean Adele's speech was an empty gesture. She continued to fly the flag for Beyoncé backstage in the press area, stating "My view is kind of 'what the f*ck does she have to do to win album of the year?'"
It remains to be seen whether Adele will actually reject the Grammy. But here's hoping. While it's immensely generous and commendable that she used her speech to dedicate the award to Beyoncé, if the singer genuinely feels that way, she shouldn't just talk the talk, but walk the walk.