Did Anyone Kneel During The National Anthem?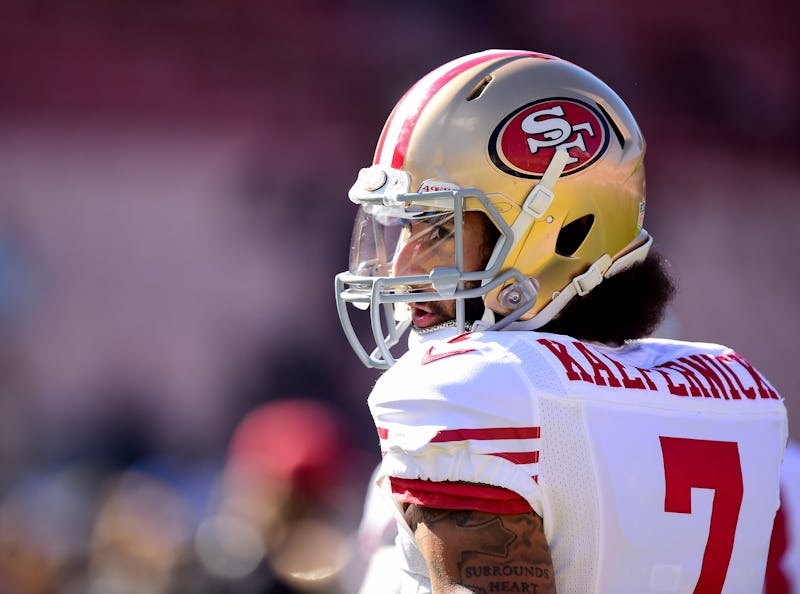 Harry How/Getty Images Sport/Getty Images
At an NFL game a 2016, 49ers quarterback Colin Kaepernick sat down during the National Anthem in 2016, explaining that he wouldn't "stand up to show pride in a flag for a country that oppresses black people and people of color." Kaepernick's protest inspired other players to kneel or sit during games as well, and with Super Bowl LI kicked off, the natural question is: Did anyone kneel during the national anthem?
UPDATE: For information on whether anyone kneeled for the national anthem at the 2018 Super Bowl, head to our story from this year right here.
EARLIER: If they did, the cameras didn't catch them doing it: No players appeared to kneel during the national anthem at the Super Bowl this year.
Many on Twitter suspected that some player or another would take a knee during the anthem, and that makes sense: The Super Bowl is one of the highly-viewed television events of the year, and this year's games come at a time when Americans are both very politically divided and very politically engaged. That would seem to be a recipe for some sort of national anthem protest, but alas, there was none.
Kaepernick's protest was controversial in part because he plays for a league that's traditionally very conservative. The fact that many of Kaepernick's fellow players joined the protest added another layer to the story, and the result was more political focus on the NFL than the league has received in years.
After cameras spotted him sitting during the national anthem at a game against the Green Bay Packers in Santa Clara, Kaepernick told NFL Media that he could not take pride in the American flag. "To me, this is bigger than football and it would be selfish on my part to look the other way. There are bodies in the street and people getting paid leave and getting away with murder."
Kaepernick launched his protest during a period of growing public concern about unprosecuted police killings of unarmed black people in America. More than 15 NFL players eventually joined the protest, either sitting, kneeling or raising their fists in the air during various games' national anthems. In two separate games that took place the same day, entire teams — the Seattle Seahawks and the Kansas City Chief — linked arms during the anthem to show solidarity with Kaepernick.
It goes without saying that, two weeks into Donald Trump's tenure as President of the United States, political tensions in the country are on the rise. It would have been understandable if an NFL player or two kneeled during the Super Bowl this year, but they did not.