Twitter Thinks Aubrey O'Day's "DJT" Song Is Totally About Don Jr.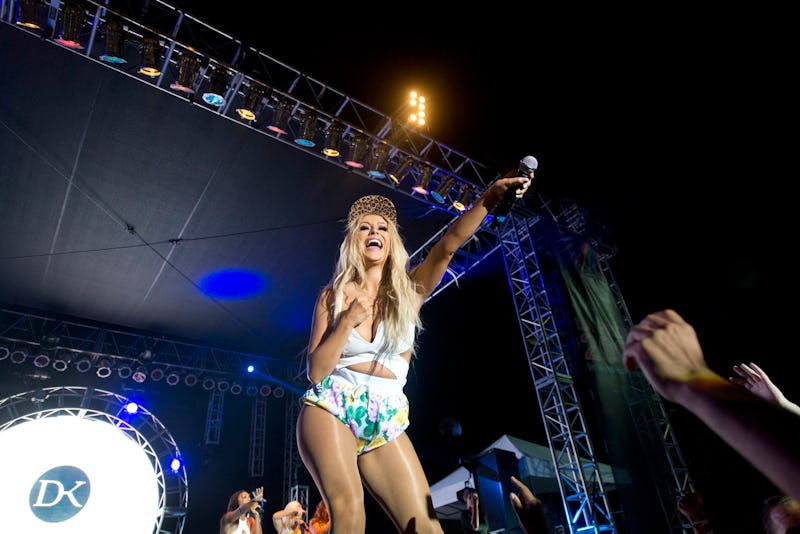 Chelsea Guglielmino/Getty Images Entertainment/Getty Images
Just days after news broke that President Trump's oldest son is getting divorced, Us Weekly reported on Monday that the same son and a former Danity Kane singer supposedly had an affair back in 2011. So, if it wasn't clear already, now it is: this first family is bringing lots of drama to the White House. And now, people are bound and determined to figure out whether or not one of Aubrey O'Day's songs, "DJT," is about Don Jr. and their supposed relationship. Bustle has reached out to both Don Jr.'s and Aubrey O'Day's representatives for comment.
Us Weekly described one source's take on the alleged relationship, suggesting that O'Day was supposedly hurt when it ended. Again, this has been confirmed by neither O'Day or Don Jr.
When it started, they were very serious all of a sudden. He told her it was over with his wife, that they were separated and he didn't love her — all of that stuff … Aubrey fell for him hard. She thought they were going to be together for real.
It didn't come as a surprise, then, that people started connecting the dots. The lyrics to O'Day's song, "DJT," repeats the phrase, "I hate me for loving you, hate you for letting our love die."
The first part of the song consists of spoken word that pretty much comes straight from O'Day's heart.
Whatever the truth is defines the reality of you and I forever
And I need to be able to define that before I can walk away
I thought it was forever at the time but maybe I was lying to myself
Is that what you want?
You want to believe that everything with me was a lie? A fantasy?
And you want to go back and live in the life that you had have forever?
I don't know, I couldn't do what I said I would do
So that answered the question for me
I'll always want you and always wonder about it
But it doesn't matter because I have to stay here
What made you stop believing in our world?
You know, I think probably the loss of the other world
I'm torn between two worlds both of which I wanted
The song was released in 2013, which would have been about a year after the supposed affair ended in March 2012.
The song continues as she comes to the conclusion that she absolutely has to move on, because the relationship isn't necessarily what she thought it was.
I have to move on, I need your help
I can't believe that this was all a lie
You have to tell me you love me
But the song isn't the only hint O'Day might have decided to drop about the affair. Just before Trump won the presidential election in November 2016, O'Day tweeted, "No. my story I didn't tell is worth millions now … this doesn't hurt me, it hurts America." The tweet has since been deleted.
Regardless of the veracity behind the reports of an affair, Vanessa and Don Jr. released a joint statement saying they will always respect each other.
After 12 years of marriage, we have decided to go our separate ways. We will always have tremendous respect for each other and our families. We have five beautiful children together and they remain our top priority. We ask for your privacy during this time.
That being said, the reported affair between Don Jr. and O'Day certainly won't make dealing with the divorce — in the public eye nonetheless — any easier. And considering Don Jr. is so closely associated with the White House, expect these reports to be addressed soon.