Sorry Bey Hive, But You Can't Be Mad At Bey For Skipping The VMAs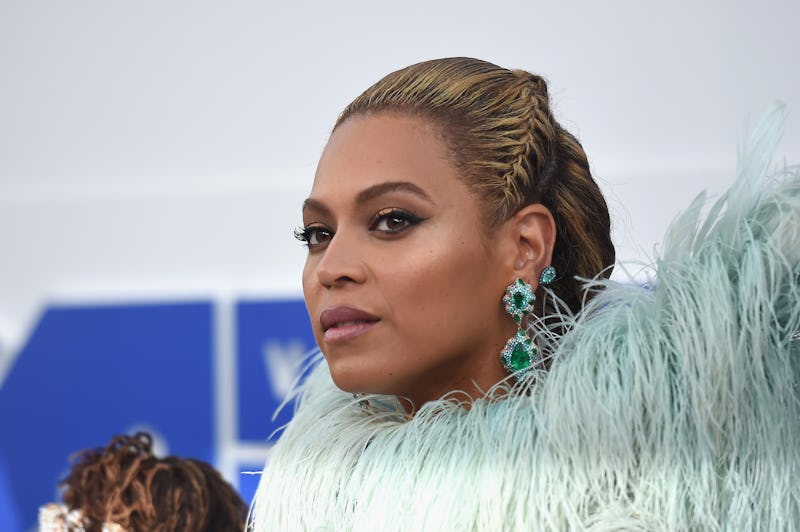 Jamie McCarthy/Getty Images Entertainment/Getty Images
Things felt a bit more normal and less extraordinary at this year's VMAs than usual because Beyoncé didn't attend the 2017 MTV VMAs blue carpet. It became clearer as the night rolled on and blue carpet arrival interviews took place that Queen Bey wouldn't be making a surprise entrance, as she has been wont to do in previous years. I mean, it's totally understandable that she wouldn't show but come on, how great would it have been if she did? Then again, considering she is now on full-time mom duty to newborn twins and her oldest daughter, Blue Ivy, it's easy to see where her priorities would be on this special night.
It was probably a longshot to think she'd come, but Beyoncé was in fact not in attendance at the 2017 MTV VMAs because, hello, she recently gave birth to twins and the queen needs to chill. On top of that, she has been living her best low-key life with her family. Resting, relaxing, and posting fly AF Instagrams to her personal account has been Beyoncé's mode for the summer of 2017, and she didn't show any signs of changing that on Sunday night.
But this low-key approach has only made her VMAs absence even more noticeable. One thing's for sure: Twitter totally missed Bey, and they made their feelings known. Check out how one 2017 MTV VMAs fan account chose to memorialize Beyoncé's non-appearance at Sunday night's awards show.
Another Twitter user aptly noted how a lot can change in just one year.
Sadly, Beyoncé did not post her whereabouts on Sunday night, so fans couldn't even see what she did instead of blessing us all with her presence at the VMAs. Again, it's nothing entirely new because Beyoncé keeps to herself most of the time, but an update still would have been nice, right?
It looks like we'll have to wait until next year for a Beyoncé appearance (if she does indeed choose to make one). For now, we'll just have to wonder what could have been.