Caelynn Claimed Blake Hung Out With Yet Another 'BiP' Star Before The Show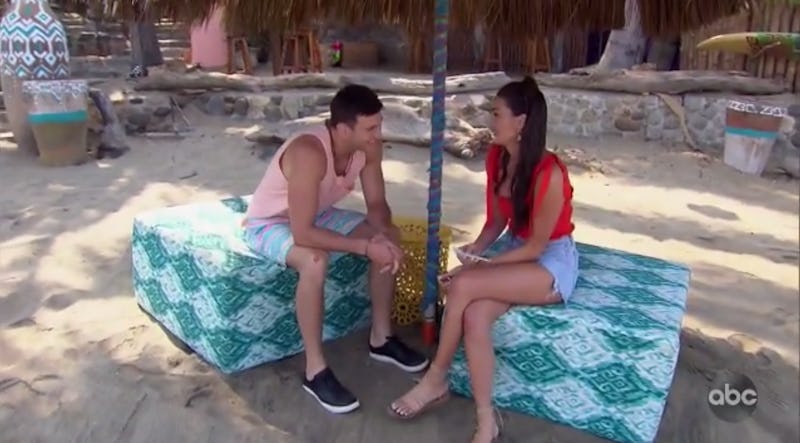 ABC
According to Caelynn, while Blake was "ghosting" her, he was talking to new Bachelor in Paradise arrival Jen Saviano. But Blake pretty explicitly stated that Jen wasn't at Stagecoach and they didn't hook up. So did Blake and Jen know each other before BiP or not? Their stories don't line up, and Bachelor Nation is confused.
The exact quote from Blake was, "Jen was not as Stagecoach, we did not hook up." He said it kind of quickly, and some fans misheard him as saying Jen was at Stagecoach, but that isn't the case. We do know, however, that Blake hooked up with both Caelynn and Kristina during the weekend of the festival, as he admitted earlier on in the season. Caelynn claimed he stopped talking to her and started hanging out with Jen afterward, but neither Blake nor Jen mentioned knowing each other before going on the show.
That being said, they seemed friendly. When Jen came down the stairs and stepped onto the beach, Blake exclaimed, "There's Jen!" like he at least knew who she was, though members of Bachelor Nation tend to be aware of each other; Dean knew who she was, too, though they'd never met before. When Jen pulled Blake aside to chat, there was a chance they'd go on her date together, and he told her he was "glad" she was there. But she ultimately ended up asking Chris on the date.
Other than that initial interaction, Blake and Jen haven't really talked much, which isn't helping with the confusion among fans. Some think their instant connection means they hung out before, and others are waiting to see how things progress before jumping to any conclusions. All things considered, and regardless of their supposed past, it's too early to judge how Jen's relationship with Blake in Paradise will unfold.
It's important to note that so far, only Caelynn has claimed that Blake and Jen hung out pre-BiP. Neither Blake nor Jen have confirmed or denied any preexisting relationship. Blake did say, however, that if Jen were to ask him on a date, he would go. But that hasn't happened, yet.
Instead, she went on a successful date with Chris, who initially wanted to be exclusive with Katie. But Katie dragged her feet for too long, so he decided to explore a relationship with Jen, and it went well. As if Paradise needs yet another love triangle.
Chris hasn't officially called things off with Katie just yet, though, so there's a possibility that their relationship will bounce back. If that does happen, Jen could be in search of a rose, and well, the guys have the power this week. Blake doesn't seem so sure about who's getting his rose, and so far, Kristina and Caitlin are both vying for it. If Chris decides to keep things going with Katie, Jen could try to get Blake's rose, too. And if she does, perhaps the truth about whether or not they knew each other will be revealed.
This article was originally published on