The Truth About Charles Manson's Life Is Even More Twisted Than You Realise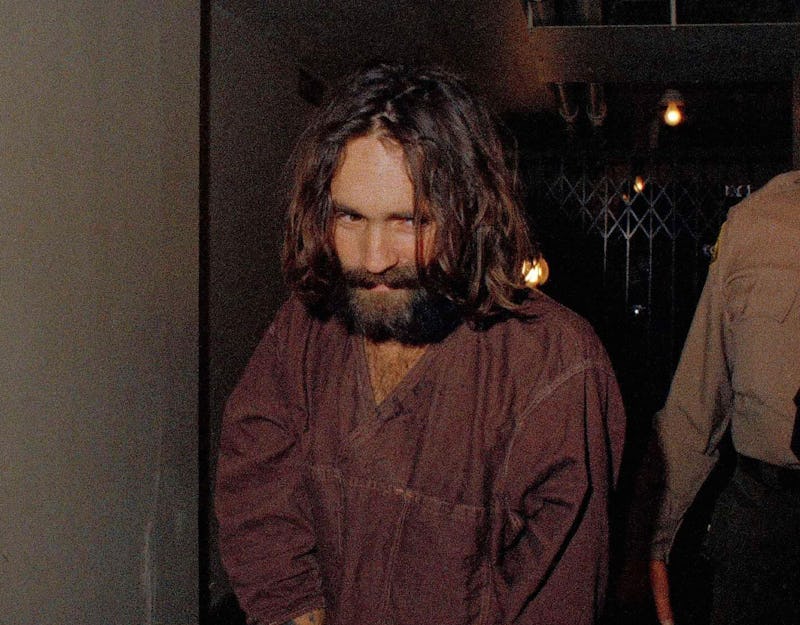 AP/Shutterstock
When diving into the realm of true crime, Charles Manson is probably one of the first names you'll come across. Leader of a desert cult referred to as the Manson Family, he and his followers were responsible for the 1969 Tate-LaBianca murders. But did Charles Manson actually kill anyone? Or did he just compel his followers to commit horrific crimes for him? Well, it's actually a mixture of both. There's a lot to unravel here, so I'll start with the spate of murders that made Manson and his family so disturbingly infamous.
On the night of Aug. 9, 1969, Manson instructed four of his most loyal followers to 10050 Cielo Drive — home to director Roman Polanski and actress Sharon Tate — to kill everyone in sight. Five people lost their lives that night, including a then eight-months pregnant Tate and her friends Wojciech Frykowski, Abigail Folger, and Jay Sebring. Steven Parent, an 18-year-old student visiting the home's caretaker, was also killed.
After the murders, Charles 'Tex' Watson, Susan Atkins, Patricia Krenwinkel, and Linda Kasabian returned to Manson who was apparently "displeased at the slopiness of the previous night's murders," as CNN reported. The following evening, Manson decided to "show [his followers] how to do it" — as stated in the Vincent Bugliosi's book Helter Skelter — by accompanying Watson, Atkins, Krenwinkel, Kasabian, Leslie van Houten, and Steve "Clem"'Clem' Grogan to pick their next victims at random. Tragically, the Manson Family's next victims were Leno and Rosemary LaBianca.
According to the The Straits Times, Manson didn't partake in the murders himself, but instead "tied up the residents [...] before leaving." He then instructed his followers with the task of murdering the couple.
It wasn't until four months later, in December of 1969, that all those involved with the killings would be indicted. This helped police to connect Manson to two other murders that took place before the spree.
The first occurred in July 1969, where music teacher Gary Hinman was murdered by "follower Bobby Beausoleil, accompanied by Manson Family members Mary Brunner and Susan Atkins," stated CNN. Similar to the Tate murders, Hinman was killed under the duress of Manson.
Donald 'Shorty' Shea became the second victim after supposedly ratting Manson and his Family out to the police . Shea worked at Spahn's Movie Ranch — where the Manson Family resided at the time of the murders — and "began to see qualities in Charles Manson that he disliked," according to ThoughtCo, which "caused problems between Manson and [ranch owner] George Spahn."
This irked Manson to no end, so he decided to round up a group of his followers to aid in the murder of Shea towards the end of August, 1969.
Manson was eventually convicted "for seven counts of first-degree murder and one count of conspiracy to commit murder" in 1971, as reported by The Telegraph. However, while he was behind every one of those brutal killings, he didn't physically kill any of them. Instead, he instructed his cult to do it for him.
Originally Manson and his followers were given the death penalty for their crimes, but as the this was abolished in the year after they were charged, the "Manson Family members [were] commuted to life in prison," as reported by CNN.
With the second part of the ITV documentary Manson: The Lost Tapes airing tonight, maybe some more secrets will be uncovered. You better tune in to find out.
The final part of Manson: The Lost Tapes will air on ITVm Thursday night at 9 p.m.