These Heartbreaking Stories About Charles Manson's Children Will Move You To Tears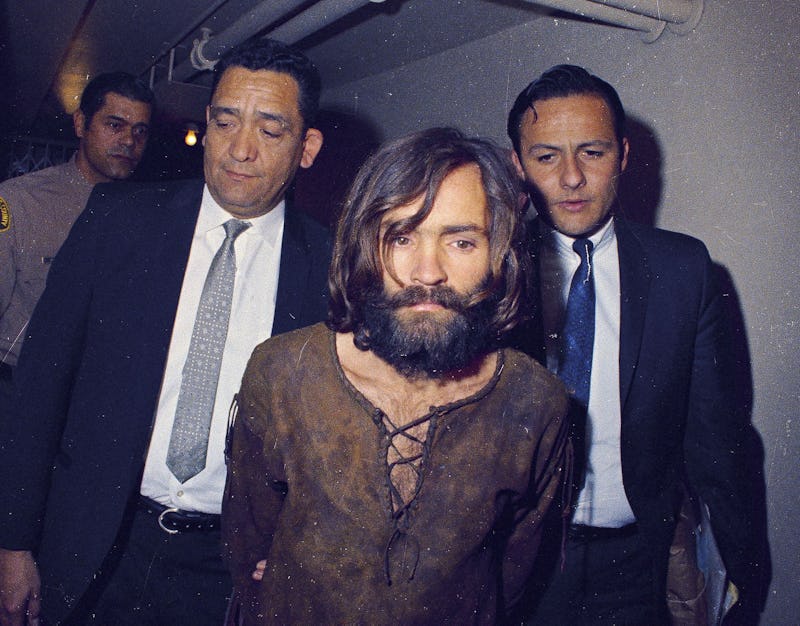 Anonymous/AP/Shutterstock
Infectious and addictive as the true crime genre is, sometimes its darkness is almost too hard to handle. Some might say that of the infamous Charles Manson, who is best known for the murder of five innocent people, including the actress Sharon Tate. But while he's the stuff of nightmares to me and you, he's actually someone's dad. In fact, Manson actually had three sons. But what happened to Charles Manson's children?
The cult leader of the Manson Family often claimed to not know how many children he had fathered. However, it is confirmed that he had at the very least, three boys.
Manson's eldest son, Charles Manson Jr, was born in 1956. The serial killer became a father for the first time when his first wife Rosalie Jean Willis gave birth. However, he was an absent father and left the family home.
As he grew older, Manson Jr. struggled to come to terms with the crimes his father had committed. So much so that he changed his name to Jay White so people wouldn't associated him with his dad. Sadly though, the pain and suffering his father inflicted on others was too much for him to comprehend, and in the '90s, he took his own life.
Jason Freeman, Manson's Jr.'s son, told CNN back in 2012: "He just couldn't let it go. He couldn't live it down. He couldn't live down who his father was."
Manson became a father for the second time after he married his second wife Leona Stevens. The pair became parents to Charles Luther Manson, however, the marriage didn't last, and the father and son did not have a relationship. Somehow, he has managed to completely avoid public scrutiny, and it's not known what happened to him.
Unlike his siblings, Manon's youngest son (whom he had with Mary Brunner — a founder of the Manson Family), Valentine Michael Manson, hasn't shied away from the public eye. Instead, he's done quite the opposite and has spoken publicly about his father.
During an interview with KCBS, he stated that he feels no connection to Manson. While his father was still alive, he received a letter from him but tore it up without reading it. Since that interview, he has kept a low-profile, and it's not now known where his current whereabouts is.
A man called Matthew Roberts also claims to be the son of Manson, however, this has never been proven as two DNA test results came back inconclusive. During an interview with Radar Online, Roberts said that he loved his alleged father and was emotional when he was informed that Manson was dying. He told the website: "I want to get up there in person and see what's going on. This could be it, that's my greatest fear.
"If he's on his deathbed I would like to tell him I love him, because I do. Everybody has a unique and special sort of love for their progenitors even if they are different or disturbed or monsters."
However, when most people think about Manson's family, they aren't picturing his kin folk, but of his cult. He founded the Mason Family in the late '60s, in the glow of hippy filled Los Angeles. His group largely consisted of young women, who he charmed and manipulated into believing his every word, and, more terrifyingly, obeying his every order — even to commit murder. The killers were all caught and charged appropriately, with Manson receiving a death penalty that was subsequently commuted to life imprisonment.
A new ITV documentary called Manson: The Lost Tapes is going to look at how Manson managed to start the cult and convince his followers to commit murder on his behalf. According to a press release sent to Bustle UK, the film will include never before seen "interviews with Manson cult members and experts to present the inside story of how an apparently peace-loving commune was turned into America's most horrifying group of cold-blooded killers."
Manson: The Lost Tapes will air on ITV, Thursday at 9 p.m.