Kristina May Be Softening Towards Dean After His 'Bachelor In Paradise' Apology Tour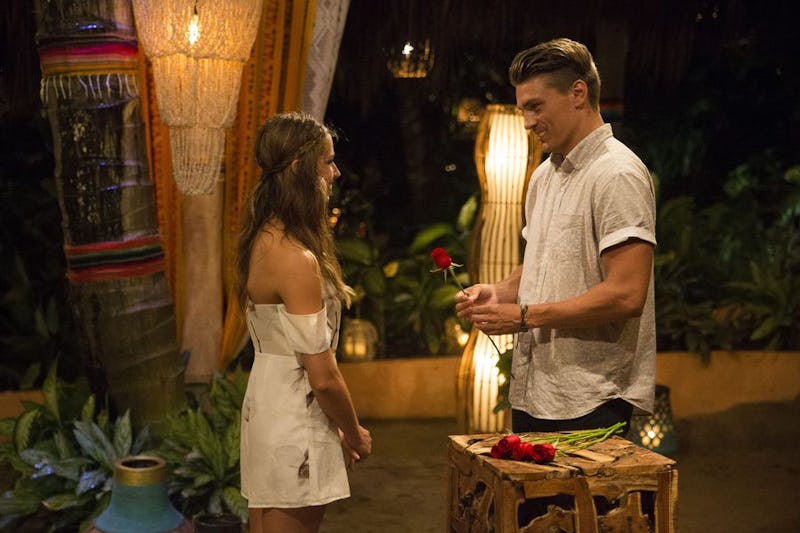 Paul Hebert/ABC
When Kristina Schulman left the fourth season of Bachelor in Paradise because Dean Unglert decided to pursue a connection with Danielle Lombard, it was one of the most tragic moments in the show's history. But are Dean and Kristina back together after Bachelor In Paradise? Rumors have been flying over the course of the show about Dean and both of the women he dated during the season.
It's not that Kristina and Dean necessarily had a fantastic relationship, but Kristina's departure was still depressing. Dean had so far come across as such a sweet guy, so it was an unpleasant surprise to have him playing with the feelings of not one, but two women for the bulk of the season. While Kristina lost patience and voluntarily left the beach in the show's fourth week, there was still a sliver of hope that the couple might work things out after the fact.
Clarifying things just a few days in advance of the Bachelor in Paradise finale, Dean talked to Us Weekly about his relationship with Kristina and D. Lo. "We're all on good terms," Dean said. "There's no more bad blood between the three of us." He even suggested that he would be interested in dating Kristina again, saying, "Kristina's great. You know, her and I had to sit down and talk to each other and hopefully there's a time that we can figure it out and see what happens from there. But we're just for now casually talking and seeing if there's anything there." So, while he seems interested, it also sounds like Dean and Kristina are not dating now.
Around the same time as that interview, Dean posted an Instagram photo of the couple from a trip to Kristina's hometown of Lexington, KY, that, according to Dean, happened during the hiatus that happened shortly into filming. Dean captioned the photo, "You were out of my league," and tagged Kristina. That vague comment suggests that perhaps Dean is looking to get back together with Kristina, or at least "have a relationship with both of them as friends," as Dean told Entertainment Tonight.
And for now, there's nothing stopping Dean from pursuing either of the women he dated in Paradise this year, because he has not been cast on any more upcoming ABC reality franchises. Dean openly admitted in the same ET interview that he won't be the Bachelor next season because of Bachelor in Paradise Season 4. "If you watch two episodes of Paradise, you'll see very quickly why I'm not the Bachelor this year," he said. "I don't know if I necessarily qualify myself as an f-boy ... [but] I can see how my actions reflect it."
But the missing piece of this puzzle is Kristina. Of course, she's the one who left the show because of Dean's behavior, so it would be up to her to decide whether or not to let Dean back into her life and give him another chance. After sending tweets about how frustrated she was by Dean during the season, Kristina hasn't spoken up or posting anything more nostalgic about their relationship. And Dean and Danielle were spotted by Bachelor spoilerhound Reality Steve spending time together in Los Angeles in mid-summer, after Paradise finished filming, while Kristina — who's also spent time in Los Angeles this summer — hasn't been photographed with Dean.
But all three members of this love triangle appeared on The Ellen Show on Sept. 11, and it seemed like Kristina might be softening towards Dean again. "That was an incredibly tough night for me," Dean told Ellen about the breakup, again expressing contrition for his actions. When Ellen asked Kristina if she'd be open to seeing what might happen in the future with Dean, she said, "Only if this guy learns from his mistakes." So if Dean shows that he's grown and doesn't just say so, there may be hope yet.
While Dean's behavior shocked fans during Bachelor in Paradise, it sounds like he regrets how things turned out, and understands why fan sentiment has turned on him, even if he hates being called that one particular term. But in order to have a second chance with Kristina, Dean will have to work out their issues with his former costar.