Kristina Stands Up To Dean On 'Bachelor In Paradise' & Fans Are So Proud Of Her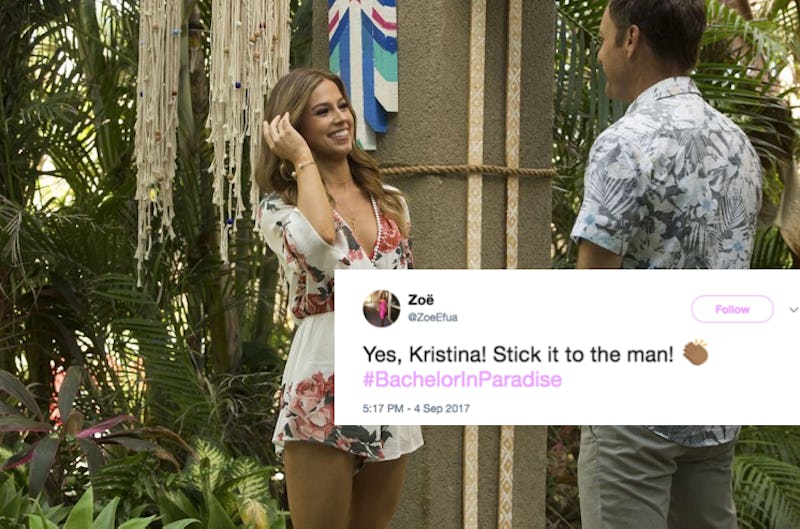 Paul Hebert/ABC
There comes a moment (often many) in a woman's life where you have to stand up for yourself, and on Bachelor In Paradise, that moment finally came for Kristina who called Dean on all of his crap from the season and stood her ground. Woohoo! Because I have been watching this dumpster fire of a relationship since the premiere, I'm on board for #StrongKristina, and the Internet is, too. Twitter loves that Kristina stood up to Dean on Bachelor In Paradise.
One of the wonders of this season has been how Dean went from the favorite from Rachel's season of The Bachelorette to one of the most disliked contestants on Bachelor In Paradise. The mighty fall hard, especially when they try to date two women at the same time all the while not committing to either and being super whiny and indecisive about the whole thing.
Dean said in a voiceover, "Kristina and I have bonded on a level that's hard to find," but he sure as you-know-what isn't acting like it. My favorite line of her takedown was, "Post-rose ceremony we spend the night together, and 10 hours later, you're doing that? That was so disrespectful to me. I did not deserve that." The "that" in question was making out with Danielle in the pool in front of Kristina. Dean asked for Kristina's "patience" and Kristina basically told him to shove it because why would she wait around for him to figure his life out? Insert the GOOD Grumpy Cat meme here.
Later, Kristina opted to bail on this whole mess instead of subject herself to being disrespected by Dean, and she left Paradise with a gem of a speech:
"I came to Paradise because I wanted to find someone that I wanted to spend my time with, and see the potential after it, and I was getting that in the beginning. As time went on, I felt I was not getting that in return. In my next relationship, I want to be valued. I want to be respected, and I want to be put first. To be with someone who admires me for who I am and sees the value in me. So that said, I cannot give out this rose tonight, and gentlemen, I want you to know that you're all amazing, but I won't be staying here, so I'll be saying my goodbyes."
BOOM. It took a few weeks for Kristina to see through Dean's ways on Bachelor In Paradise, but I'm glad she finally got to it, and so are the rest of the fans.
One Wanted Kristina For Bachelorette (Let's Skip The Bachelor Entirely)...
And Some Were Just Happy That Kristina Is Reclaiming Her Power
Others Were Happy To See Dean Shot Down...
And Most Just Want Kristina To Get Her Due
Dean has been dangling his relationship with Danielle Lombard in front of Kristina's face since Danielle showed up on the scene, and I'm just thankful that Kristina grew the courage to tell Dean that she isn't content waiting around for him. We were all rooting for you, Dean, and you ruined it. But, at least we got to see Kristina be a boss.