Drake's New Album Will Reportedly Feature A Never-Heard-Before Michael Jackson Track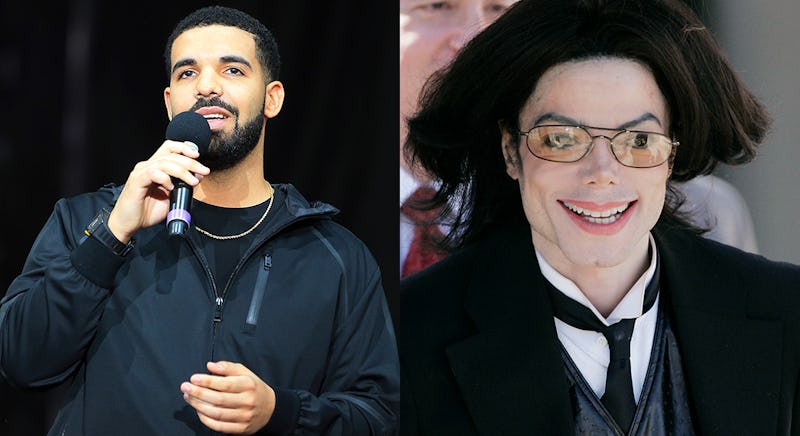 Vaughn Ridley/Getty Images Sport/Getty Images; Win McNamee/Getty Images Entertainment/Getty Images
Drake's new album Scorpion is due to drop on Friday, June 29 and fans cannot wait. On the eve of the release on Thursday, June 28, TMZ reported that Drake's Scorpion will feature an unreleased Michael Jackson track. (Bustle reached out to Drake's reps and Jackson's estate for comment, but did not immediately hear back.) But wait — did Drake know Michael Jackson at all?
It's unclear if the Canadian rapper has ever met the pop legend, and if he has, it doesn't seem like Drake has spoken about it publicly — but Jackson will appear on the double album Scorpion. TMZ reported that the song "Don't Matter To Me" is a previously unreleased track by Jackson, to which Drake raps along. The news outlet compared the sound of the track to Justin Timberlake's 2014 tune "Love Never Felt So Good," in which JT dueted with Jackson.
Earlier on June 28, Drake released the Scorpion tracklist, which revealed that "Don't Matter To Me" would feature Jackson and that the double album also contained collaborations with JAY-Z, Ty Dolla $ign, and Static Major. Scorpion also features the previously released singles "Nice For What," "God's Plan," and "I'm Upset."
Drake has long cited Jackson as one of his influences. In an MTV News interview from July 2009, Drake remembered Jackson a few weeks after the pop legend's death in June 2009. Drake said:
"Michael Jackson, for me, was one of the first times that I really realized the power of an entertainer. I remember having Moonwalker on cassette and I remember how religiously I used to watch it. Because I used to feel like, as a kid, this was the most amazing place to escape to. It was that world he created. I just feel like he was the first artist that I ever experienced that made you get lost in Michael Jackson, his music, his imagery, the choices that he made for cover art. Now that I'm older, I can look back and be like, wow, he was one of the most consistent entertainers of all time.
Drake further talked about Jackson's influence on him as a musician in a 2016 interview with fellow Canadian Nardwuar. In the video interview, the interviewer shows the rapper a classic issue of Rolling Stone magazine with MJ on the cover. Drake talked about watching the documentary Michael Jackson's Journey from Motown to Off the Wall, and being in awe of the pop legend.
"He is the greatest entertainer of all time," Drake said in the interview. "He pushed himself further and further, did things that I can't even comprehend, like choreograph dancing, playing instruments, everything. He was just the greatest."
In a February 2017 interview on Apple Music's OVO Sound, Drake said, "I write pop songs for a reason. I want to be like Michael Jackson. I want to be like artists that I looked up to."
On June 20, Newsweek reported that Drake surpassed his idol Jackson when it came to the most weeks at No. 1 for a solo male artist on the Billboard Hot 100 chart. Jackson was No. 2 on the list with 37 weeks, while Drake now has 38 weeks, thanks to his single "Nice For What." Currently, Usher holds the overall record for the most weeks at No. 1 for a solo male artist at 47 total weeks, according to Newsweek.
While "Don't Matter To Me" and the rest of Scorpion will be released on Friday, some fans have been theorizing that the album will be available to listen at 11 p.m. on Thursday. The theory seems to be based on the fact that Apple Music has apparently released albums at 11 p.m, according to Reddit.
But no matter when Scorpion drops on Thursday night or early Friday, "Don't Matter To Me" will likely be a track you'll want to give a listen.