Drake's New Song "March 14" Has Fans Coming Up With Some Wild Theories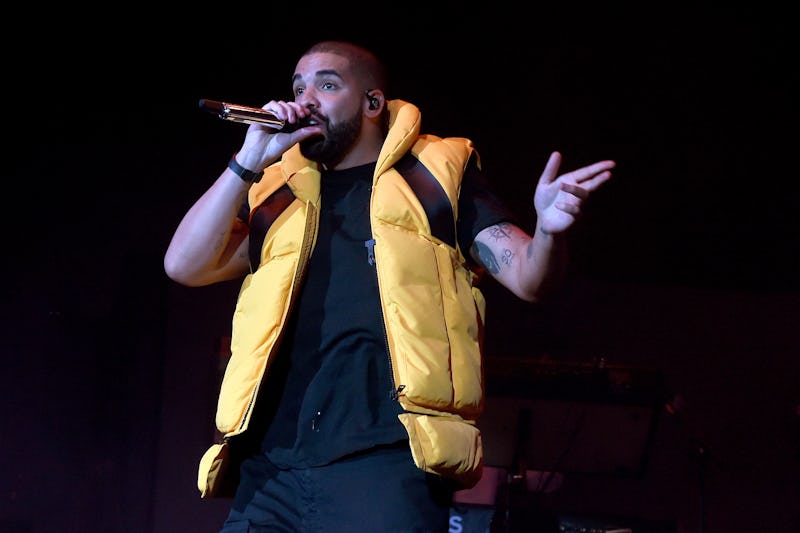 Kevin Winter/Getty Images Entertainment/Getty Images
After the release of the complete tracklist for Drake's new double album Scorpion, fans everywhere are wishing they had access to Drake's calendar. That's because one of his new songs is titled "March 14," and everyone's left wondering what happened to Drake on March 14? If you believe Twitter, there are a few major theories, one involving Kanye West, and the other his rumored son.
Look close at the tracklist for Scorpion''s B-side, and fans will see that the final track is called "March 14," which, according to a popular Twitter theory, is the day Drake traveled to Wyoming to record Kanye's new album Ye. No surprise then, that fans started connecting the dots. "Drake flew out to Wyoming to work on an album with Kanye," Twitter user @JasonEnsorRN wrote. "Also, Drake has a song named March 14 on new album...." Now, if only anyone knew what comes after those ellipses.
Could Drake have written a song about Kanye? As of late, there's certainly a lot of material Drake could use: those slavery comments, his MAGA hat, the "dragon energy" that Kanye claims he and President Donald Trump share. (Though, if it's the latter, Drake really should have called the song "Dragon Energy," right?)
Since it's unlikely anyone will get to see Drake's itinerary for that day, the fact that Drake was recently added as a co-writer on Kanye's track "Yikes" could be confirmation that he did, at least, take a trip to Wyoming. But, as someone else named @ssvayy pointed out, Drake might have actually already revealed why that date is so noteworthy to him: "REMEMBER TRAVIS AND DRAKE HAD A FLIGHT TO CATCH AFTER PLAYING FORTNITE WITH NINJA ON MARCH 14."
So, on March 14 Drake might have been going to see Kanye, but he also made history on Twitch, a live-streaming gaming platform, that day. On March 14, Drake was playing Fortnite: Battle Royale with one of Twitch's most popular users, Ninja.
Now, it's possible this song will be about Fortnite, which would be great product placement, but fans are still convinced it has a Kanye connection. However, just because "March 14" might be connected to Kanye doesn't mean it's actually about the controversial rapper. While some fans have speculated that the track is about his supposed meeting with Kanye, others think it could be about Pusha-T, who also worked with Yeezy and happens to be in a feud with Drake. In fact, Pusha's song "Infared," in which he called out Drake for allegedly using a ghostwriter, was off his recent Kanye-produced album, Daytona.
Of course, that's where the "What's March 14?" theories get really interesting. What if "March 14" is Drake's response to Pusha-T's diss track "The Story Of Adidon"? "The Story Of Adidon," a response to Drake's own Pusha-T diss track, "Duppy Freestyle," is the most recent installment of the Pusha-T and Drake feud. The song featured allegations that Drake has an illegitimate child, and rocked the music industry and fans alike.
Drake never responded to Pusha-T's track; instead, he was forced to release a statement explaining the track's cover art, which featured a photo of Drake in blackface. In a statement on Instagram, Drake wrote that the photo was taken in 2007 when he was still an actor "working on a project that was about young black actors struggling to get roles, being [stereotyped] and type cast. The photos represented how African Americans were once wrongfully portrayed in entertainment." Since then, Drake fans have been waiting patiently for a Pusha-T diss track. (Though, Drake's Degrassi reunion video for "I'm Upset" was a nice bait and switch.)
At this point, Drake is a Pusha-T diss track machine, since he previously went after him on his 2016 diss track "Two Birds, One Stone," which also took shots at Kid Cudi, Pusha's G.O.O.D Music label mate, while also name-checking Pusha's fiancée. Now, Drake could be all out of Pusha-T diss tracks, but "March 14" has given fans hope that this beef isn't over.
Then again, there is one more "March 14" theory fans have come up with: the baby theory. Going of Pusha-T's "The Story Of Adidon," some fans believe that Drake will reveal he has a son who was born on March 14 in the track, despite having never confirmed the allegations that he is a father.
Perhaps, Drake isn't ready to declare a truce. Or, maybe he's just trolling fans with this track's title. It might make mention of Pusha, or Kanye, or Fortnite, or his alleged baby, but it might also be totally unrelated. Either way, fans are going to be listening extra carefully to "March 14" when Drake's album drops, hoping to understand once and for all what makes that date so special.