Gigi Hadid's Instagram Of Zayn Malik Raises One Big Question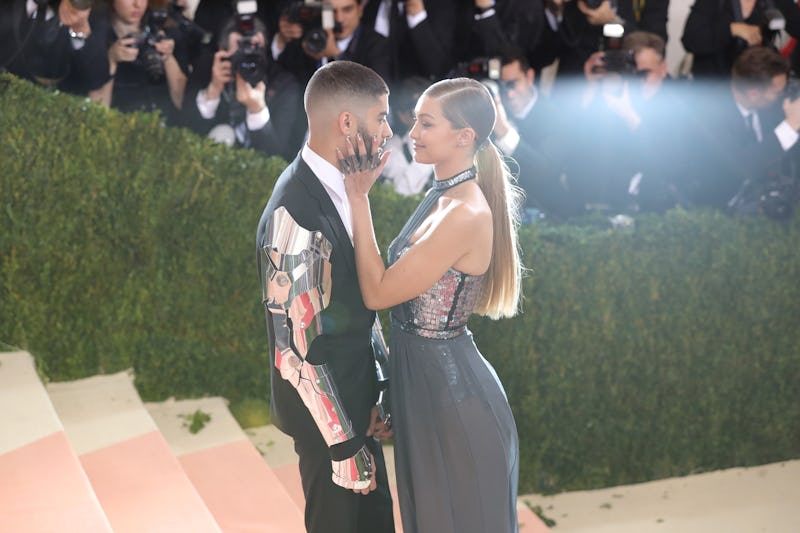 Neilson Barnard/Getty Images Entertainment/Getty Images
Gigi Hadid and Zayn Malik are at it again. Well, they might be, at least. Back in March, fans of the superstar duo were dismayed when, after two-plus years of dating, Hadid and Malik announced they'd split up. Now, almost three months later, a new Instagram photo has the internet wondering: Did Gigi Hadid and Zayn Malik get back together? Nothing's been officially confirmed, but if their cuddly snapshot is any indication, it sure looks like a promising possibility. (Bustle reached out to reps for Hadid and Malik for comment on their status, but did not receive a response at the time of publication.)
On Tuesday night, post-Oceans 8 premiere, the 23-year-old model gave fans a glimpse into what "after-partying" looks like, Hadid and Malik style. Judging by the sweet selfie she posted to her Instagram story that evening, after-partying looks a lot like lounging on the couch, iPad in hand, playing a wholesome round of a Pokémon game. "After party like, making it rain with Pokémon cards," Hadid wrote on the photo.
Only Hadid's face can be seen clearly in the snapshot's dim lighting, though it's easy to see that she's not alone. And, while it's difficult to definitively identify the person she's with as Malik (his face isn't pictured in the Instagram shot), fans of the former One Direction singer probably won't have a hard time recognizing him. The peroxide-blonde haircut and those tattoo sleeves give him away.
As fans of their romance know, this latest installment in the Hadid-Malik post-breakup saga is not the first of its kind. In fact, buzz over a maybe-reconciliation between the former lovebirds has been circulating for more than a month now. Or is it current lovebirds? At this point, the jury's still technically out on that one. That being said, Hadid and Malik were caught smooching on the streets of lower Manhattan, per a couple of photos published by TMZ back in April. So, feel free to interpret that one however you will.
Plus, according to a handful of reports, it sounds like Hadid and Malik had at least been hanging out for a couple of weeks prior to their Soho sidewalk spotting. A little less than two weeks before TMZ published those photos, Malik apparently paid Hadid a visit at her New York City apartment, according to an April 20 report by People. Then, four days later, paparazzi snapped some photos of Malik outside Hadid's apartment once again on April 24. As pointed out by Elle, that was the day after Hadid's birthday.
And, as exciting as it is for fans of the duo to see them together again, Hadid and Malik's periodic rendezvous (those that have appeared in the press or on social media, at least) are also a little bit confusing. Mostly because, after dating for more than two years, Hadid and Malik publicly called it quits in mid-March, when both parties confirmed the breakup via their respective Twitter accounts. That being said, neither breakup statement alluded to any unsolvable issues within the relationship, so perhaps reconciliation wasn't totally off the table to begin with.
"Breakup statements often seem impersonal because there is really no way to put into words what two people experience together over a few years," Hadid wrote in her breakup tweet, adding that she's "forever grateful for the love, time, and life lessons that Z and I shared" and wants nothing but the best for him. Malik's breakup tweet was just as amicable. "Gigi and I had an incredibly meaningful, loving and fun relationship and I have a huge amount of respect and adoration for Gigi as a woman and friend," he wrote, praising Hadid for her "incredible soul."
Neither Hadid nor Malik have spoken publicly about the status of their maybe-relationship since those breakup tweets three months ago. But, after seeing the pair's adorable PDA crop up on social media, as well as in the press, it seems pretty safe to say that — labels or not — Hadid and Malik are, at least, enjoying each other's company. At the end of the day, that's probably all that really matters, anyway.