Here's Why Gigi & Zayn Reportedly Broke Up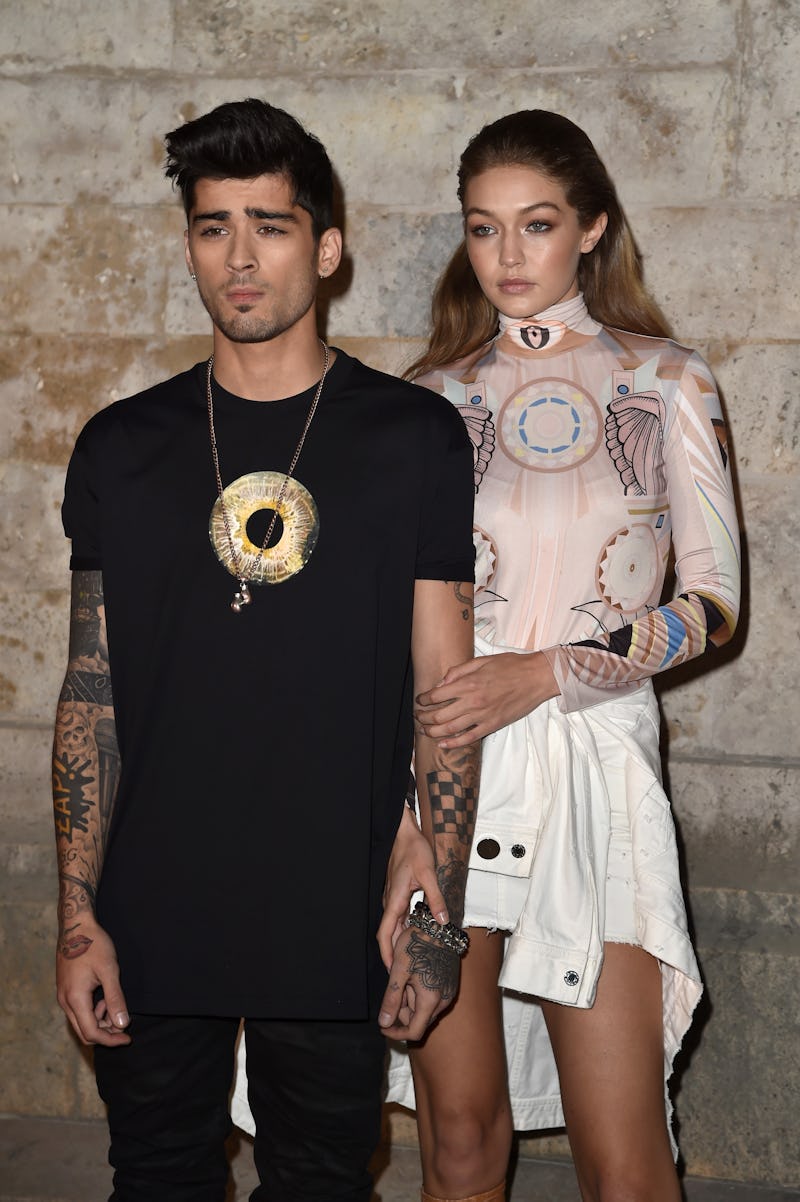 Pascal Le Segretain/Getty Images Entertainment/Getty Images
Sad news for Zigi shippers. According to a source for UK tabloid The Sun, Gigi Hadid and Zayn Malik have broken up after more than two years of dating. While the split has yet to be confirmed by either of the stars— Bustle reached out to reps for Hadid and Malik for comment, but did not receive an immediate response — the source for The Sun says "They are no longer a couple but they do remain close and are supportive of each other."
UPDATE: Hadid and Malik have confirmed their split with posts on Twitter.
EARLIER: *Clenches fists, closes eyes, screams up at the ceiling with tears cascading down face* WHYYY? 2018 has already been a pretty tough year for celebrity breakups — Jen and Justin, Lena and Jack, Arie and Becca, to name a few — but if the reports about Hadid and Malik are true, love is officially dead.
According to a "source close to the couple" who spoke with The Sun, the pair split because "they've grown apart, having been together for a long time." As far as breakups go, that's kind of the best-case scenario, but it definitely doesn't make things any easier for the people involved. And it kind of makes sense — both Malik, 25, and Hadid, 22, were pretty young when they first got together two years ago. And everyone, celebrities included, goes through some serious, grown-up changes throughout their 20s.
Distance and busy schedules may have been a factor as well, according to the source. "They have crazy work schedules that would put pressure on any relationship," the source says. Considering Malik and Hadid are both massively famous global superstars whose careers have continued to sky-rocket since they met, that sounds like a pretty legitimate reason, too.
Whether or not there's any truth to the reasons behind their reported breakup, Perez Hilton pointed out that Malik has already unfollowed both Hadid and her Real Housewives mom, Yolanda, on Instagram. Yikes. Definitely not a great sign for fans hoping that this whole thing was just one big rumor.
However, the source for The Sun also says that while "this is definitely the end for now, [it] isn't a bitter split and they both have respect for each other." Hmm. *Strokes imaginary beard* So, then why would Malik immediately unfollow the Hadids on social media? There's still no official confirmation of their breakup yet, but that's a pretty public snub. Seems kind of suspect. On the other hand, maybe stars are just like us, and if the breakup is fresh, it might still be painful for Malik to see Hadid in his feed.
Regardless, the whole thing is a bummer. They seemed so in love! Remember how cute that joint Vogue photoshoot was? And what about all those engagement rumors? The diamond ring Hadid wore on that finger! And what about the adorable birthday video that Hadid posted for Malik on Jan. 12? That was only two months ago! And what will Malik do about that tattoo seemingly of Hadid's eyes on his chest? Can't exactly "unfollow" that one, unfortunately.
But fear not, Zigi fans. There may still be the possibility for an eventual reconciliation after they've taken a little time apart. The source at The Sun says, "[The breakup was] a mutual decision so no one has completely ruled out a reunion in the future, but for now that's not where their heads are at." Again, none of this source's statements have been confirmed by the couple, but it doesn't hurt to hope that this one is true.
Fans will undoubtedly be waiting with baited breath for either Malik or Hadid to confirm the breakup themselves. In the meantime, though, if you need me, I'll be watching the "Pillowtalk" video on loop through tears and trying to focus on the good times.