Jay Z May Have Referenced Elevatorgate On "Kill Jay Z"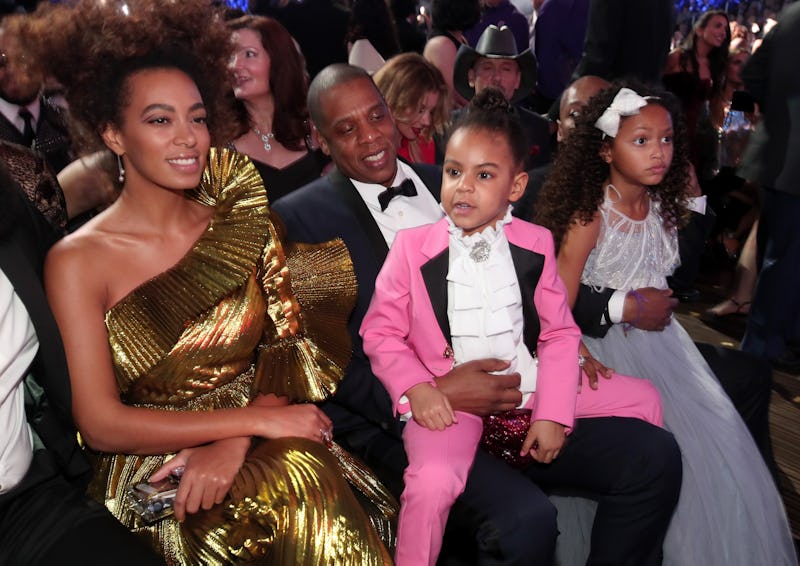 Christopher Polk/Getty Images Entertainment/Getty Images
JAY-Z's new album 4:44 is exactly what fans have been waiting for, especially since it appears that the rapper is being extremely open about private matters. For example, JAY-Z may have referenced Elevatorgate in "Kill Jay Z." After the 2014 Met Gala, JAY-Z and Solange Knowles got in an elevator fight that went viral. It sounds like the 47-year-old is commenting on the incident in the track when he raps, "You egged Solange on/Knowin' all along, all you had to say you was wrong."
Really, what else could he be referring to? There could very well be another matter that occurred between the two for JAY-Z to rap about, but many are assuming it's related to Elevatorgate. If you take a further look at the lyric, it's interesting that he uses the phrase "egged on." Is this his way of saying that he was at fault and provoked Solange? It's not entirely clear, but that's sure what it sounds like.
The song also seems to be JAY-Z's way of putting all of his wrongdoings and the person he used to be in the past. As he says, "But you gotta do better, boy, you owe it to Blue/But you can't heal what you never reveal/What's up, JAY-Z?/You know you owe the truth to all the youth/That fell in love with JAY-Z." He adds at the end of the song, "Nah, JAY-Z/Bye, JAY-Z." This just might his way of coming to terms with the things he's done wrong, like Elevatorgate, in an attempt to move forward and live a more positive life.
In September 2016, Solange commented on Elevatorgate while chatting with Lucky magazine (via People). "What's important is that my family and I are all good," she said. "What we had to say collectively was in the statement that we put out, and we all feel at peace with that."
The statement she referred to is the joint statement the family released in May 2014. "Jay and Solange each assume their share of responsibility for what has occurred," it began. "They both acknowledge their role in this private matter that has played out in the public. They both have apologized to each other and we have moved forward as a united family." The statement continued, "The reports of Solange being intoxicated or displaying erratic behavior throughout that evening are simply false. At the end of the day families have problems and we're no different. We love each other and above all we are family. We've put this behind us and hope everyone else will do the same."
At this time, it's not 100 percent clear if "Kill Jay Z" is actually referring to Elevatorgate, but it's one of many lyrics that is hard to ignore.