John McCain Voted No On The Skinny Repeal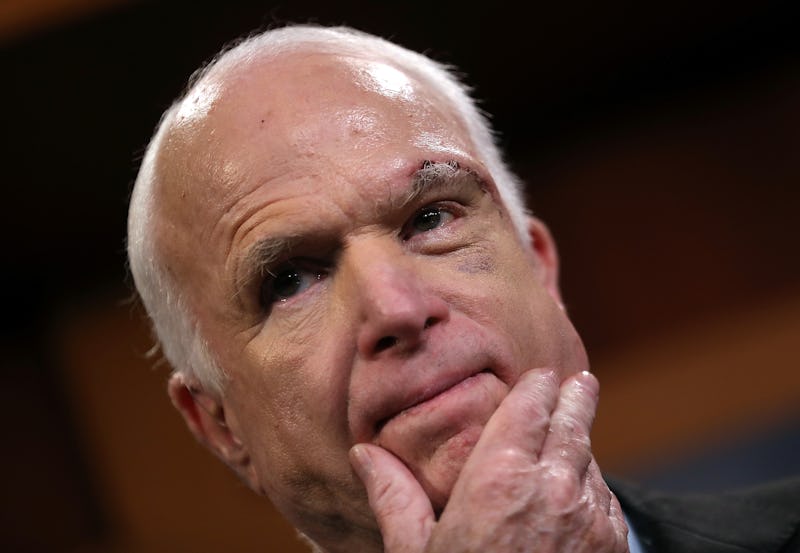 Justin Sullivan/Getty Images News/Getty Images
In the early hours of Friday morning, the Senate voted on Republicans' Health Care Freedom Act, the so-called "skinny" plan to repeal and replace the Affordable Care Act. The overnight vote was the culmination of a week of debate, which began on Tuesday when Senate Republicans voted to proceed with deliberation. Still in Washington, D.C., Arizona Sen. John McCain voted no in the "skinny repeal" decision, drawing attention for the second time in a week.
McCain arrived back on Capitol Hill early in the week after having brain surgery just days earlier to remove a malignant tumor. On Tuesday, he voted in favor of the Senate's motion to proceed with health care debate. Tuesday's vote, which narrowly passed 51-50, opened the Senate up for the health care debate, but it did not approve any particular bill or plan. After the procedural vote, McCain made headlines for a passionate speech he gave to his fellow senators, showing hesitancy toward their plan for health care reform.
"If this process ends in failure, which seems likely, then let's return to order," McCain said, calling for bipartisan legislating, rather than closed-door meetings. McCain also said that he wouldn't vote for the health care bill as it existed on Tuesday. That commitment was put to the test on Friday morning, when McCain faced the Senate's next vote.
Friday morning's vote focused specifically on one bill. Republicans released the Health Care Freedom Act late Thursday night, just hours before the early-morning vote was expected to take place. The bill has also been known as a "skinny" version of health care reform, since it repeals and replaces Obamacare in only a limited fashion.
McCain seemed critical of his party's plan, but Friday's vote was the true test of his stance. Republicans needed to pass the bill in order to enter conference with the House of Representatives. The House passed its own GOP-sponsored health care reform bill earlier this year and has waited for the Senate to take action ever since.
The executive branch also seemed to be waiting. President Trump tweeted on Thursday night a message of encouragement for Republican senators. "Go, Republican senators, go!" he tweeted before the vote.
For McCain's part, the veteran Arizona senator participated in Friday's much-anticipated vote, despite his serious medical condition. McCain was diagnosed with glioblastoma, a form of brain cancer, after he had a blood clot removed from behind his left eye about two weeks ago. He seemed committed to remaining in Washington for the health care vote, but he will likely return to Arizona soon to continue treatment.