There's A Koala Chlamydia Ward Named After John Oliver & The Story Behind It Is Everything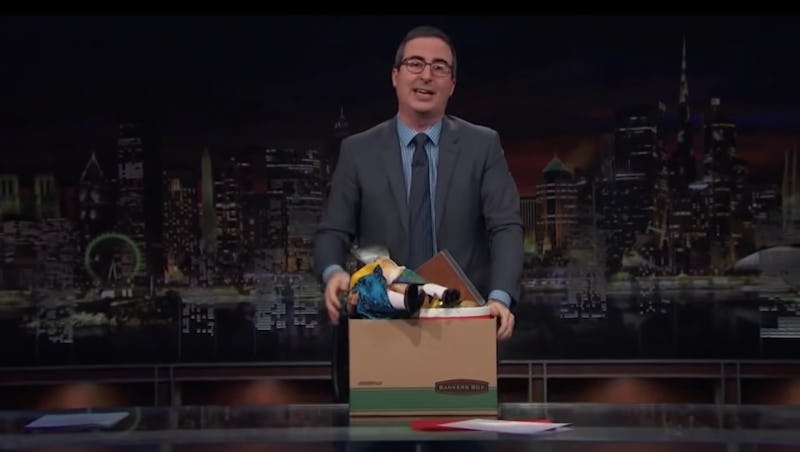 Last Week Tonight With John Oliver (HB0)
Sunday's episode of Last Week Tonight left fans wondering if John Oliver really quit the show, after the host claimed he had achieved everything he wanted to upon discovering that a koala chlamydia ward had been named after him. Oliver did start to pack up his set at the end of the show, leaving fans puzzled as to whether the late-night host would be returning. However, fortunately for his supporters, Oliver's HBO contract is good until 2020 — meaning he's not actually going anywhere anytime soon.
The story behind Oliver's koala chlamydia ward all started, surprisingly, with actor Russell Crowe's jockstrap. Several weeks ago, Oliver bought the jockstrap at an auction Crowe was holding to sell off memorabilia from his career. Oliver then proceeded to donate the jockstrap to one of the last remaining Blockbuster movie stores in the United States, located in Anchorage, Alaska.
Upon hearing about Oliver's purchase and donation, Crowe decided that he wanted to pay the good deed forward. Crowe then subsequently announced that he would be donating the proceeds from Oliver's purchase to fund a clinic that studies koala chlamydia. The Australian clinic now bears a plaque referring to it as "The John Oliver Koala Chlamydia Ward." Oliver was absolutely thrilled by Crowe's revelation, saying:
Well played, Russell Crow. ... That may honestly be the greatest thing I've ever seen. I'll be completely honest, back when this show started I wrote down my one and only goal for it and I put it in this envelope. It was a simple goal and it was just three words long. That goal — a koala chlamydia ward. So, what I'm essentially saying here is we've accomplished everything we've set out to do on this show. Which means, thanks very much, everyone, but we are f*cking done here.
Oliver then proceeded to pack up the set of Last Week Tonight, saying "That's right: Let's shut it down. This show is over." He then continued to reflect on the "end" of the show as he packed a box with some his set props and as a crew dismantled the set around him.
The late-night host then commented on the perhaps ironic nature of having supposedly hosted his show with the ultimate goal of having a koala chlamydia ward named after him. As Oliver noted:
Pack it up, we're going home, we did it. ... We got the koala ward. And look, I know you might be asking at this point, wasn't making four and a half seasons of aggressively researched comedy a fairly inefficient way of getting a koala chlamydia ward named after you? And to that I answer, well, I mean, it worked, so I guess, f*ck you. ... So now if you'll excuse me, I've got a date with some very contagious koalas.
Oliver then closed out the show by saying, "That is our series. Thank you so much for watching. Goodbye forever, everyone. I regret nothing. ... My work here is done." The host then proceeded to drop his mic and walked offstage.
In response to Oliver's announcement, many on social media expressed shock and sadness about the possibility that Oliver's show could be over. While many users asserted that they knew Oliver was probably joking about his series' end, they wanted reassurance just in case.
Fortunately for those who were concerned, HBO announced in September that it was renewing Last Week Tonight through 2020, meaning that Oliver still has two years left in his current contract. Moreover, as FanSided reported, Last Week Tonight's Wikipedia page reveals that the show is planning to air new episodes next week and the week after.
So, as it turns out, John Oliver fans shouldn't worry that the late-night host will be leaving them. Though, his comedic "exit" certainly sparked some strong reactions.