Kellyanne Conway Might Have Broken The Law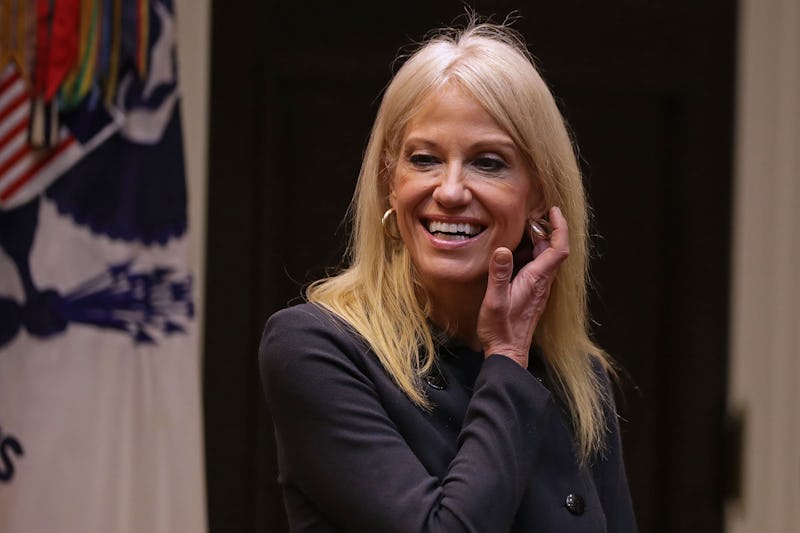 Chip Somodevilla/Getty Images News/Getty Images
The president spent Wednesday attacking department store Nordstrom on Twitter for its decision to stop carrying Ivanka Trump-branded apparel and accessories. "My daughter Ivanka has been treated so unfairly by @Nordstrom," tweeted, you know, the President. "She is a great person — always pushing me to do the right thing! Terrible!" Then, Kellyanne Conway promoted Ivanka's brand on CNN. Now many are wondering if, in doing so, did she break the law?
If Ivanka does always push Donald to "do the right thing," then she'd have probably told him not to send that tweet. There are undoubtedly more important things for Trump to be spending his time on — such as the fallout from a failed, impulsive Yemeni raid — and the post made him look bitter and childish. Criticism, of course, was immediate: Fast Company called the post "a possible ethics violation," noting that the official @POTUS account retweeted it, while a former ethics czar told The Hill the tweet was "an abuse of the office of the presidency."
But allegations of ethics misconduct were not limited to the president himself. Counselor to the President Kellyanne Conway, who is still smarting from public backlash after she made repeated references to a massacre that never happened, is being criticized anew for comments she made in support of Ivanka's brand.
In talks with Fox & Friends reporters Thursday, Conway openly praised the Ivanka Trump brand and even told people to purchase Trump-branded items themselves:
Go buy Ivanka's stuff, is what I would say. I hate shopping, but I'm gonna get some on myself today. ... It's a wonderful line. I own some of it. I fully — I'm going to give a free commercial here. Go buy it today, everybody. You can find it online.
The problem? A law pertaining to federal employees, 5 CFR 2635.702, explicitly prohibits employees from making product endorsements for personal gain or for the gain of friends. The law states in part:
An employee shall not use his public office for his own private gain, for the endorsement of any product, service or enterprise, or for the private gain of friends, relatives, or persons with whom the employee is affiliated in a nongovernmental capacity, including nonprofit organizations of which the employee is an officer or member, and persons with whom the employee has or seeks employment or business relations.
Conway's "free commercial" certainly seems like a product endorsement, as does her explicit statement that people should "go buy" Ivanka products. The phrase "go buy Ivanka's stuff," unsurprisingly, was trending on Twitter Thursday morning.
Legal scholars and analysts have already openly criticized Conway's comments by suggesting they were illegal. Larry Noble, general counsel at the Campaign Legal Center, indicated that he believed it "appears" that Conway's statements violated the law, and The Atlantic senior editor David Frum tweeted his agreement.
An important caveat: the law does not seem to apply to the president, who is not included under the definition of "employee" as described in the law. It does, however, apply to Conway, whose pro-Ivanka Trump brand comments may yet have consequences.