Kellyanne Conway May Have Broken The Law When She Trashed Roy Moore's Opponent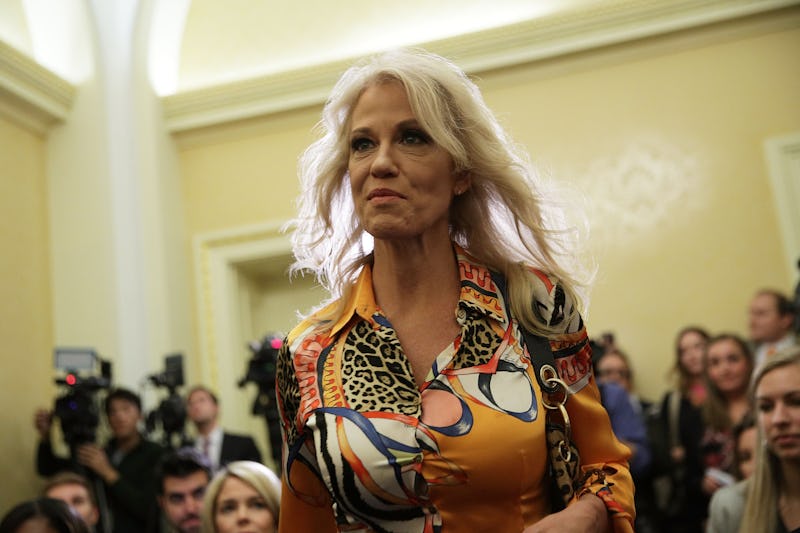 Alex Wong/Getty Images News/Getty Images
Kellyanne Conway has said a lot of things on national TV. That time she pushed for "alternative facts" particularly comes to mind. But this time around, a former U.S. Office of Government Ethics director is filing a complaint with the U.S. Office of Special Counsel against Conway for potentially violating the Hatch Act.
A White House spokesman denied that Conway broke the law. He released a statement following the allegations, CNN reported.
Ms. Conway did not advocate for or against the election of a candidate, and specifically declined to encourage Alabamans to vote a certain way. She was speaking about issues and her support for the President's agenda. This election is for the people of Alabama to decide.
Alabama's upcoming senate election (the one that involves Roy Moore) is indeed at the center of the dispute. On Monday, Conway bashed Moore's democratic opponent, Doug Jones, during an interview with Fox News' Fox & Friends.
Doug Jones in Alabama, folks, don't be fooled. He will be a vote against tax cuts. He is weak on crime. Weak on borders. He is strong on raising your taxes. He is terrible for property owners.
After the show's hosts double-checked with Conway and asked if she's endorsing Moore, she continued to criticize Jones. "I just want everybody to know, Doug Jones, nobody ever says his name, and pretends he is some kind of conservative Democrat in Alabama," Conway said. "And he's not." She may not have answered the hosts' question, but her implication seemed clear: don't vote for Jones.
And this is where the Hatch Act comes into play. The Act maintains that a White House official cannot show support for or against candidates — especially in news media interviews. The Office of Special Counsel describes the Hatch Act of 1939 as a federal law that limits "certain political activities" of government employees who are connected to federally funded programs. Essentially, it prevents government officials from taking sides in political competitions.
The law's purposes are to ensure that federal programs are administered in a nonpartisan fashion, to protect federal employees from political coercion in the workplace, and to ensure that federal employees are advanced based on merit and not based on political affiliation.​​​​ ​​
The law specifically goes on to state that federal employees "may not take an active part in partisan political campaigns." Former Ethics Chief Walter Shaub believes that Conway essentially advocated against Jones during her interview.
"She's standing in front of the White House," he tweeted following the interview. "It seems pretty clear she was appearing in her official capacity when she advocated against a candidate."
Shaub also tweeted out a challenge to Trump.
This will be the first test of POTUS's new head of the Office of Special Counsel. Will he hold Presidential appointees in this administration to the standard to which his predecessor held Presidential appointees in the last administration?
It's worth noting that just days prior, however, Conway had seemed to criticize Moore during another interview. At one point after the sexual misconduct allegations against Moore surfaced, she said, "no Senate seat is worth more than a child." Moore has firmly denied the allegations against him and says he doesn't know the woman who accused him of initiating a relationship with her when she was just 14 years old.
Despite the allegations, polls suggest that Moore and Jones are basically tied, according to FiveThirtyEight. In fact, it's even been suggested that people who strongly believe the media has a "fake news" agenda are voting for him because of the allegations. Anything can happen in the weeks leading up to the Dec. 12 Alabama special election though. Until then, America will have to see whether Shaub's complaint to the U.S. Office of Special Counsel against Conway comes to fruition.