Kendrick Lamar May Have Dissed Big Sean Again On "Element"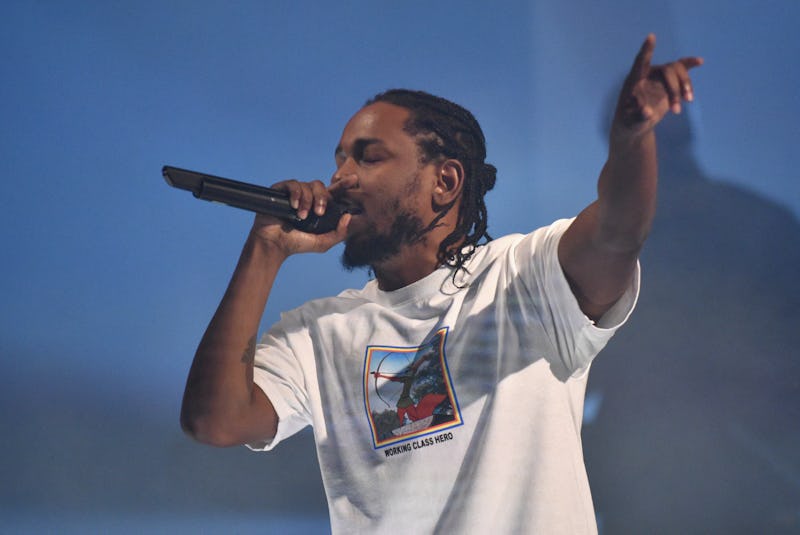 Bryan Bedder/Getty Images Entertainment/Getty Images
If after "The Heart Part 4" and "Humble," you didn't think that Kendrick Lamar would diss Big Sean on his new album again, you were sorely mistaken. The rapper released DAMN. on April 14, and, although "The Heart Part 4" doesn't make an appearance on the album, he still throws plenty of rumored insults Big Sean's way. While the lyrical content in "The Heart Part 4" and "Humble" led to speculation, Lamar's "Element" brings his feud with Big Sean to a whole new level where pretty much no speculation is required.
Although Complex theorized that "Element," "Pride," and "Humble" from DAMN. could all be targeting Big Sean, only one of those songs uses the other rapper's own music against him. The beginning of "Element" seems to be (as in, most definitely is) riffing on Big Sean's "I Don't F*ck with You." Saying that Lamar is sampling Big Sean is kind of a stretch since it's only for a moment, but Kid Capri on Lamar's song certainly seems to be mimicking the way Big Sean sings, "I don't give a f*ck/I don't give a f*ck/I don't, I don't, I don't give a f*ck" from his 2014 song.
You can hear for yourself by listening to the opening moments of "Element" ...
... and then comparing it to Big Sean's "I Don't F*ck with You."
The similarities are pretty impossible to deny and, of course, Twitter noticed — because how could it not?
Beyond the slight sample, there is more evidence of Lamar taking on Big Sean in "Element." For example, the chorus could be saying he's smacking down the othe rrapper with style, like he did back in 2013 on Big Sean's own song, "Control."
"If I gotta slap a pussy-ass n*gga, I'ma make it look sexy
If I gotta go hard on a bitch, I'ma make it look sexy
I pull up, hop out, air out, made it look sexy
They won't take me out my element
Nah, take me out my element"
And the start of the second verse "I'm allergic to a bitch n*gga, ayy/An imaginary rich n*gga, ayy" could be about Sean too.
The annotators at the lyrics site Genius even theorized that these lines from the third verse:
"'Cause most of y'all ain't real
Most of y'all gon' squeal
Most of y'all just envy, but jealousy get you killed
Most of y'all throw rocks and try to hide your hand"
Could be a continuation of these lyrics from "The Heart Part 4":
"Tiptoein' around my name, n*gga, you lame
And when I get at you, homie
Don't you just tell me you was just playin'"
While Big Sean definitely seems to be Lamar's main target because of the intro using "I Don't F*ck with You," I don't mean to neglect the other rapper that Lamar could potentially be throwing shade at — Drake. Drake is in good company alongside Sean when it comes to the rhymes that Lamar threw down in "Element" and other songs off of Damn. But, if you've been following the battle between Lamar and Big Sean intently, then "Element" gave you all the gossipy goodness to get you through. Now, it's time to sit back and see how Big Sean will react.