This Jon Snow & Dany Rumor Has Got To Go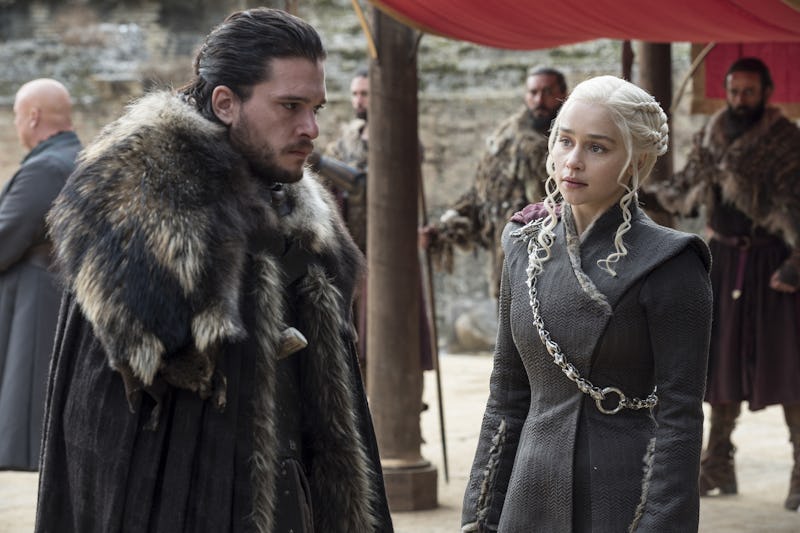 Macall B. Polay/courtesy of HBO
Shippers of Jon Snow and Daenerys Targaryen finally had their wish granted in the Season 7 finale, "The Dragon And The Wolf", when the White Wolf and the Mother of Dragons finally got together... in the biblical sense. Odd though it might be since Game of Thrones confirmed that Jon and Dany are aunt and nephew, fans are just as content to speculate whether or not actors Kit Harington and Emilia Clarke have ever dated in real life. After all, the two have such great chemistry on screen, and who wouldn't root for two super hot young actors to get together?
Well, Clarke and Harington have never dated, and they'll be the first ones to tell you that. The actors, both 30, are extremely good pals and got the opportunity this season to goof around a lot together on set. They hit it off immediately. Harington told Elle for a profile on Clarke, "I was sort of bowled over by this absolutely stunning, petite girl with this wicked sense of humor. We became very fast friends quite quickly."
But dating? Nope. Clarke told Elle that hearing rumors she and Harington are together "literally makes me want to cry, it's so far from the truth."
Harington is dating a Game of Thrones co-star, though. He's very much in love with Rose Leslie, who played the wildling Ygritte and Jon Snow's first love. She was also the one who uttered those immortal words, "You know nothing, Jon Snow." The pair went public with their relationship in April 2016 on the red carpet at the Olivier Awards, holding hands, kissing, and generally looking smitten. This adorable and much awaited PDA came not long after the couple was spotted mackin' when out and about in Los Angeles. At the time, Clarke was asked to comment on Harington and Leslie's relationship, and told Entertainment Tonight:
My goodness! You know, we like to spread the love on our show. It's a beautiful thing. She's one of my best friends, so it's good ... I mean, there are worse things than being caught kissing Jon Snow!
Very true.
So there you have it: Jon and Dany might have finally gotten hot and heavy on the show, but Kit Harington and Emilia Clarke are just very good friends and co-stars.