Who Shot Spencer On 'PLL' Is Still A Mystery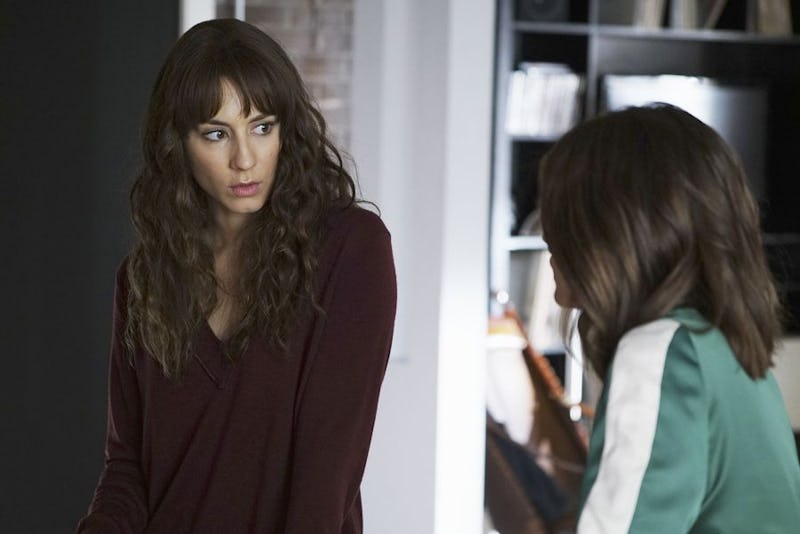 Eric McCandless/Freeform
On the Season 7A finale of Pretty Little Liars, Spencer was shot in the chest. That part is pretty easy to figure out (there was a ton of blood). What's not clear, though, is who was behind that bullet. Did Mary Drake shoot Spencer on Pretty Little Liars? There were actually two guns in the house that night.
As if things couldn't get any more complicated on Pretty Little Liars, there are multiple people gunning (pun intended) for Spencer and the other Liars. Let me recap the end of 7A for you — all of the Liars, including Spencer, were running around in an abandoned house trying to escape both Noel and Jenna. Noel, who for the record wasn't that a bad a guy, got accidentally decapitated, and Jenna wandered around the house looking for the Liars. They were all just yelling. Boom! Spencer was shot, and suddenly, Mary Drake was there, comforting her little girl. Yes, Mary Drake is Spencer's mom, which gives her even more motivation to shoot her. Here's what I think — Mary Drake shot Spencer because it would bring her closer to Spencer and give her an excuse to tell Spencer that she was actually her mother. Mary Drake is obviously one chocolate shake away from a Happy Meal, and stranger things have happened on Pretty Little Liars.
Now that Spencer is recovered, she can begin the long task of figuring out what the hell happened to her that night. In true Spencer form, I'm sure she'll leave no brick unturned, no head left off its body. Sorry, Mary but I think you're going down.