Michael Cohen's List Of Clients Will Have You Asking SO Many Questions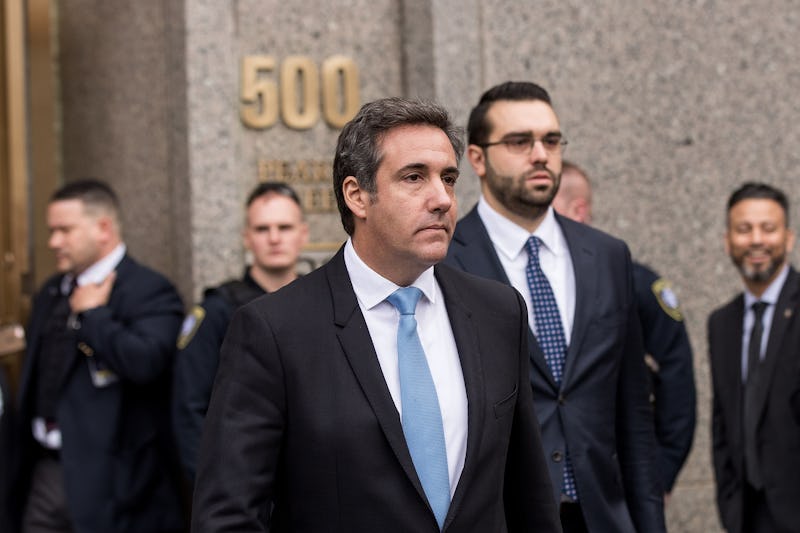 Drew Angerer/Getty Images News/Getty Images
This week, more drama has unfolded around President Donald Trump's longtime personal lawyer. News emerged on Monday that Michael Cohen allegedly represented Sean Hannity, a popular Fox News host. Hannity has denied being represented by Cohen. However, in a New York City court room on April 16, Cohen's legal team named Hannity as one of his clients. The revelation could create complications for Hannity, who, according to Vox, has ardently defended both Cohen and Trump on-air.
Hannity's name was revealed during court proceedings related to the FBI-directed raid on Cohen's office and home on April 9. According to the New York Times, the FBI had been looking for documents related to several topics, including the payment Cohen made to adult film actress Stormy Daniels, otherwise known as Stephanie Clifford. As the Times reported, Cohen had not wanted to reveal Hannity's name in court, saying that his client wished to remain anonymous. However, Kimba Wood, a judge for the United States District Court for the Southern District of New York, ordered that Cohen reveal Hannity's identity.
On Twitter on Monday, Hannity denied that he had been represented by Cohen, saying:
Michael Cohen has never represented me in any matter. I never retained him, received an invoice, or paid legal fees. I have occasionally had brief discussions with him about legal questions about which I wanted his input and perspective. ... I assumed those conversations were confidential, but to be absolutely clear they never involved any matter between me and a third-party.
According to Business Insider, in addition to Hannity, Cohen's legal team reported that he had represented two other clients in the past year — President Trump and Elliott Broidy, a well-known GOP fundraiser. The New York Times also reported that Cohen had provided "strategic advice and business consulting" to seven other individuals.
Cohen's representation of both Trump and Broidy has sparked controversy. Cohen made the aforementioned $130,00 payment to Daniels, reportedly in exchange for her discretion about an alleged affair she had with Trump. However, Trump has denied the affair and denied knowing anything about the payment.
As the New York Times reported, Cohen also arranged a $1.6 million payment to a former Playboy model who said she had become pregnant during an affair with Broidy. Broidy acknowledged the affair in a statement, as reported by the New York Times, saying, "she alone decided that she did not want to continue with the pregnancy, and I offered to help her financially during this difficult period."
As Vox reported, Hannity has extensively commented on and criticized the FBI raid of Cohen's office and home, though never acknowledged his association with Cohen. Indeed, in a tweet on April 12, Hannity previewed a segment on his show related to the raid, saying, "Join me to discuss how the media's anti-Trump agenda has hit a new low since the Michael Cohen raid."
On Hannity's show on Monday evening, the host criticized the media for its reporting on his ties to Cohen. As Hannity stated:
All right, there's been all kinds of wild speculation from mainstream media about me and President Trump's personal attorney Michael Cohen, after my name was mentioned in court proceedings today ... Now, predictably, without knowing all — or any — of the facts, the media went absolutely insane ... Wall-to-wall, hour-to-hour coverage of yours truly. ... Let me set record straight: Michael Cohen never represented me in any legal matter.
Overall, Cohen's alleged client list is certainly raising eyebrows and causing controversy, especially because Hannity is denying that he was represented by Cohen. As Cohen's court proceedings continue to unfold, many will likely be watching closely to see what further information is revealed.