What Zooey Deschanel & Jake Johnson REALLY Think Of Nick & Jess' Relationship On 'New Girl'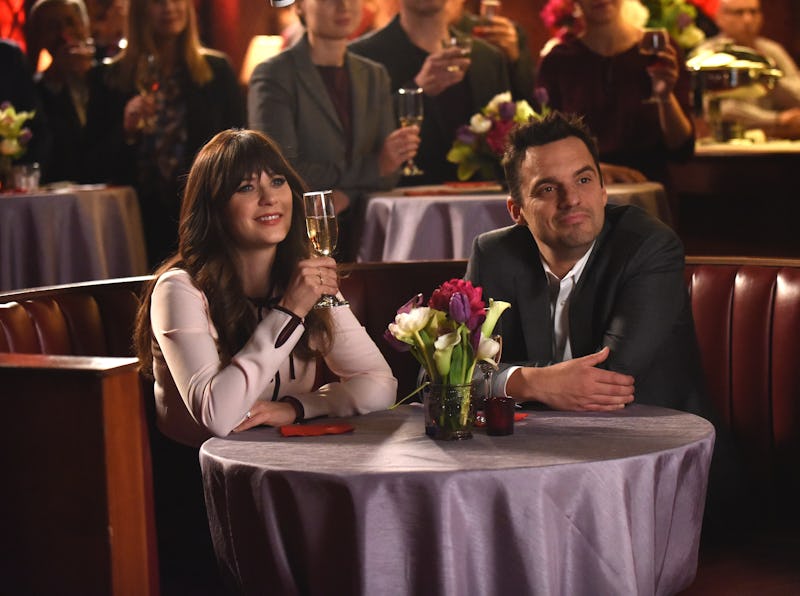 FOX
Spoilers ahead for the New Girl series finale, "The Curse of the Pirate Bride/Engram Pattersky."
Can a marriage be cursed before the wedding even takes place? New Girl's Nick (Jake Johnson) and Jess (Zooey Deschanel) certainly thought so in the two-part series finale. After spending the night before their planned nuptials "seducing" each other, Jess started to freak out that their future was already doomed thanks to a family curse. Adding to her anxiety was the plethora of mishaps that started to go awry on the big day. But did the supposed "curse" stop Nick and Jess from getting married in New Girl's series finale?
Despite an eye injury, Jess accidentally getting way too stoned, and even Fancyman Russell (Dermot Mulroney) trying to break up the wedding to win Jess back, which resulted in Nick breaking his hand, everyone's favorite New Girl couple did indeed get married, and in the first half of the two-part series finale, no less! Fans didn't have to wait long to find out the fate of Nick and Jess, although their wedding did turn out differently than what was promised in the beginning of Episode 7, "The Curse of the Pirate Bride."
Thanks to Nick and Russell attempting to fight over Jess — literally, as the two men wrestled in the hallway outside of the loft — Nick (and Johnson himself) actually broke his hand. With Winston's wife Aly (Nasim Pedrad) going into labor at that exact moment, the gang took off for the hospital. In between Aly's contractions, Nick got his hand wrapped in a cast and the core group held an impromptu wedding in the hospital hallway. Jess' parents walked her down the aisle and the first half-hour ended on quite the happy, emotional and hopeful note.
While Deschanel told Bustle before Season 7 premiered that she had been hoping for a more "melancholy ... ambiguous ending" for Nick and Jess rather than seeing them end up together, she still thought the way New Girl ended was "cool," with Nick and Jess married and setting off to start their new life together in a new home.
"It's nice," she tells Bustle after screening the finale early at the Fox Studios Lot in Los Angeles. "I think there was another version too, but I wasn't disappointed. It wasn't so much that I was disappointed, it's just that that's always what I kind of in my mind thought would happen. But I think this is great too. I think it's all good."
Johnson, on the other hand, had always been rooting for Nick and Jess to end up together by the time the series bowed for the last time.
"I did like that they got married, yeah," he tells Bustle. "I was a believer that if we're going to come back and finish it, then we should finish stories. I like seeing Winston and Aly having a kid. I like seeing Schmidt and Cece having kids. I like that all these characters wrap up. I like that it was definite."
And of course, New Girl's final season couldn't end without one last game of True American. The finale even flashed forward to the loft mates playing True American with their kids (plural!) chugging root beer, before flashing back to Nick, Jess, Schmidt, Cece, and Winston in the loft looking a little dazed, as if they had just shared the same hallucination or day dream of what their future could look like. It was a huge moment for the series and its characters, but Johnson admits with a sheepish laugh that getting to play one last round of True American "didn't mean very much, to be honest."
"What I love most about our show is when we do a two person scene," he explains. "True American is fun to watch but to shoot it, you don't get to fully connect with another actor. It's more that you're just doing a bit and they edit it very funny."
Johnson's favorite moments on New Girl always involve two-hander scenes, whether he's acting opposite Max Greenfield (Schmidt), Deschanel, Lamorne Morris (Winston) or Hannah Simone (Cece).
"I know Max's rhythms, he knows mine, I know Zooey's rhythms. When we do scenes that are half-drama, half-comedy, I know how she's going to do it, she knows how I'm going to do it," he says. "I'll miss that. So True American didn't mean that much to me, but I liked it."
What really cracks Johnson up is the knowledge that New Girl fans actually try to play True American in real life.
"It's a game with no rules!" he says with a laugh. "We were there when it was invented and it was invented because the script was underwritten so we improvised it. We made it up. It's flawed. There are no rules."
In subsequent seasons, the New Girl writers did start to flesh out the onscreen rules of True American more than just Schmidt's original description of "75 percent drinking, 20 percent Candy Land, and by the way, the floor is molten lava."
"But the origins just were, 'The floor is lava.' 'Great.' 'So how about this?' Just moments," Johnson adds with another laugh. "So when people play it, I'm like, 'How can you play it? There were never any rules!'"
As someone who has played True American in real life (It's true! I lived to tell the tale!) thanks to a diehard fan on the internet somehow figuring out rules that actually make sense with how New Girl portrayed the game in every episode, I can say with confidence that it's definitely possible to play. After I tell Johnson that, he doubles over in laughter. "That person deserves an award," he says. But word of warning if you want to attempt your own round of True American — climbing over your furniture is a lot harder than it looks.