Trump's DHS Secretary Claimed Obama Separated Families Too — Here's The Truth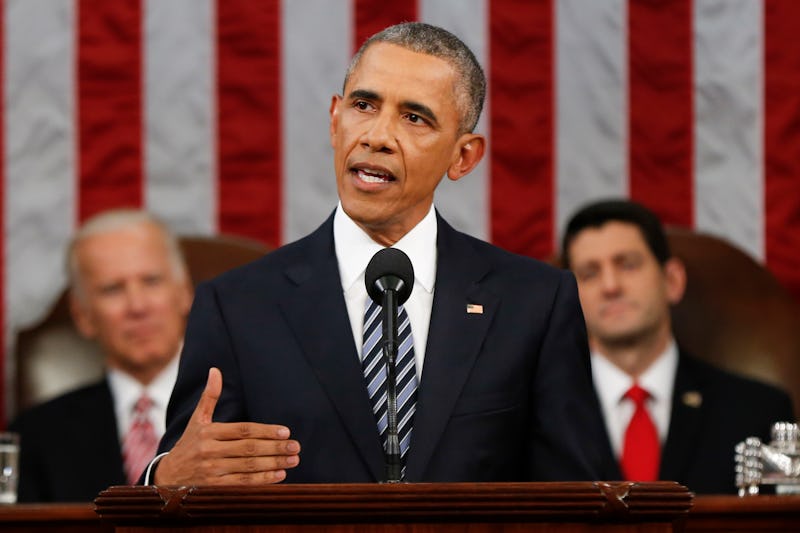 Pool/Getty Images News/Getty Images
In a press conference on June 18, Department of Homeland Security Secretary Kirstjen Nielsen claimed that several previous administrations used family separation policies that are similar to what the Trump administration is enforcing now. Nielsen was defending a policy, introduced in April, that has led to an outcry from both American citizens and human rights groups All of this raises the question of whether Obama separated migrant families at the border, like Trump has been doing.
Since April, over 2,000 children have been separated from their parents at the United States-Mexico border while trying to seek asylum from other countries, according to CNN. During the unexpected press conference at the White House on Monday, Nielsen defended this practice by arguing that there was historical precedent for it.
"The Obama administration, the Bush administration all separated families," Nielsen said, according to The Washington Examiner. "They absolutely did. Their rate was less than ours but they absolutely did do this. This is not new."
PolitiFact reports that Matt Schlapp, the chairman of the American Conservative Union, echoed a similar sentiment on June 15. "You know what's ironic?" he said, on air with Fox News. "It's the same way Barack Obama did it."
For an immediate factcheck, via NBC News, the Obama administration had no such policy enforcing the immediate separation of parents and children at the border.
More specifically, there has never been a law enacted to separate children from families at the border. Rather, what's changed is how the Trump administration has decided to charge immigrants with federal crimes at the border, which in turn requires that they be taken to separate facilities from their children.
Though the Obama administration did detain migrant families in detention facilities as a deterrent for illegal immigration, there was never a policy of separation. In fact, Cecilia Muñoz, one of Obama's top policy advisors at the time, recently explained her experience dealing with migrant families to The New York Times, noting her revulsion at the idea of separating families.
"The agencies were surfacing every possible idea [for immigration deterrence in 2014"," she said, at the mention of a possibility of a family separation policy. She added, "I do remember looking at each other like, 'We're not going to do this, are we?' We spent five minutes thinking it through and concluded that it was a bad idea. The morality of it was clear — that's not who we are."
Denise Gilman, the director of the Immigration Clinic at the University of Texas Law School, further clarified to NBC News that the Obama administration might have occasionally separated families due to extenuating circumstances, but it was extremely rare. "There were occasionally instances where you would find a separated family — maybe like one every six months to a year — and that was usually because there had been some actual individualized concern that there was a trafficking situation or that the parent wasn't actually the parent," Gilman said.
The connection to the Bush administration is slightly more tenable, The New York Times reports, but only on the basis of a shared zero-tolerance policy of immigration; the Bush administration still has no record of actively or forcefully separating children from parents as an enforced policy. According to CBS News, the Bush administration oversaw a program called Operation Streamline, which entailed that all immigrants were subject to prosecution for illegal entry, but it made an exception for families. In other words, they weren't separated in order to prosecute adults.
Nielsen's argument that other administrations have enacted similar policies of separation comes at an especially surprising time, as the four living First Ladies (Rosalynn Carter, Laura Bush, Hillary Clinton, and Michelle Obama) have recently all come out to speak publicly against the family separation policy, according to NPR. Laura Bush's statement, which came in the form of an op-ed for The Washington Post, was particularly striking given her conservative political position.
"I live in a border state," Laura Bush tweeted, with a link to her op-ed attached. "I appreciate the need to enforce and protect our international boundaries, but this zero-tolerance policy is cruel. It is immoral. And it breaks my heart."
Michelle Obama then shared Laura Bush's tweet, adding her own two cents on the matter: "Sometimes truth transcends party."