Did Trump Leave A G20 Climate Change Session To Hang Out With Putin?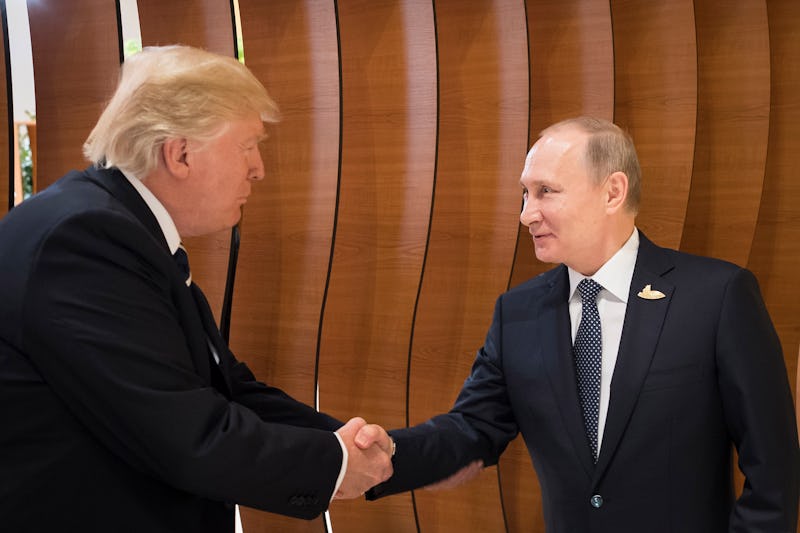 Handout/Getty Images News/Getty Images
Donald Trump and Vladimir Putin met for the first time on Friday at the G20 Summit in Hamburg, Germany, in a highly anticipated encounter before their official bilateral meeting later in the day. However, even as G20 leaders look to apply pressure on Trump to reenter the Paris climate agreement, according to the White House schedule, Trump left a G20 climate change meeting for Putin as their bilateral was set to take place at nearly the same time as the session.
UPDATE: German Chancellor Angela Merkel confirmed that Trump attended the first part of the climate change session and "even made a contribution" when he took the floor.
EARLIER: According to The New York Times, Trump and Putin's meeting was scheduled for 3:45 p.m. local time — just 15 minutes into the 's "Sustainable Growth, Climate, and Energy" session. It is possible that Putin and Trump were able to attend the beginning of the climate change working session, but other G20 leaders would have had difficulty urging Trump to reconsider his stance on the Paris accord during such a short timeframe if he did indeed attend.
Trump's decision to withdraw the U.S. from the Paris climate agreement represented a significant break from many allies and G20 leaders. British Prime Minister Theresa May told the BBC that she wants "to see the U.S. looking for ways to rejoin" the agreement, although she has admitted that climate change is not one of her top priorities during the summit. Meanwhile, Chinese President Xi Jinping described the agreement as an "important consensus" that "must not be given up easily."
The question of climate change is an extremely contentious and prominent one at this year's G20 summit, so Trump's limited appearance at the climate change session may hinder other world leaders' fight to bring the U.S. back into the Paris agreement. German Chancellor Angela Merkel — who will soon be facing an election — is determined to prevent Trump from undermining global unity on climate change. To do so, Merkel has undertaken a difficult task: She is trying to draw Russia and Saudi Arabia into a climate alliance with the European Union and China, which would isolate Trump and the United States.
Russia and Saudi Arabia were reluctant participants in the Paris climate agreement, the BBC reported; they committed to it, but they stand to lose if the world shifts away from fossil fuels. Putin has written that he supports the Paris deal, but he is well aware that Europe perceives Russia's cooperation as a strategy to sway Trump. If Russia recommits to a bolder climate alliance, however — as is Merkel's aim — it would put Trump in an awkward position, especially because the U.S. has been trying to water down G20 legislation on lowering fossil fuel emissions.
Trump and Putin's meeting did not have a fixed agenda, but was expected to touch on such contentious topics as the situation in Syria and Russia's actions in Ukraine. It is unlikely that the two presidents addressed climate change, but it is still unclear whether Trump is aware of Merkel's plan to isolate him.