Trump & The Group That Tried Tricking 'The Washington Post' Go Way Back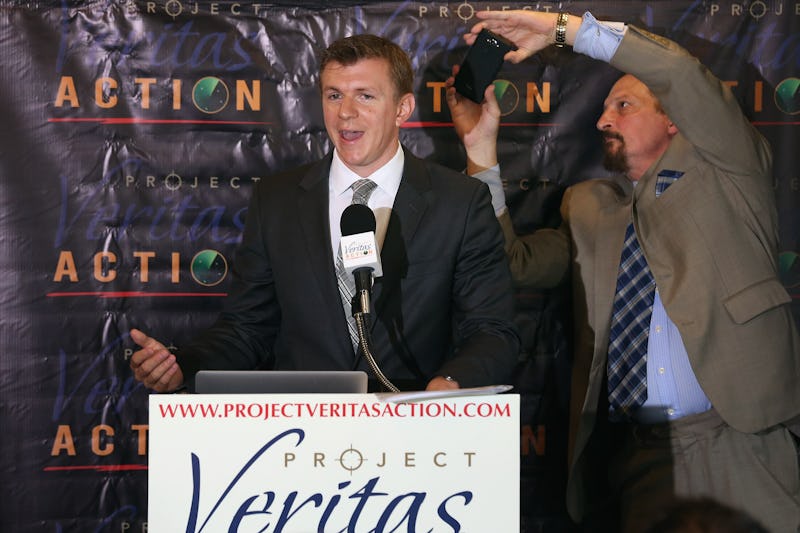 Chip Somodevilla/Getty Images News/Getty Images
When news broke on Monday that The Washington Post was approached by a woman falsely claiming to have been impregnated by Alabama Senate candidate Roy Moore, the name "Project Veritas" quickly started circulating. The woman who went to the Post, Jaime T. Phillips, was reportedly working for the right-wing organization, which sets up hidden cameras and fake interviews in an attempt to expose supposed bias or corruption among media outlets. Interestingly enough, records of the president's charitable donations show that Trump's foundation donated to Project Veritas in 2015.
The donation of $10,000 was given by the Donald J. Trump Foundation to Project Veritas on May 13, 2015, a month before Trump announced his bid for the presidency. Records of the foundation's charitable donations were first provided to The Washington Post in April 2016, when reporter David Fahrenthold was working on finding out whether or not the presidential candidate had kept his word on his charitable giving promises. Project Veritas, which is run by conservative activist James O'Keefe, is registered as a non-profit. On its website, the organization says that it does "not advocate specific resolutions to the issues that are raised through its investigations, nor do we encourage others to do so," and seeks only to "inform the public of wrongdoing and allow the public to make judgments on the issues."
Project Veritas' controversial reporting methods have landed the organization in hot water before. In October, a judge in Michigan placed an emergency restraining order on the group after the American Federation of Teachers filed a civil complaint against it. O'Keefe's organization had sent a woman into a teachers' union undercover with the hopes of uncovering information about charter schools and "instances of educators who had supposedly engaged in 'sexting'"; the complaint noted that the latter information did not exist. Project Veritas has also targeted the likes of CNN and Planned Parenthood.
Despite Project Veritas' seemingly dubious reporting methods, Trump found something he liked about the group while campaigning last fall. In a presidential debate held on Oct. 20, the then-candidate cited a video that was produced by O'Keefe and his team that had been released just a few days earlier. The video claimed the Clinton campaign and the DNC had paid individuals to rouse violence at Trump rallies — a charge that the Republican nominee repeated himself during the debate.
Given that Trump had donated $10,000 to Project Veritas the year before, it's no surprise that he brought up its reporting on that night. Once the realization that the president had donated to O'Keefe's operation started circulating, some began to consider whether or not he may have been in contact with the group about the Post operation to defend Moore.
Bloomberg View columnist Barry Ritholtz said he had "one guess" on who was behind it:
Democratic strategist Jesse Ferguson commented on the absurdity of the situation, noting that Trump "actually funded a fake news operation that got caught going after a real news operation in order to help a pedophile get elected to the US Senate." In other words, it's something that could only happen in 2017.
For now, whether or not Trump was involved in the Post sting is all hearsay, but we can be certain that he's taken a serious interest in — and financially supported — O'Keefe's group in the past. And he's not the only one in the administration to have alluded to Project Veritas before, either. White House Press Secretary Sarah Huckabee Sanders cited the group's controversial video about CNN as proof that the media organization is exaggerating reports about Russian collusion back in June.
On Twitter, Trump has stayed silent so far about O'Keefe and company — but perhaps we'll get some insight into his feelings about Project Veritas come the wee hours of the morning.