Disney Just Released A TON Of '90s-Esque Holiday Decor You Can Buy Online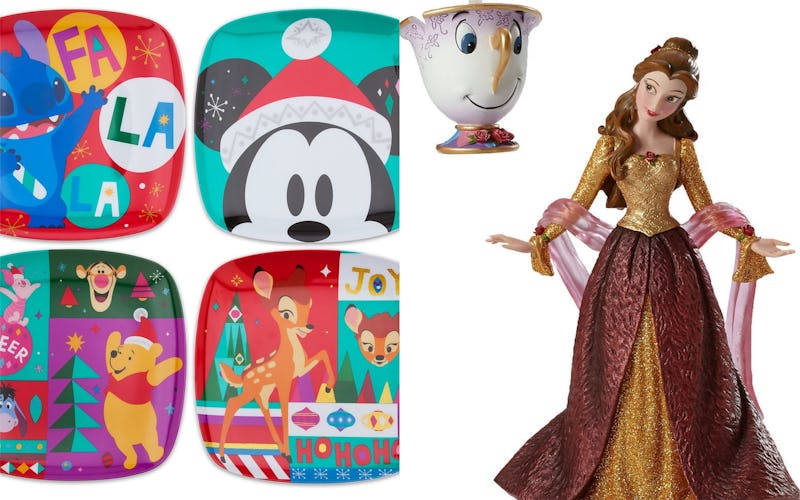 shopDisney
Yes, we technically have not reached the point past Halloween on that pesky Gregorian calendar, but the constructs of time are simply no match for our obsession with the holidays — and as usual, the House of Mouse has our backs. Disney released its holiday merchandise for 2018 on shopDisney, and much to the delight of '90s kids everywhere, it pays just as much homage to movies past as it does to current Disney lineup. I'm talking Belle to Moana, Mickey to Stitch, and every lovable fave in between.
While odds are Disney is going to release more holiday merch than this in the weeks ahead (fingers crossed and prayers up for a grownup Disney princess pajama set), so far the lineup is pretty phenom, with ornaments, blankets, home wares, and totes. And with the introduction of the 2018 holiday merch, shopDisney has also made a holiday gift guide from everyone on your list (proving that there truly IS something Disney-related for everyone on your list). The best part of all of this is arguably that, unlike the merch that debuts in the parks (be still my Starbucks mug-loving heart), all of this is totally purchasable online — and unlike some places, which have their holiday merch on preorder, it's all available right the heck now.
Brace your wallets, y'all, because here's just a small collection of the vast array of Disney holiday offerings this year.
1. Holiday Cheer Plates
This has got every kind of nostalgia you need, from the 1940s to early 2000s. Plus who wouldn't want to eat off a plate branded with Stitch, Patron Saint Of Messy Eaters?
2. Holiday Fleece Throw
Perfect for cozying up by the Christmas tree, which will, of course, be groaning under the weight of all your Disney ornaments.
3. Disney Princess Ornament Set
Can we all take a moment to appreciate how stunning these illustrations are? A sophisticated spin on your childhood faves.
4. Mickey & Minnie Hot Cocoa Gift Set
"Gift set" definitely implies you're supposed to buy this for other people, but also seems like all the more of an excuse to gift yourself.
5. Belle Ornament
Disney has ornaments of all your fave princesses, both in classic forms and in more expensive, deluxe iterations — some of them even have ornaments shaped like handbags and shoes and Mickey Mouses themed to their particular princess brand.
6. Moana Ornament
Disney also has plenty of its modern heroes available, from Moana to Stitch to Jack-Jack from The Incredibles.
7. Stitch Holiday Mug
This mug holds 12 ounces of liquid, which is just enough coffee to take you from snoozing to Stitch in a few minutes or less.
8. Jack Skellington Christmas Tree Topper
All hail the king, y'all. It's worth noting that there are TONS of cute Nightmare Before Christmas-themed holiday things in stock right now, too — both for Halloween and the winter holidays.
9. Advent Calendar
Who wouldn't want to collect these adorable minis of your favorite characters? Then you can celebrate the holidays with the whole gang.
Check out the rest of Disney's holiday merch here — and keep your eyes peeled, because there's likely more on the way!