Disney World's New Drink Could Be The Next Unicorn Frap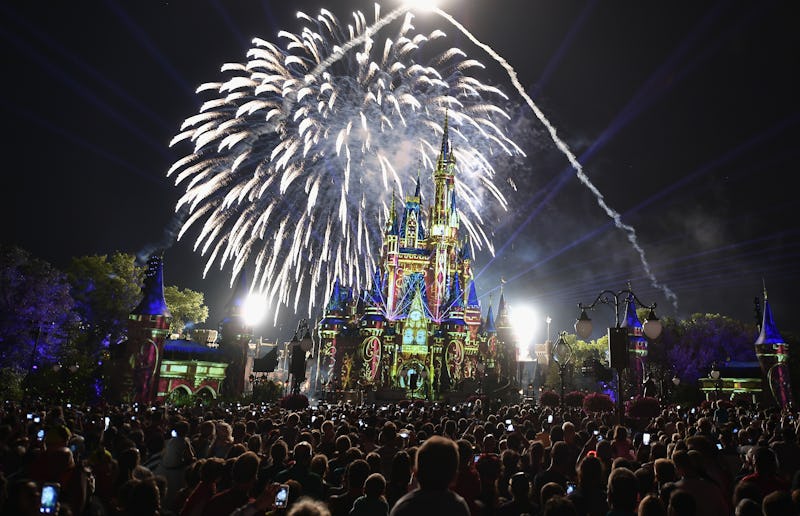 Gustavo Caballero/Getty Images Entertainment/Getty Images
If the Unicorn Frappuccino has left you with an obsession with all things colorful and edible, it's time to start planning a trip down south. Just like the Starbucks concoctions dominating social media, Disney World's Night Blossom is a frozen, brightly-colored cup of joy begging to be Instagrammed — and you can't beat the backdrop. The drink can be found only at the theme park's new Pandora section, an Avatar-inspired offshoot of the Animal Kingdom.
Once you've entered the Na'vi's world, the Night Blossom can be found in the Pongu Pongu Lounge. On the its website, Disney explains that the drink stand was founded by an "ex-pat who fell in love with 'Pandora — the World of Avatar' and never left." Presumably, you have this mysterious fictional figure to thank for the trendiness of the Night Blossom. According to the Pongu Pongu menu available online, the fruity drink is basically frozen limeade with flavors of apple and desert pear layered on top of each other. The whole "bioluminescent" pink-and-green shebang is then topped with passionfruit boba balls. See what I mean about being trendy?
A writer for Delish compared the flavor to sour Skittles — mostly sweet but with a tart finish. It's nonalcoholic, but the Pongu Pongu Lounge also offers an adult version, the strawberry- and blood orange-flavored Mo'ara Margarita.
If you're really getting into the spirit of Pandora, you can fork over extra cash to have your Night Blossom served in a souvenir mug, complete with a flickering "Unadelta Seed." The regular drink is listed at $5.99 on Disney's website, but the souvenir version jumps to $14.99.
On top of all the obvious Unicorn Frappuccino comparisons, Disney lovers have likened the Night Blossom to Epcot's Violet Lemonade, a fruity frozen lemonade sold during the park's Flower and Garden Festival. If the Night Blossom isn't enough, or if fruity flavors aren't your style, the Disney parks have plenty of other ethereal offerings worth an Instagram or three. The Starbucks in California's Downtown Disney announced the arrival of the Pink Pegasus Frappuccino this spring, and in May, Matterhorn macaroon doughnuts enjoyed a brief time in the spotlight.
Who knew theme park cuisine could be so photogenic? If you're making a trip to the magical land of Disney anytime soon, you may want to warn people that your Instagram account is about to transform into a food blog. Given the aesthetic appeal of Disney's menus lately, I doubt your followers will mind.