Disneyland Will FINALLY Serve Booze Inside The Park & It's All 'Star Wars' Themed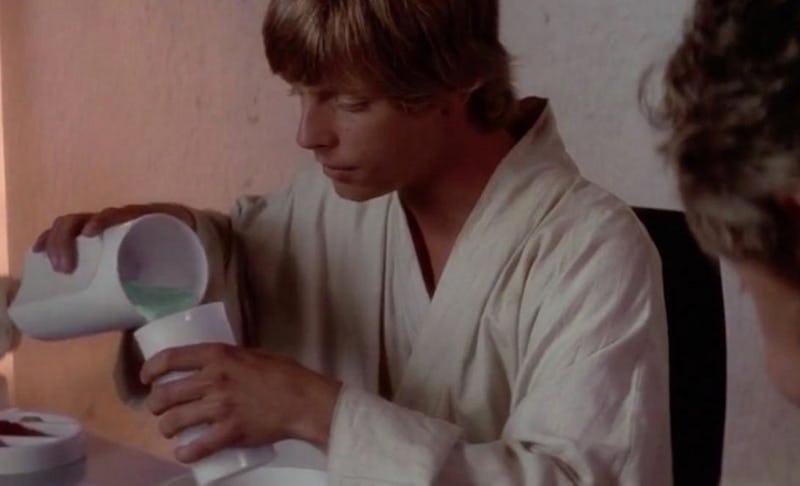 20th Century Fox Home Entertainment
And today in news that delights my sci fi-loving, Disney obsessed, cocktail enthusiast self, we have this: Disneyland Park will finally start serving alcohol in 2019 — and to make the whole thing even better, it's going to be Star Wars-themed alcohol. When Star Wars: Galaxy's Edge opens at Disneyland Park at the Anaheim, Calif. resort next summer, a new restaurant will open up along with it. Called Oga's Cantina, it sounds like the rough-and-tumble spaceport food spot of my dreams — and, in a first for Disneyland Park, it will include adult beverages of a boozy persuasion on the menu. Heck, and yes.
Much ado has been made about Walt Disney World's version of Star Wars: Galaxy's Edge, which is scheduled to open in the Disney Hollywood Studios park next fall — but the Florida park isn't the only one that will play host to the new, Star Wars-themed land in 2019: Galaxy's Edge will be opening up at Disneyland, too. The California version of the land will occupy a portion of the Disneyland Park previously used by Frontierland and Critter Country; it's set to debut in the summer of 2019.
Both versions of Star Wars: Galaxy's Edge come, of course, with an elaborate backstory to make the experience as immersive as possible. When guests arrive, they'll find themselves on the planet Batuu — a once-bustling spaceport which has fallen off the beaten path over time. Said Disney Imagineering executive Scott Trowbridge to the Orlando Sentinel in 2017, "This used to be a vibrant trading port back in the old sub-lightspeed days, but now with advent of hyperspace, its prominence has kind of fallen and faded a little bit which has made it a great spot for those who didn't want to be on that kind of mainstream path." According to Trowbridge, the land will be populated by "the smugglers, the bounty hunters, the rogue adventurers looking to crew up, the people who don't want to be found — basically all the interesting people."
Its attractions include, among other things, two new dark rides — and, of course, a restaurant: Oga's Cantina. At the Anaheim version of Galaxy's Edge, it's this restaurant which will bring alcoholic drinks to the general public at Disneyland Park for the first time in history.
Disneyland Park has been famously dry since it first opened in 1955. Walt himself was a teetotaler (publicly, at least; according to a profile of Walt's daughter, Diane Disney Miller, published in PEOPLE in 1998, he was "a man of contradictions — a public teetotaler who enjoyed a drink or two before dinner"), and he felt strongly about keeping alcohol out of Disneyland. Said Walt about the park's booze policy to the Saturday Evening Post in 1956, "No liquor, no beer, nothing. Because that brings in a rowdy element. That brings people that we don't want and I feel they don't need it. I feel when I go down to the park I don't need a drink. I work around that place all day and I don't have one." (Thanks for the judgment, Walt.) Earlier in July of 1955, he had also told reporter Florabel Muir, "I could have got most of my costs back [on building Disneyland] with beer concessions alone. A lot of adults will come here, but Disneyland is primarily for children and I don't think kids and liquor mix."
In accordance with those views, all of the Disney parks in the United States — both at the Disneyland Resort in California and the Walt Disney World Resort in Florida — remained dry for quite a while. The times do change, though, and while children are obviously still a huge portion of the Disney parks' demographic, plenty of adults enjoy spending time at them, too — with or without kids. As such, alcohol has gradually been introduced to many of the parks over the past few decades: Boozy beverages have been available for guests 21 and over to purchase at a variety of the Disney World parks in Orlando for years (EPCOT being perhaps the most notable of the bunch); it was big news when California Adventure opened in Anaheim in 2001 that alcohol would be available at several of the restaurants on the property; and, of course, when Be Our Guest debuted at the Magic Kingdom in Orlando in 2012, it famously broke the "no alcohol at the Magic Kingdom" rule that had been in place since the park opened in 1971.
The original Disneyland Park lagged behind these updated alcohol policies for some time, with adult beverages being available only at the exclusive, members-only Club 33 located behind an unremarkable door in the New Orleans Square section of the park… until now. In a post published at the Disney Parks Blog on Aug. 30, Scott Trowbridge shared some details about Oga's Cantina, which will be "serving pilots, bounty hunters, smugglers, locals, and galactic traveler alike" when it finally opens its doors (or, y'know, whatever passes for doors on a down-on-its-luck planet located on the fringes of space) in 2019. According to Trowbridge, the cantina, which is run by "alien proprietor" Oga Garra, will be "the kind of establishment that attracts some of the most interesting and disreputable characters in the galaxy"—and among its offerings will be "famous concoctions created with exotic ingredients using 'otherworldly' methods, served in unique vessels." Added Trowbridge, "With choices for kids and libations for adults, the cantina will make for a great stop!"
"But wait," you might say. "That's all well and good… but it doesn't exactly say outright that there will be booze at the cantina. What's up with that?" That's a good point — but hey, guess what? Disney officials have confirmed that the phrase "libations for adults" does mean "alcoholic beverages." Said spokesperson Liz Jaeger to the Orange County Register last Thursday, "Star Wars: Galaxy's Edge will be a completely immersive true-to-story experience. Given our commitment to offering fans an immersive cantina experience, we felt this was an opportunity to offer alcohol and non-alcohol based beverages in the context of the story."
Bam.
We don't know exactly what drinks will be on the menu yet, of course—but we might be able to get a few hints from a related Disney event: The Star Wars-themed "dessert party" that happens from time to time at Walt Disney World's Hollywood Studios park. Among the treats served at this special event are four different cocktails for guests who are 21 and older: The Galactic Punch, which features coconut rum, spiced rum, mango syrup, and passion orange guava juice; the Cosmic Citrus Twist, which is made of citrus vodka and watermelon lemonade; the Light Speed Margarita, consisting of tequila, blood orange syrup, sour mix, and lime juice; and, hilariously, a Swamp Milk drink, which is made of vodka, melon liqueur, vanilla syrup, and half and half.
There's no guarantee that Oga's Cantina will serve any of these drinks, of course — but at least they tell us a little bit about what Disney's Star Wars-themed drinks are usually like. And hey, at least we don't have long to wait to find out for sure what the cantina will serve; Star Wars: Galaxy's Edge will be opening at Disneyland in less than a year.
Now if you'll excuse me, I have an intergalactic heist to plan n the meantime.