Disney World Is Hosting Giant Dessert Parties FULL Of Sweet & Boozey Treats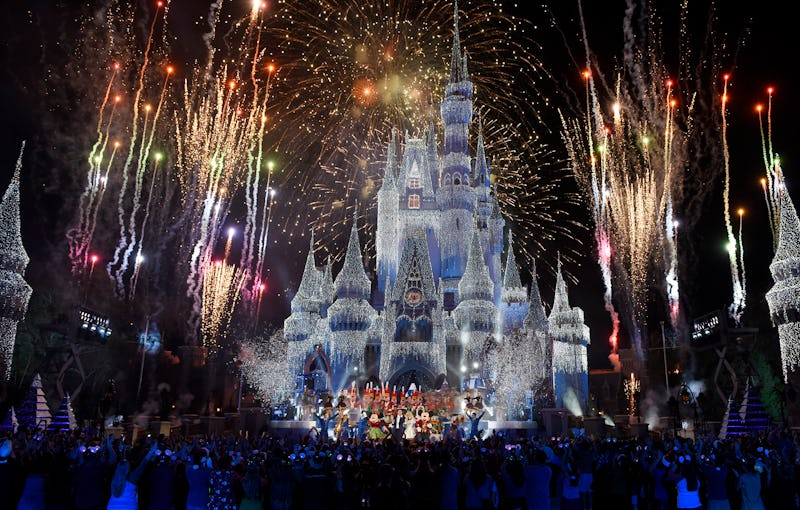 Handout/Getty Images Entertainment/Getty Images
I'm generally pretty well-versed in my Disney Parks terminology, but over the past few weeks, I've seen a phrase pop up repeatedly with which I wasn't familiar: "Disney World Dessert Party." What the heck is a Disney World Dessert Party?, I found myself wondering — so, naturally, I took myself on an adventure across the wide reaches of the internet to get to the bottom of the question.
The short answer is, they're amazing. That's what. Or at least, they sound pretty incredible, because, I mean… they involve fireworks. They involve Disney. And they involve dessert. What's not to love?
I've been unable to determine how long the Dessert Parties have been running, but they certainly seem to have exploded recently; reviews from 2017 seem to focus on just three or four parties, but these days, there are almost three times that number available to choose from. Indeed, two of them — the After Fireworks Dessert Party and the Rivers of Light Dessert Party — got added to the roster in May and August, respectively. They also seem to be unique to Walt Disney World in Orlando, Fla. right now; Disneyland in Anaheim, Calif. does have one, but it's closed for refurbishment through 2018 — meaning that if you want to experience a Disney Dessert Party, you'll have to go to Florida for it.
Whether or not the Dessert Parties are worth it will depend on how much stock you put in sweets and shows — but to help you make up your mind, here's the lowdown on what, exactly, they are:
What Are Disney World Dessert Parties, Anyway?
Basically, they're a variation on the dinner-and-a-show format, except instead of dinner, you're served dessert. First, guests are treated to a buffet full of sweet treats and other snacks; then, they're escorted to a prime, reserved viewing spot for one of the resort's nighttime shows. The details of each specific party vary — sometimes the desserts are served at one of the restaurants in the park, while sometimes they're set up in a section of the park set aside specifically for the purposes of the party; most of the time, the desserts are served first, with the show viewing occurring afterwards, although occasionally the order of the two events might be reversed; sometimes the parties are themed; alcohol beverages are available to adults at some of them, but not at others; heck, the venue might even be a boat instead of dry land for a few of them. Additionally, some of the parties include extra bonuses, like VIP access to specific rides or souvenir drink mugs.
There are also often a few different options for the same dessert party, typically based around the viewing location for the show. For example, when it comes to the Fireworks Dessert Party, which takes in the Magic Kingdom's fireworks display nightly (right now, it's the "Happily Ever After" show), you can choose between the Fireworks Dessert Party with Plaza Garden Viewing or the Fireworks Dessert Party at Tomorrowland Terrace: The first one features VIP standing room viewing for the fireworks, while the second grants VIP seated viewing from the Tomorrowland Terrace. There's a difference in price between the two — the Plaza Garden Viewing package is $69 per head for adults and $41 for kids between the ages of 3 and 9, while the Tomorrowland Terrace one is $84 for adults and $50 for kids.
No matter how the details change, though, there are always two constants for each and every one of these Dessert Parties: Sweets and a VIP viewing experience of an in-demand nighttime show.
How Many Different Dessert Parties Are There?
The exact number is pretty much always in flux as new parties are brought in and others retired, but right now, there about 11 of them:
What Kinds Of Desserts Are Served At Them?
It varies, based on the party you're at; I would argue, though, that the themed parties feature more showstopping options. The regular Magic Kingdom Fireworks Dessert Parties, for example, have things like chocolate-covered strawberries, ice cream, s'mores, and treats themed after classic Disney characters, along with sparkling cider, hot chocolate, lemonade, coffee, and tea; meanwhile, the Frozen Ever After Sparkling Dessert Party features items like "Kristoff's Kansekake Almond Cookies," "Troll Rock Crispy Bon Bons," "Elsa's Blue Velvet Cupcakes," and "Olaf's Warm Double Chocolate S'mores Pudding Cake," among many, many others. I don't know about you, but I find the idea of a blue velvet cupcake endorsed by Elsa a heck of a lot more exciting than a chocolate-covered strawberry — and given that, in normal circumstances, I love chocolate-covered strawberries, that's really saying something.
Based on a recent post at the Disney Parks Blog and a few reviews floating around elsewhere on the internet, the Star Wars-themed Dessert Party also has some pretty spectacular treats — think Darth Vader and BB-8 cupcakes and "Blue Milk Panna Cotta," which is maybe the most inspired Star Wars dessert I've ever encountered. You also get a souvenir Chewbacca head stein, which you can fill with your choice of alcoholic or non-alcoholic beverages. The cocktail options include something called "Swamp Milk," by the way, which, again, I think is genius. According to WDW Prep, it's made of vodka, melon liqueur, and vanilla syrup and topped off with half-and-half; my guess is that it tastes kind of like a boozy version of honeydew-flavored bubble tea.
Are They Worth It?
Well, the costs range between $39 for adults and $14 for children for the Fantasmic! Dessert Party to $84 for adults and $50 for kids for the Tomorrowland Terrace version of the Magic Kingdom Fireworks Dessert Party; generally, though, most of the packages clock in at around $79 for adults and $47 for kids. (All of that is in addition to regular park admission, by the way.) Whether or not the price is worth it depends on how important each of the elements of the parties are to you, individually and together:
If having a VIP seat for the fireworks, Fantasmic!, or any of the other nighttime shows matters to you a great deal, then maybe it's worth it; if it doesn't, though, maybe it's not. If a dessert buffet is something you find enormously appealing, maybe it's worth it; if not, though, maybe it's not. If after-show access to the Frozen ride fills you with delight, maybe it's worth it; if not, though, maybe it's not. If any of those things don't really do it for you separately, but start to look like a good idea taken all together, maybe it's worth it; if not, though, maybe it's not. If you're planning on going to Disney World on the busiest day of the year and hellbent on seeing an incredibly popular show, then, uh… maybe that's worth it, hands down.
Ultimately, you'll have to weigh the pros and cons for yourself and see where you fall. If you decide to add one to your Disney vacation, you can book tickets through the individual events' pages on Disney World's website. Good luck!