Disney Just Released The First Pics Of Its Holiday Desserts, This Is Not A Drill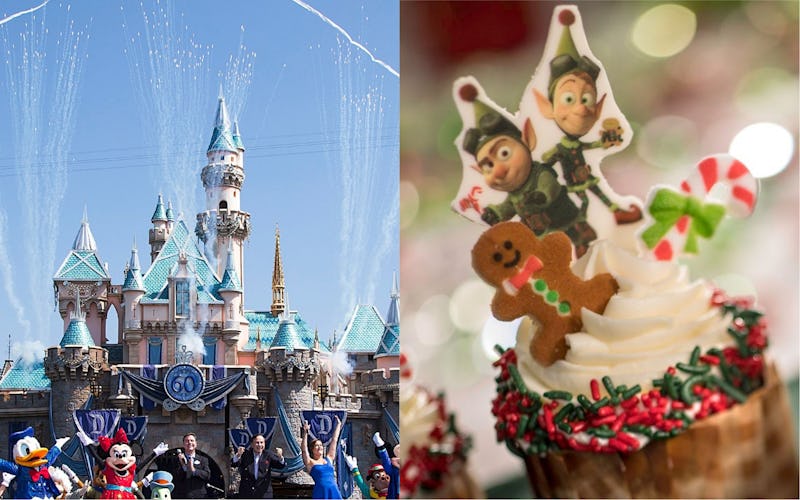 Handout/Getty Images Entertainment/Getty Images; Disney Parks Blog
As difficult as it is to swallow, all signs point toward the inevitable conclusion of summer. The days are getting shorter, the temperature is *slowly* lowering. If you look at the leaves on a tree, you will see their edges begin to brown and show signs of withering. With this in mind, it stands to reason plans begin to be made for the year's next holiday... Christmas? You heard that correctly — according to Disney, it's never too early to plan for the holidays, and they're offering a peek into the 2018 "Jingle Bell, Jingle BAM!" Dessert Party at Disney World to prove it.
On August 16, the Disney Parks Blog gave a little bit of insight into what to expect from this year's annual "Jingle Bell, Jingle BAM" holiday spectacular, taking place at Disney's Hollywood Studios this holiday season. Namely, what attendees will be able to snack on whilst enjoying the festival. In 2018, sweets are front-and-center, playing a starring role in the event alongside fireworks and festivities.
This year, you can get in the spirit before the show even starts. Within the Chinese Theatre Courtyard at Hollywood Studios, guests can enjoy any number of holiday-themed eats, including indulgent desserts, as well as beer, wine, and specialty alcoholic and non-alcoholic beverages. Rumor has it there will also be a special VIP character available for guest to meet and greet (though the exact identity of the character has yet to be revealed). The Jingle Bell, Jingle BAM Dessert Party will begin an hour and a half before each night's showtime.
An early (four months early, to be exact) look at the menu reveals offerings like Disney's take on the classic Yule log cake, creamy cheese fondue with pretzel bread, and Gingerbread martinis.
Disney knows how to make the most of every holiday, and Christmas is no exception. The "Jingle Bell, Jingle BAM" is an out of this world spectacle of fireworks, music, projections, and lights. Every single night between November 6 and January 6, 2019, guests at Hollywood Studios can enjoy the multi-sensory show that features scenes from some of Disney's most beloved holiday films including Mickey's Christmas Carol, Beauty and the Beast, Pluto's Christmas Tree, and of course Tim Burton's The Nightmare Before Christmas.
Other seasonal festivities at Hollywood Studios include Minnie's Holiday Dine — a holiday dinner party with Minnie Mouse at Hollywood & Vine — and a holiday celebration at Toy Story Land. The latter is extra special, as Toy Story Land is a temporary addition to the park. So, basically, whatever yet-to-be-announced plans Disney has in the works for the holiday season at Toy Story Land will be a once in a lifetime opportunity. Santa is also scheduled to visit the park for photo ops, of course.
Since it is never to early to begin planning, you can make a reservation for the Jingle Bell, Jingle BAM Dessert Party now. For the dessert party dates between December 23 and January first admission is $89 per adult, and $49 per kid. For the dessert party dates between November 6 and December 22, as well as between January 2 and January 6, admission is $79 per adult and $45 per kid.