Disney's Live-Action 'Mulan' Has Found Its Star & She Couldn't Be More Perfect For The Part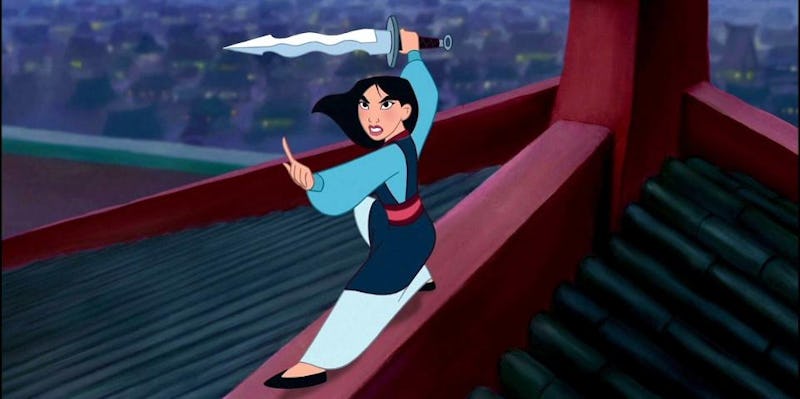 Disney
The wait is finally over. According to The Hollywood Reporter, Chinese actor Liu Yifei will play Mulan in Disney's live-action adaptation. This is a big deal, because, as the website reports, the hunt for the right actor took a year. The search which spanned multiple continents and required the actor to be Chinese in respect to the story's cultural roots, have a grasp of martial arts skills, and speak English. So who is Yifei, also known as Crystal Liu?
According to IMDb, Yifei is 30 years old and started her career at an extremely young age, beginning modeling when she was just 8 years old and acting in Chinese TV shows like The Story of a Noble Family from 2002 onward when she was still a teenager. According to The Hollywood Reporter story that broke the news, she lived in Queens, New York for part of her childhood and she's fluent in English (and has acted in it before in films like The Forbidden Kingdom and Outcast), which should come in handy for the movie. The website also observed she's acted as a brand ambassador for some of the biggest names in beauty: Dior, Tissot, Garnier, and Pantene.
Her acting as brand ambassador for Dior was particularly impressive — according to Be.com, she was the first Chinese ambassador for Dior Prestige.
But hopefully she won't get tempted by too much more brand work, because according to IMDb, the actor already has her plate pretty full over the next year — she's already got a film lined up to shoot in 2018, namely the action movie Inversion, in which she stars alongside Samuel L. Jackson as a physicist trying to save the world. This is intense, given the fact that Omega Underground revealed that the live-action Mulan would begin shooting in late January 2018, and that shooting will take place across China, Australia, and New Zealand.
But perhaps she's stepping things up for a good reason. Fingers crossed her stint in Disney's action movie will mean she'll attract more positive attention from the critics and from the English-language entertainment sphere. Curiously, despite The Hollywood Reporter describing the model/actor as "one of the country's most popular actresses of the current generation" she has won a limited amount of awards. According to IMDb, she won a Hong Kong Society of Cinematographers award back in 2012 for Most Charismatic Actress and a Best Actress award for her role in Tong que tai at the Macau International Movie Festival in 2013, but that's it for now.
Besides that, her roles in English-language movies haven't been as meaty as they could be — while she took the lead role of a 140,000-year-old goddess in Once Upon A Time, in Outcast her role as Princess Lian was barely mentioned in reviews (or entirely omitted, as in this Nerdist review of Outcast) while SFGATE disparagingly describes her role in The Forbidden Kingdom as "a young hottie named Golden Sparrow" and ComingSoon.net dismissed her part as "a token love."
But taking the lead role in a big Disney movie could lead to Yifei scoring more opportunities in English-language cinema, much like Priyanka Chopra experienced. Chopra was already big in India before she broke into American entertainment with the TV series Quantico, and according to IMDb, now works on both Indian movies like the biopic of poet Sahir Ludhianvi's life Gustakhiyan and American movies like A Kid Like Jake, in which she stars alongside Claire Danes and Octavia Spencer and Isn't It Romantic, in which she stars alongside Rebel Wilson.
If you can't wait to see the star in action as Hua Mulan, unfortunately there's a still a ways to go — Movieweb reported in July 2017 that the live-action Mulan won't be released until 2019. But the fact that Disney has already found an actor who seems like a strong fit for the role? Well, that's something to celebrate.