Toy Story Land At Night Is A '90s Kid Paradise & The Pictures Will Prove It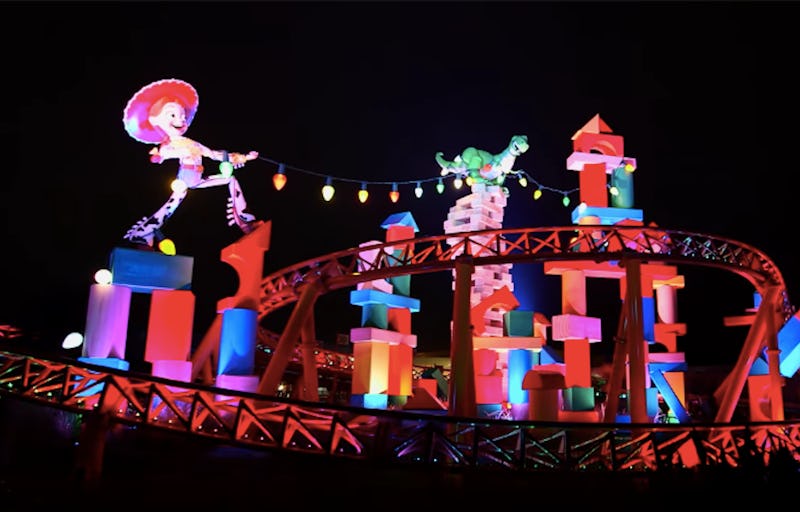 Disney/YouTube
Toy Story holds an undeniable place in history as a film that changed Disney — and film as a whole — forever. As the first ever Pixar film, it started an era that for '90s kids will always associate with childhood nostalgia. Plus, it proved computer generated imagery need not be used exclusively for outrageous aliens or action-packed fight scenes. CGI can be used to bring an additional element of realism to any character-driven story — Woody and Buzz proved it.
Now Disney is celebrating one of its more prolific films with the new Toy Story Land at Night features. The nighttime reinvention of the newly-opened Toy Story Land, which was made available to the public on June 30, is already making waves on the internet for how distinctively out-of-this-world it looks, particularly now that Disney has released a YouTube video to give fans the inside scoop.
Toy Story Land within Hollywood Studios at Orlando's Disney World opened this past weekend to (unsurprisingly) hordes of people — many of whom lined up as early as 6 A.M. Insider reported just setting foot in the new section of the park took around two and a half hours. Waiting to board rides and buy snacks and souvenirs necessitated even more waiting.
Some of the highlights of Toy Story Land include the Slinky Dog Dash: a roller coaster shaped like the film's Slinky Dog, the Alien Swirling Saucers ride, and a carnival-themed four-dimensional arcade bearing the appearance of human protagonist, Andy's bedroom.
In the daylight, each of these attractions is mind-blowing. Guests have the opportunity to see parts of their favorite movie come to life before their eyes. But, at night, Toy Story Land becomes and entirely new world. When the sun goes down, the lights and music turn up at Toy Story Land. Florescent lights illuminate every corner of the whimsical wonderland. Cheerful music blares from speakers. It's a multi-sensory experience guaranteed to entrance and (maybe) overwhelm you in ways you never knew were possible.
Roger Gould, the creative director of Pixar Animation Studios, offered some insight into the new look of Toy Story Land after dark. "We have this Pizza Planet toy that we invented, for the aliens, this incredible Alien Swirling Saucer. We've got the ride system now, all of it's movement is programmed in. We have this incredible original music created and inspired by all these themes in the Toy Story film," Gould explained, according to the Disney Parks Blog. "Now, we have an incredible lighting system. Each song with a unique set of lighting and programming, so we're getting to see all that at once."
Per the Disney Parks Blog, despite knowing how much work and detail went into Toy Story Land after dark, those who worked on the project were stunned by how beautiful the finished product was after seeing it come alive for the first time.
"You are collaborating with show lighting and with Pixar and composers and everybody and you think you understand just how dynamic it's going to be when it comes together. But frankly, nothing can prepare you for the moment when you see all of that come together in harmony," Ryan Wineinger, the creative director of Walt Disney Imagineering, explained.
In addition to the rides, guests can expect to see life-sized versions of their favorite characters roaming the grounds of Toy Story Land. The park also boasts a café called Woody's Lunch Box. Guests can indulge in breakfast fare including homemade toaster pastries while taking part in all the park has to offer.
The opening of Toy Story Land coincides with Pixar Fest, which continues through September 3.
Correction: This piece has been updated to more clearly cite Ryan Wineinger's position as creative director of Walt Disney Imagineering.