Jon Bon Jovi Just Launched A Rosé, If You Just Want To Live While You're Alive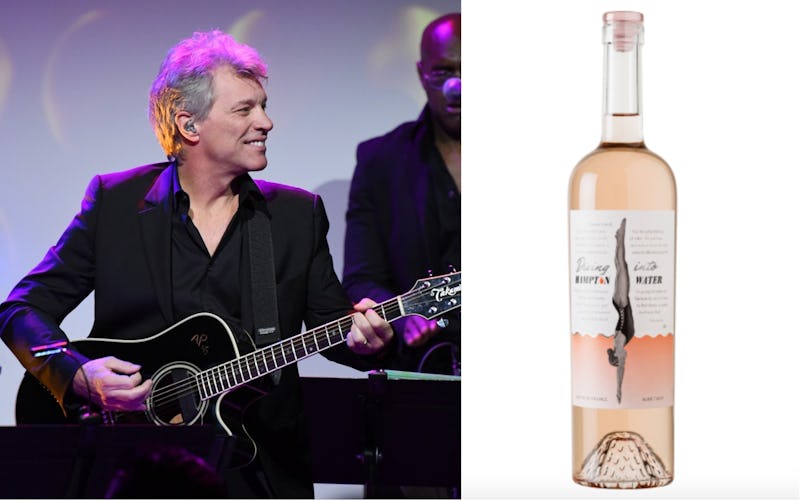 Dimitrios Kambouris/Getty Images Entertainment/Getty Images; Diving Into Hampton Water
If you, too, were raised on a steady diet of your mom's obsession with Jon Bon Jovi, then please enjoy this full circle moment, where you can start embarking on a steady(-ish) diet of Jon Bon Jovi's rose, "Diving Into Hampton Water." Okay, more specifically, Jon Bon Jovi's son's rosé — 23-year-old Jesse Bongiovi came up with the concept and the name for the new brand, which was inspired by the time he spent on the beaches in East Hampton, and then teamed up with his father to release it, according to the Miami Herald.
"I work for him. This is Jesse's baby," said Bon Jovi to Extra TV about the release of the new label. "He came to me about 18 months ago and said, 'I've got a name for a rosé and it's Hampton Water,' and I said, 'I like it. Develop it.' Doing it with your family and sitting next to your son is just a joy."
The bottle is (duh) pink, and features its mascot, a woman who is diving into a bottomless rosé abyss and just became my new top knot goals. She also speaks to my incredibly basic soul; on Diving Into Hampton Water's website, they say of their icon:
The Girl: Graceful, elegant, and always adventurous, her name is Pink, and our girl sure knows how to get the party started. We recommend you follow her lead because when Pink's around the fun is never far behind. But be warned when you're with our girl you never know when day might turn to night….and night into day. Truly Yours, HW
So not only is she cool and drinks a lot of rosé, but she has control over the time-space continuum? Sign me up, y'all.
Perhaps what makes this wine so fully thrilling is that, when asked about his previous wine prowess, Jon Bon Jovi confessed that he is as clueless about it as I am standing in line at Trader Joe's cradling four bottles of two-buck chuck as if they are my children: "Nothing. Not a thing," Bon Jovi told the Miami Herald about his wine knowledge. "I knew how to consume. I thought you got rosé from mixing red and white together."
Jesse Bongiovi seems to have taken up most of the legwork in that regard. "I did quite a bit of research and met with people in the industry and brought him back a more finished product and said, 'Now, what do you think?'" he said of the wine's conception to Extra TV.
Turns out, though, if you want to sample it for yourself, you're really gonna be living on a prayer — according to a representative for the label who spoke to Town and Country, the wine is in extremely high demand: "Hampton Water is now available if you can find it. It has sold out of all retailers. More cases are being air freighted from the South of France where it is made." (In other words: it's now or never! We're not gonna live forever!!!!)
If you can get your hands on a bottle, it retails for $25 a pop — which, to be fair, is a heck of a lot cheaper than attempting to get a ticket for Bon Jovi's upcoming 30 show tour starting on March 14, which will be interrupted briefly by his induction to the Rock and Roll Hall of Fame. Fittingly, Bon Jovi tells Extra TV that there will be plenty of Diving Into Hampton Water to mark the occasion. No word on how to score an invite to that quite yet, but hey — you live for the fight when it's all that you've got.