This Unexpected Celeb Cameo In 'Pitch Perfect 3' Is Going To Be Totally Wild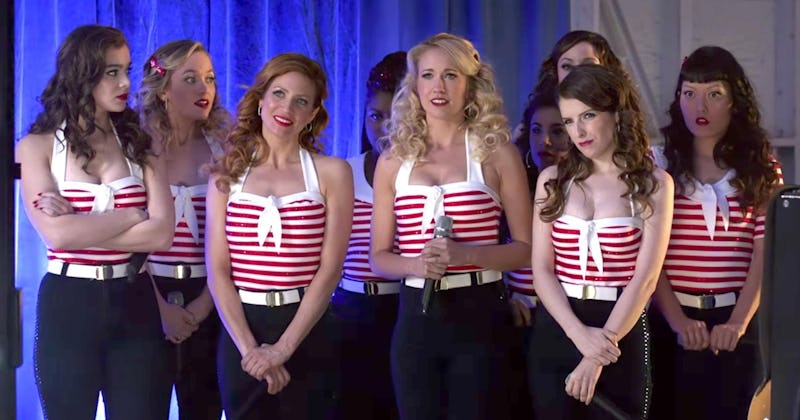 Universal Studios
When you think of the Pitch Perfect movies, a few things probably come to mind: a cappella covers of your favorite pop songs; witty one-liners hurled by stars like Anna Kendrick and Rebel Wilson; groups of girls in matching outfits dancing in choreographed formation. Whatever you think of, it's safe to assume that DJ Khaled isn't on the list. Yet for some reason or another, the "Major Keys"-spouting, Snapchat-obsessed musician is in the new movie, and not just in a small appearance — the DJ Khaled cameo in Pitch Perfect 3 is actually more like a significant supporting role. And if you're scratching your head to figure out why, you're not the only one, explains Pitch Perfect 3 star Brittany Snow.
"It's just so random," the actor says with a laugh, while sitting down at Bustle's New York studio recently. "I'm not sure if he's ever seen a Pitch Perfect movie, but I think that's why it's really great."
In the new film, out Dec. 22, Khaled plays himself, or possibly an exaggerated version (it's honestly hard to tell). He's running a contest to find an opening act for his tour, and so the Bardem Bellas, reunited after college, work hard to impress him and be his final pick. As such, he shows up (with his phone in hand, of course) in several scenes, even sitting down with Anna Kendrick's Becca for a long, inspiring talk towards the end of the movie. It's a genuinely large role, but according to Snow, that wasn't originally the intention.
"It's funny because he was supposed to be a little part of the movie and his presence is obviously very big," she explains. While it was revealed back in March that the producer would appear in Pitch Perfect, it was assumed by most fans — and apparently the film's actors — that it'd be a minor cameo, as despite being a multi-hyphenate, "actor" isn't one Khaled's known talents. But perhaps we should've realized that his role would grow, as the man himself captioned one of his photos from set "MAJOR ROLE IN THE MOVIE." Dude doesn't lie.
But while Khaled might've felt confident that he'd have a sizable part in Pitch Perfect 3, the cast of the film wasn't even sure he'd be getting to set. "He showed up like three days late — we didn't know if he was even gonna make it," Snow recalls, laughing. "He came by a vehicle, like, he didn't fly — all these different things that were just so perfect ,because you just didn't know what was gonna happen with him."
And when he finally got to set, Snow adds, the surprises didn't end. "He made up everything on the spot," she says with an amused shake of her head. "It really works... he's just doing him."
That's for sure. If you didn't already know that Khaled has a huge personality and lives a life of luxury, you will now after seeing Pitch Perfect 3. Even when the producer himself isn't on-screen, hints at his envy-inducing world, like his collection of entertainment equipment and the parties frequently thrown in his honor, are everywhere you look. But that's not to say it's all for show; throughout the movie, Khaled gets a handful of chances to show off his career-making eye for talent, as well as his own impressive musical abilities (who knew he could play the piano like that?!). Pitch Perfect 3 may be all about the ladies at the center of its story, and rightfully so — but no one will blame you if you walk away from the movie even more curious about Khaled's wild life than you already were.