I Went to Asahd Khaled's First Birthday Party & It Was Quite the Experience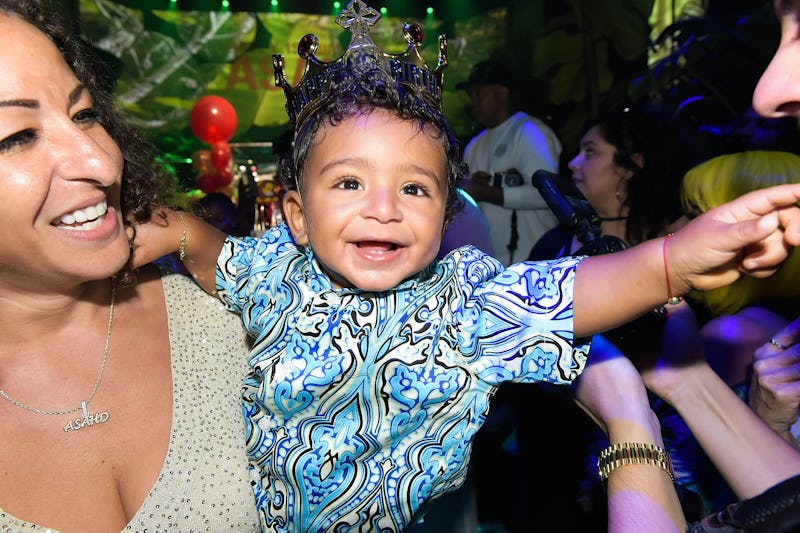 Romain Maurice/Getty Images Entertainment/Getty Images
Asahd Khaled showed up to his birthday party two hours late. Being a celebrity, this was to be expected. Being a 1-year-old, not so much. Most babies are at their first birthday parties on time, because their first birthday parties are likely at their homes. But if you're Asahd Khaled, your birthday party is held at LIV nightclub in Miami and you make an entrance once your guests have already arrived and settled in, eagerly looking around for the first sighting of your tiny platinum album-producing face.
Before even stepping foot in the door, it was clear that this was going to be An Experience. After all, it was the first birthday party of a baby with 1.6 million Instagram followers whose birth was posted on Snapchat by his father DJ "DJ KHAAALEDDD" Khaled. It wouldn't matter if the party was fun or not, the point was just to be there. To be able to tell people, "I was at Asahd's birthday party... Yes, that Asahd."
But beyond being something to brag about, what came across from the party was how genuine it was — yes, even with the sponsors, the professional photographers, and the celebrities. Aside from declaring his own name at the beginning of songs and talking about "major keys", Khaled is perhaps most associated with the immense love he has for his son. He once told Billboard, "He's my son, but when I look at him, he's my prophet, too. I believe me and Asahd was put on this world to show what love is." Khaled did just that at this party, it was just via an expertly executed jungle theme and matching light blue outfits.
And on the This Party Is Bananas front, it did not disappoint. Before the son of Khaled and former fashion designer Nicole Tuck arrived and put on his birthday crown (or, rather, had someone else put it on for him), there were already hundreds of Asahds at the party. There were giant cutouts of him all over the walls, gift bags featuring an image of him wearing gold chains while sitting on luxurious furs, and dozens of bags of cotton candy printed with "Asahd's Bubblegum Cotton Candy" and a tiny photo of Asahd staring up at you. There was also a giant cake with a big image of him on top and a bottom layer of fondant baby Jordans and their corresponding shoe boxes. Of course, this was on a table behind a mini throne for Asahd next to two stuffed lions. ("Asahd" means lion in Arabic.)
Even though this was a party for a Asahd (an actual baby), you might not think many children would be in attendance, but they were. And when it comes to actual partying, they may have had a better time than the adults. The adults might have been there to soak it all in and take selfies (you know, other than the ones who were actually related to Asahd), but the kids watched jugglers and mimes, ate chicken tenders, got temporary tattoos, and played Just Dance 2018. If it weren't for the literal hundreds of photos of Asahd around, the younger guests might not have known it was a birthday party at all, but a really cool, dimly lit carnival. But for anyone older, until Asahd arrived, there was a feeling that the party hadn't really started, because the "party" was less about popcorn and games and more about seeing the guest of honor.
When Asahd did arrive, you could feel the energy in the room change. Suddenly, everyone stopped what they were doing and turned to face in his direction. "Wild Thoughts" played as he, his father, and his mother made their way down the staircase to the dance floor where countless NBA stars have partied. Soon, Asahd was in the middle of the room and as the DJ switched to "The Circle of Life" (a truly unbelievable music cue), Asahd's mother raised him into the air. It was nothing short of majestic.
After that, Asahd took countless photographs and was followed around by a line of no less than a dozen people as he schmoozed his way around the party. At one point he went upstairs to the Just Dance booth, swayed along to Bruno Mars' "24K Magic" on the Nintendo Switch, and received a mini varsity jacket as his mother, father, and so many others looked on. It was clearly not your average birthday party, but it really did seem like everyone, Asahd included, was having a great time.
Yes, the party was extravagant, but for Khaled, showing off his expensive taste is just part of triumphing over "they". This was never more clear than when he said that a major announcement was coming up and it ended up being that his son was receiving a platinum plaque from the RIAA and that Puff Daddy was there to help present it. (As you may have heard, Asahd executive produced Khaled's hit album Grateful.) Wearing a purple button-up shirt and white pants, Sean Combs told the crowd, "I do wanna say, this is the youngest birthday party I've ever hosted." The whole moment was a combination of flash, love, and a particular definition of success that felt so right. "You see all these cameras here," Khaled said, making the fact that this was being widely documented into something undeniably sentimental. "When my son grows up he's gonna see his dad got Puff Daddy in the building."
After receiving his award, a framed version of the XXL cover he and his father shared, and a diamond encrusted watch, it was time to sing happy birthday to Asahd. He got both the traditional and the Stevie Wonder versions, but, just like any other baby would, he tried to reach out to the candle's flame instead of blowing it out.