Princess Eugenie's Wedding Will Feature SO MANY Hats Because Of Royal Style Rules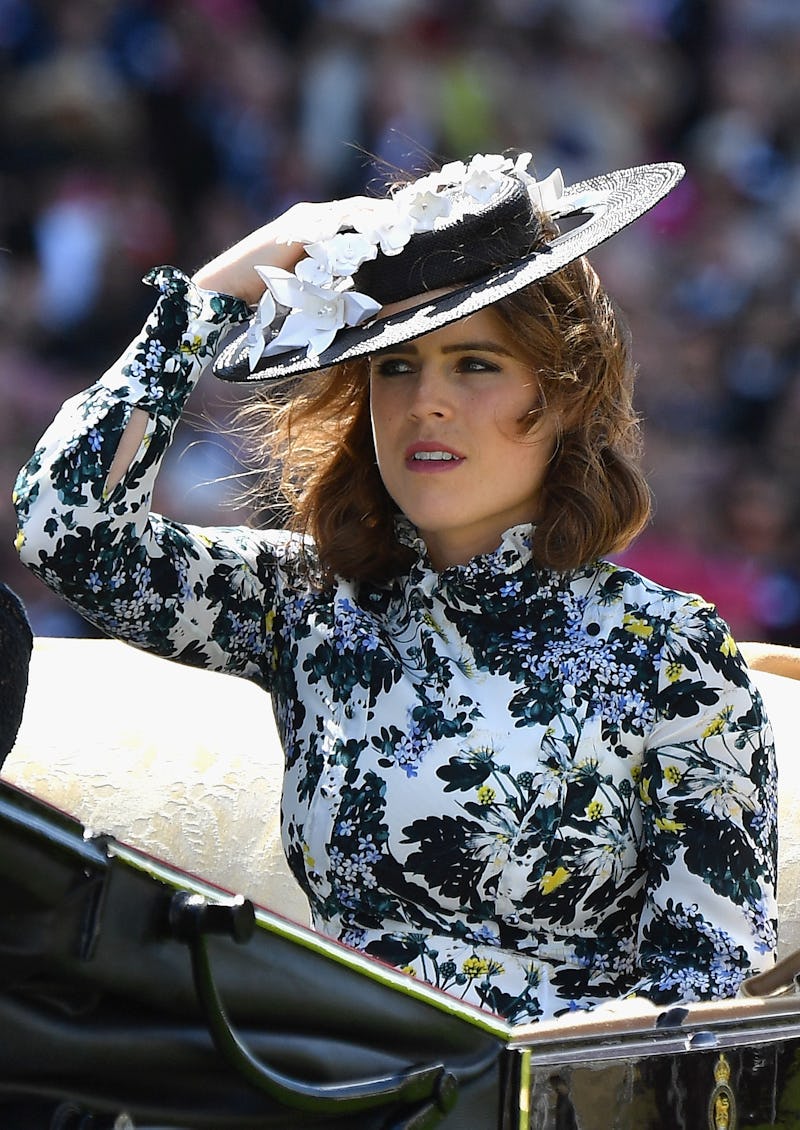 Jeff Spicer/Getty Images Entertainment/Getty Images
For most, attending finishing school has never been a course of action willingly sought out. But from what's been taught by grandparents, teachers, and television is that it's rude to wear a hat to certain events. Royals, though, have a different set of rules as Princess Eugenie's wedding dress code suggests all the women in attendance wear day dresses and day hats.
However, Princess Eugenie and Jack Brooksbank's wedding dress code doesn't stop there. Surprisingly, this wedding has an even stricter dress than Prince Harry and Meghan Markel's wedding, particularly on the men.
According to Town & Country, Prince Harry and Meghan had alluded to male attendees that "lounge suits" would be adequate dress wear for their big day. In other words, the suits worn by the finance bro you've probably dodged on your way to work. Princess Eugenie's wedding, though insists that the men wear morning coats — as in coats with coat tails that stretch to the knee. How's that for "pinky's up?"
Being that the big day is only two days away, this wedding is quickly becoming quite a regal affair. Despite the (highly) recommended elegant dress code, ladies have the opportunity to sport a Sunday chic church look. And though the coats are still non-negotiable for gentlemen, they'll have the option to rock a top hat like an old English chap. When will there really be another chance to see that in 2018?
As opposed to Prince Harry, Jack Brooksbank did not serve in the military, so he wouldn't extend the option to his male friends to dress in military uniform. Per royal protocol, however, most men attend royal weddings in such aristocratic attire.
After seven years of dating, Princess and Eugenie and Jack Brooksbank got engaged in January 2018, where Jack popped the question in Nicaragua. The ring itself featured a padparadscha sapphire, encrusted with diamonds that ironically looks similar to the ring her father Prince Andrew proposed with.
The burning question you're pondering is where to watch these big hats live and in action. The royal wedding is on Oct. 12, on ITV in the U.K., and TLC stateside. Sadly, the TLC Broadcast of the wedding won't start until 4 p.m. ET. Rats!
On the other hand, if you miss it (which would be a shame), the festivities will re-air at 7:25 a.m. ET. You can wipe that sweat off your brow now.
The royal wedding is taking place in the same location as Meghan and Harry at St. George's Chapel. Also, Eugenie's wedding differs from both Kate and Meghans as her wedding will be a 2-day celebration despite not being an heir to the throne. Can you blame her?
People reports that the 850-person guest list will get to swoon over a fiesta on Saturday, post-nuptials, at Royal Lodge where Eugenie's family home around Windsor Castle resides.
The party is said to be a festival-style event complete with a fairground and food stalls. In addition, there will be a lunch provided by the Queen and a black tie reception to top off the night.
And yes, there will probably be big fancy hats.