Princess Eugenie's Engagement Ring Has The Cutest Story, So Grab Those Tissues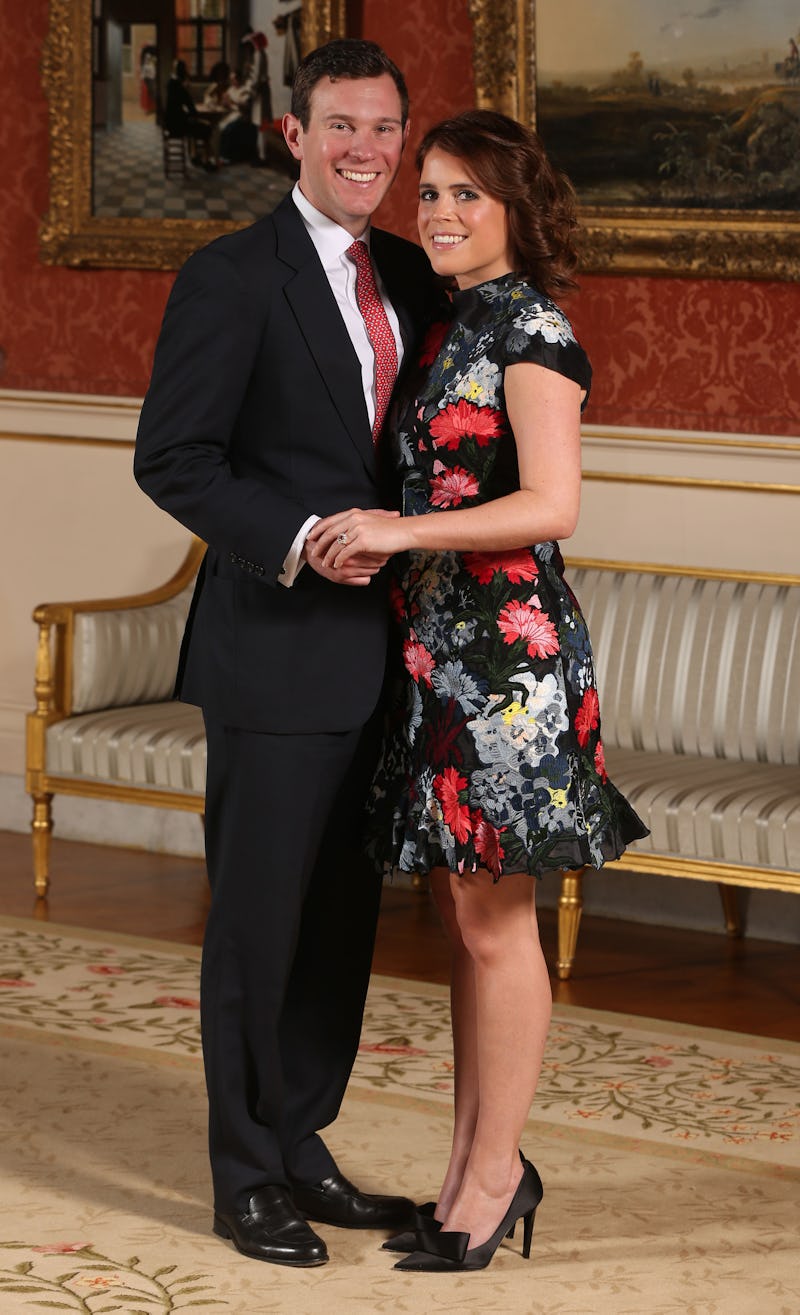 WPA Pool/Getty Images Entertainment/Getty Images
Royal wedding fever is full speed ahead once again as the UK counts down to the wedding of yet another of the Queen's grandchildren. Despite getting engaged at the beginning of the year, all talk is still on Princess Eugenie's engagement ring. And for good reason too.
The 28-year-old announced her engagement to Jack Brooksbank in January. It was then that she showed the world for the first time her rather rare pink padparadscha sapphire engagement ring. The stone — which admittedly is quite a mouthful to say — is named after a special type of lotus flower and is mainly found in Sri Lanka.
Its pink-orange hue is reportedly one of the rarest colour of sapphires around, making it a particularly unique choice for an engagement ring. At the time of their engagement, Brooksbank revealed the sweet reason behind his choice. Admitting that he proposed to Eugenie without a ring, he explained to the BBC how the couple designed the ring together and what the sapphire means to him:
"Why I loved it so much is because it changes colour from every different angle that you look at it, which is what I think of Eugenie. That she changes colour and is just so amazing. And we thought that was an amazing sign."
The oval-cut sapphire sits on a yellow gold ring and is surrounded by a halo of diamonds. It's still not known which jeweller is behind the creation but its price is estimated to be double that of Meghan Markle's three diamond engagement ring.
Gemologist Deborah Papas told The Sun that estimating the value of a padparadscha sapphire is difficult without getting a close-up look, but believes Eugenie's rock "to be in excess of £100,000." Markle's, in comparison, is said to only be worth around £50,000. (However, this figure doesn't include the priceless value of the two diamonds taken from Princess Diana's collection.)
"Clarity is an important element for padparadschas because their light tones easily reveal inclusions," bespoke jeweller Hattie Rickards added to the Evening Standard. "You can see from the traditional cut this stone is very clear and has a good saturation of colour." Seems like Brooksbank has a good eye.
There may be a family element to Eugenie's ring too. Her pink stone has been compared to the Burmese ruby her mum, Sarah, Duchess of York, was given by her dad, Prince Andrew, in 1986. According to Hello!, it cost the royal £25,000 in the '80s and is now said to be worth £71,350.
If you're looking to imitate Eugenie's ring, you can do it for much much less according to Rickards. Speaking to the Evening Standard, she described how pink/orange shades have "become increasingly popular for engagement rings recently" and how the look "can also be achieved through using morganite as a less expensive alternative."
Eugenie and Brooksbank's big day is set to take place on October 12 in Windsor Castle's St. George's Chapel; the very same location as Prince Harry and Markle's wedding back in May. Some 1,200 members of the public have been invited to watch the celebrations alongside the rest of the royal family and the couple's close friends.
In a recent interview with Vogue, Eugenie revealed that she had asked her older sister, Princess Beatrice, to be her maid of honour. According to the Express, the adorable Prince George and Princess Charlotte will also have a role to play in the wedding, making this a day not to miss.
All we need now is details of that dress.