Ashley Roberts & Nicole Scherzinger Could Be Set For A Pussycat Dolls Reunion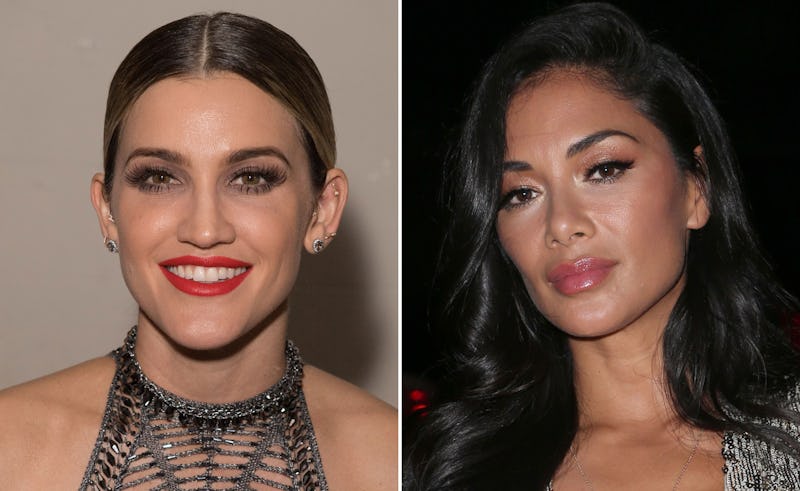 MediaPunch/Shutterstock/James Gourley/Shutterstock
It's not surprising that Ashley Roberts is excelling at a TV dance competition. Before she was the star of this year's Strictly, she was part of the all-dancing, all-singing, all-girls trope Pussycat Dolls. Fronted by former X Factor judge Nicole Scherzinger, the Dolls were assembled in 1995 by choreographer Robin Antin, and played together for over 10 years, before officially disbanding in 2010. But what are the group's relationships like now? I mean, do Ashley Roberts and Nicole Scherzinger still talk?
Well, it's clearly an issue on a fair few people's minds because ever since Roberts confirmed she was taking part in Strictly, fans have been bringing up questions about Scherzinger. During a recent press conference, the former I'm A Celebrity contestant was even asked if Scherzy would be attending any of the live shows to show her support. As Hello! magazine reports, Roberts responded: "Well it depends on her schedule. But I'll have some friends there for sure."
During her first official live Strictly performance on Saturday, Roberts' other Pussycat Dolls bandmate, Kimberly Wyatt, was in the audience cheering her on. But will Scherzinger follow suit? I guess only time will tell. However, she is yet to show her support on social media for Roberts, and it's no secret that these two have had a bit of a rocky time over the years when it comes to their friendship.
According to former Doll Carmit Bachar, Scherzinger was allegedly "jealous" of Roberts during their Doll days. In fact, Bachar claimed that this was one of the main reasons the group split. "Nicole was jealous of Ashley. She felt threatened by her — like people would prefer her because of the way she looked," Bachar told The Sun in November 2012. "Ashley had that iconic American thing going on — blonde hair, blue eyes. It was the look Nicole seemed to want but could never have."
Carmit isn't the only member of the Pussycat Dolls to have suggested there was tension between Roberts and Scherzinger. In fact, Roberts herself hinted at a division when she took part in I'm A Celebrity back in 2012. As the Daily Mail reported at the time, she told her fellow campmates: "Even in the group I wasn't allowed to talk, we were told to be quiet. Only Nicole was allowed to talk, and we would occasionally pitch in."
I have contacted Scherzinger's rep for comment, however, they are yet to get back to me. As soon as they do, you will be the first to know.
However, whatever happened between the ladies way back when, it looks as though all that's been left in the past. In November last year, Roberts, Scherzinger, and Wyatt were all photographed together enjoying an evening out in London, and all three appeared to be having a great time, as reported by the Mirror.
It was then claimed that the Pussycat Dolls could even be set for a big reunion. A source told The Sun: "Talk of the girls ­getting back together has been rife for a few years now and they have finally found a time which works for them all. The girls feel the time is right to let bygones be bygones and put any differences they had behind them and celebrate the great songs they made."
Well in the case, I'm guessing Scherzinger and Roberts really did mean it when they sang 'Stick Wit U'.